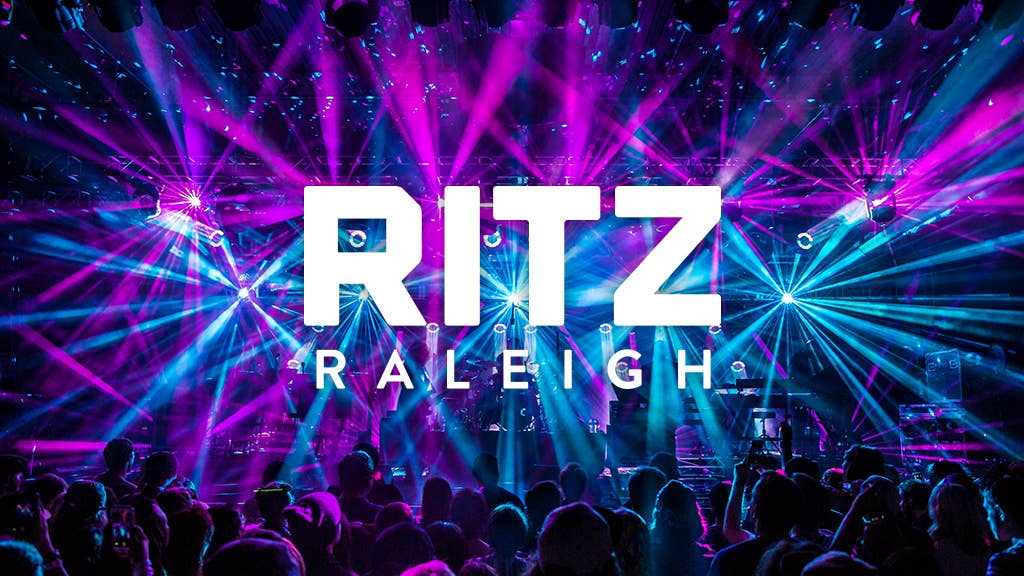 The Ritz
Know Before You Go
Click our tabs below for everything you need to know before attending a show with us!
Coming to a show? Here are a few things to know before you go!
Door Time
Doors generally open one hour before the show's scheduled start time.
Bag Policy
The following bag policy is in place: Bags up to 12" x 6" x 12" are allowed in the venue. No backpacks/bags with back straps. All bags will be searched prior to entry. Bags that are not clear will be subject to additional search.
Parking
Parking surrounds the venue and can be purchased for $14 on a credit card. We do not allow overnight parking.
Cashless Payments
All concession, bar and ticket sales, once in the venue, will only accept credit or debit cards and/or mobile pay (such as Apple Pay or Google Pay). Cashless payments are encouraged for ticket purchases at the box office. 
Mobile Ticketing
All our events will be Mobile Entry. That means your mobile device will be used to gain access to the event. Tickets will not be emailed or available for print.
For more information on mobile entry, click here.
Phone troubles? Visit the box office on event day for assistance. Be prepared to show your ID.
Our box office is located at 2820 Industrial Dr, Raleigh, NC directly at the front of the venue. The box office is open only on show days. On show days, the box office will open two hours before doors and remain open through the event. The box office can sell tickets for most events. We accept major credit cards. Tickets obtained from unauthorized sources may be invalid, refunded, lost, stolen or counterfeit, and if so are void and therefore not valid for entry. We recommend purchasing tickets directly via our box office, Ticketmaster or Live Nation only.  
FAQs
How do I purchase tickets to a show at The Ritz Raleigh?
The most convenient way to purchase tickets is through www.ritzraleigh.com, www.ticketmaster.com or livenation.com.
The box office at The Ritz is open on-day-of-show starting approximately two hours before door time. If you'd like to purchase tickets, please visit us at www.livenation.com. If you're looking to obtain a refund for a show that was either canceled, postponed or rescheduled, please visit us at www.livenation.com/refund for more information. We look forward to seeing you at our next show at The Ritz.
Tickets obtained from unauthorized sources may be invalid, refunded, lost, stolen or counterfeit, and if so are void. We cannot access purchase information from a third party vendor.
What is not permitted into the venue?
Weapons (items of any size or any kind or items that may be interpreted or could function as weapons are explicitly prohibited), alcohol, drugs, laser pointers, skates, wallet chains, spiked jewelry or belts, banners, backpacks, flyers, beach balls, Frisbees, outside food or beverages, or any item deemed unsafe by venue staff.  Fireworks of any kind are not permitted into any show. Purses and bags will be searched upon entry.
The following bag policy is in place: Bags up to 12" x 6" x 12" are allowed in the venue. No backpacks/bags with back straps. All bags will be searched prior to entry. Bags that are not clear will be subject to additional search.
Is there parking at the venue?
There is parking available at the venue, as well as in a gravel lot located across the street from the venue. Both lots are just $14 to park, and can be paid with a credit card. Premier Parking is also available for most shows to park closest to the venue!
How can I contact the venue?
Feel free to call us at (919) 424-1400. We'll do our best to help you out!
I lost an item during the show, do you have a Lost & Found?
If you notice you are missing an item during a show, you can check with any member of our staff to see if we have your item. Unless lost items are handed into venue staff during a show, we don't locate them until well after the show ends. You can check out our CrowdFind page to view all lost and found items and submit a claim to come pick up your item.
Do you have ADA seating available?
We do have handicapped accessible seating available on a raised platform inside the venue, with a ramp to allow wheelchair access. Seating on this platform is available on a first come, first served basis, and we recommend that guests who require ADA seating arrive early to the venue. Please let our ticket takers know you need ADA seating once you arrive, and a member of our team will escort you to your seat. If you have any questions, please contact us at (919) 424-1400.
What is the venue bag policy?
The following bag policy is in place: Bags up to 12" x 6" x 12" are allowed in the venue. No backpacks/bags with back straps. All bags will be searched prior to entry. Bags that are not clear will be subject to additional search.
Is there an age restriction at the venue?
Unless otherwise noted, all shows are all ages! You can check the age restriction for any show by visiting our website and clicking on "Event Details" located next to the show you want to attend. Minors are not required to have an adult present with them to attend an all ages show.
Is there seating available at the venue?
The venue is general admission/standing room only. However, we do have Premium Seating available on our balcony as an upgrade to your ticket. This includes a reserved seat, premium sightlines, Fast Lane passes, and access to our private R&D Riviera Lounge upstairs. For inquiries on Premium Seat & Ticket package please visit our Premium Seating page.
What is a Fast Lane Pass?
Fast Lane Passes are an upgrade that you can purchase in addition to your general admission ticket. They allow you to skip the general admission line and head straight to the doors when you arrive to the venue. We recommend arriving 20 to 30 minutes prior to scheduled doors to utilize your Fast Lane pass. These are available online when you're purchasing your tickets as an add on to your order. If you have already purchased your tickets online, you'll need to come to the box office in person to purchase; we cannot sell them over the phone or online. Please note that these are not concert tickets; you still need a general admission ticket to enter the venue. Fast Lane passes are not available for every show; you may contact us by phone at (919) 424-1400 to see if you can purchase Fast Lane for the show you're attending.
Where can I keep up with show announcements, ticket giveaways, and more at The Ritz Raleigh?
Follow us on Facebook, Twitter, and Instagram! We do our best to respond to all inquiries, compliments, and concerns on our social profiles, but please keep postings clean. We respect all of our followers and ask for the same respect in return.
Can I bring my camera, GoPro, or audio equipment?
Small digital cameras are allowed; DSLR cameras with detachable lenses are not. GoPros and audio recording equipment are also not permitted into the venue.
Can I get something to eat or drink at the show?
Absolutely! There are several bars inside the venue, both on the floor and the balcony, that serve beer, liquor, and wine, as well as non-alcoholic beverages such as water and soft drinks. We also serve fresh popcorn; just follow the scent! Our bars accept all major credit cards. If you are of age and plan on drinking at the show, please bring a valid government issued ID. Expired IDs are not accepted as a form of identification.
If I leave the venue during the show, can I come back in?
There is no re-entry into the venue once you come inside. Please make sure you have everything you need before you enter the venue; we cannot allow you to return to your car to grab a forgotten item.
Is there a dress code?
No shoes, no shirt, no service. We recommend dressing comfortably; as we are a general admission/standing room only venue, you'll be on your feet for the majority of the show!
What are the Box Office hours?
The box office at The Ritz is open on event days starting two hours before doors open.
Can I host a private event at The Ritz?
Absolutely! Wedding receptions, proms, business events, holiday parties and more are welcome! Visit our Special Events website, fill out the form there, and our Special Events Sales Manager Rachel Berbec will be in contact with you soon.
Can I smoke or vape inside the venue?
According to North Carolina state law, there is no smoking or vaping allowed inside the venue. However, we do have an outdoor smoking patio where you can smoke during the show. The doors to access the patio are located on the back wall directly opposite from the stage; just look for the neon cigarette signs.
How do I purchase Meet & Greet packages?
To purchase a Meet and Greet package, please check the artist's website or the ticketing page for the event. We do not sell Meet and Greet packages through our Premium Seating program, nor at our box office.
My friend has tickets at Will Call but can't make it to the show. Can I pick up their tickets and use them?
To change the pick-up name for Will Call tickets, your friend needs to go back to his or her original point of purchase. If the tickets were purchased online through our website, Live Nation, or Ticketmaster, they need to contact Ticketmaster directly at (800) 745-3000. If you are a radio contest winner, Premium Seating purchaser, or a guest of someone in the band, you'll also need to reach out to your original contact and change your Will Call name that way. Please ensure that the name provided matches the name on the ID of whomever will be picking up the tickets.
I think I'm on the Guest List, what do I need to do?
If you are on a Guest List for either the house or the artist, your tickets will be available for pick up at the box office 30 minutes before doors. You will need to go through the general admission line and security checkpoint first before you can head up to the box office and pick up your tickets. Please bring a valid photo ID with you and be sure to confirm with your contact prior to the show that your name is on the list to avoid any confusion at the box office.
Is camping/tailgating allowed in the parking lots?
There is no tailgating/camping permitted in the parking lot.
The show I had tickets to got cancelled, how do I get a refund?
If a show is cancelled, you will be refunded the entire amount, including service fees, via your point of purchase. If your tickets were purchased online via our website, Live Nation, or Ticketmaster, your credit card will be automatically refunded within 7-10 business days. If you purchased your ticket at the box office with either cash, you'll need to come back to the box office to get your refund. Refunds are only issued if shows are cancelled; we do not issue refunds if you cannot make it to a show.
If your show is postponed, rescheduled, or moved, your tickets are still valid for the new date and no further action is required. Emails will be sent to ticket holders notifying them of any available refund options for the event.
What is a Ritz Raleigh membership?
The Ritz Raleigh is considered a private club by North Carolina alcohol laws. We're required to issue memberships to all guests attending a show here at the venue. When you purchase tickets to an upcoming show, you'll automatically be enrolled as a member of the venue. You do not need a membership card to be admitted into the venue, your membership information is stored safely and internally at the venue.
Secure your Season Tickets and Premium Benefits today. Contact us to learn more!
* Required fields
Legendary Venue, Epic Private Events!
With an artistic legacy rooted in rock and roll, the recently revitalized The Ritz is committed to creating a memorable guest experience for your next corporate event, private concert, wedding, reception or business meeting. The bright lights of The Ritz sign welcome guests, while branding opportunities such as a red carpet, showgirl greeters, uplighting and video mapping can kick off your event in style. Located approximately 4 miles from the Raleigh Convention Center, The Ritz can accommodate 25 to 1,400 guests. Our talented staff handles every detail, so you don't have to!
Contact Our Special Events Sales Team
The Ritz
Phone

919-424-1357

Email

Address

2820 Industrial Drive Raleigh NC 27609