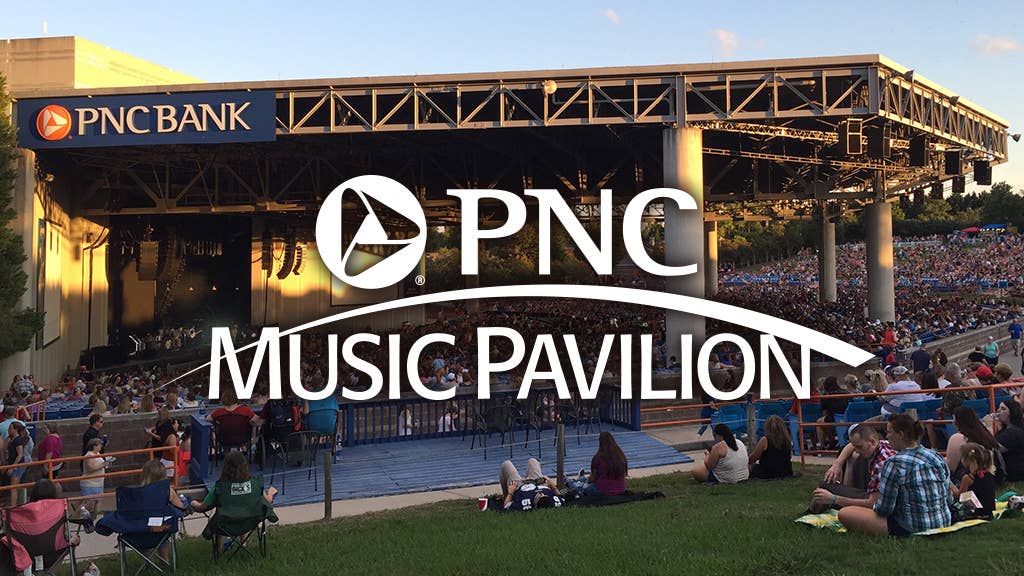 PNC Music Pavilion
Know Before You Go
We can't wait to see you at PNC Music Pavilion! Here's what to expect when you visit us for your show. Keep an eye on our website and social media handles, as guidelines are subject to change.
Luke Bryan
Country On Tour 2023
With Chayce Beckham, Ashley Cooke, Hailey Whitters & DJ Rock

This Saturday, October 7
Early Parking Open: 1:00 PM
Purchase Early Parking HERE
General Parking Open: 2:30 PM
Early Venue Access/Gates Open: 5:00 PM
Show Time: 7:00 PM
Coming to a show? Here are a few things to know before you go!
Parking, Gate, and Show Times
You can check back here in the days leading up to your show for confirmed parking, gate, and show times. Parking lots will generally open 2 hours prior to our scheduled gate time. Gate times vary, but are usually 60-90 minutes prior to show time.
Bag Policy
We allow clear bags no larger than 12"x6"x12" and unclear bags no larger than 6"x9". This applies to all bags including totes, clutches, and fanny packs. All bags are subject to search upon entry. Guests have the right to refuse a bag search and the venue has the right to refuse entry. If you have any items that are not allowed into the venue, please return them to your vehicle.
Mobile Ticketing
All our events will be Mobile Entry. That means your mobile device will be used to gain access to the event. Tickets will not be emailed or available for print.
For more information on mobile entry, click here.
Phone troubles? Visit the box office on event day for assistance. Be prepared to show your ID.
Cashless Payments
ALL points of sale including premier parking, merchandise, food & beverage will ONLY accept debit, credit or mobile pay (Apply Pay or Google Pay). All main concession stands take Visa, MasterCard, Discover and American Express. All merchandise stands take all major credit cards.
For fans that wish to use cash, Cash to Card conversion will be available at the upsell tent, located in both the North and South concession plazas.
Parking
Parking is only available for concert attendees and is included in your ticket price. Parking upgrades (premium, early, tailgate, and oversized parking) are available for an additional cost. If you do not plan on going to the concert, you will not be permitted in our parking lots. Please park as directed by our local law enforcement and parking team so that we may park you as quickly and efficiently as possible. 
PNC Music Pavilion
707 Pavilion Blvd, Charlotte, NC 28262
Due to event and local traffic, please expect delays and give yourself plenty of time to arrive to PNC Music Pavilion. Click HERE for a printable version of our traffic parking route map or view below. 
The Box Office at PNC Music Pavilion is only open day-of-show, starting at 10AM.  If interested in purchasing tickets, please visit us at www.livenation.com.
We are now hiring for the upcoming concert season at PNC Music Pavilion and Skyla Credit Union Amphitheatre! Apply for a variety of seasonal roles, including: 
Cleaning
Security
Guest Services
Operations
Parking
VIP
Box office
Ancillary Sales
Sustainability
Varies by show. Please check the Day of Show Information tab for updates pertaining to a specific show, as all permitted items are subject to change at the tour's request. 
Items Allowed in the Venue:
• Clear bags no larger than 12"x6"x12" and unclear bags no larger than 6"x9".
• Small Blankets/Beach towels (no larger than 3'x5')
• 1 factory sealed plastic bottle of water, non-frozen, up to 1 gallon or empty non-glass water bottle up to 1 gallon
• Food in clear 1-gallon ziploc type bags
• Non-professional cameras (Pocket sized, point & shoot, no removable lenses)
• Lawn chairs without roof, leg or arm extensions 
• Small pocket sized umbrellas (use in plazas only)
Items NOT Allowed in the Venue (include but not limited to):
• Weapons or sharp objects of any kind 
• Alcohol, other beverages and camelbacks except sealed water
• Frozen Water Bottles (Any Size)
• Aerosol cans
• Laser pointers
• Pen lights or pointer lights
• Glow wands
• Hard sided coolers
• GoPros 
• Audio or Video Recorders
• iPads or tablets
• Professional cameras with detachable lenses or cameras with lenses that extend more than 1"
• Glass Bottles
• Cans
• Illegal Drugs
• Lounge or tri-fold chairs
• Picnic baskets
• Large blankets
• Large Umbrellas
• Chains (ex. wallet chains)
• Selfie Sticks
• Poi/Rave Balls
• Levitation Sticks
• Rave Sticks
• Fireworks
• Pets (except service dogs)
• Strollers
• Signage over 11" x 8" 
• Frisbees, Footballs, or other projectiles
• Inflatable Chairs
FAQs
What is the contact information for PNC Music Pavilion?
Venue Phone Number - 704-549-1292
Venue Physical & Mailing Address - 707 Pavilion Blvd, Charlotte, NC 28262
Where do I enter the venue?
There are a total of 4 entrance gates to the facility. Gates 2 and 3 are available for use regardless of the ticket type. There is 1 Fast Lane Gate located adjacent to Gate 2. You must have your Fast Lane pass to utilize this gate. The VIP Club has a separate entry gate located at Gate 1. All guests using this gate must be VIP clients and have the appropriate ticket. Gate 4 is primarily used for high capacity concerts. 
Additionally, we have no-bag lanes located at each gate.
Can I rent a lawn chair at the show?
Lawn chairs are available for rent inside the venue on a show-by-show basis at the lawn chair stands at the top of the lawn. Please check the Day of Show tab to make sure lawn chairs are permitted at your show.
Do you have a Lost and Found?
Any items lost during an event may be collected at Guest Services, located at Gate 2. If your item is not with Guest Services, please check online the next day for all items found during the event you attended and/or call the main office at (704) 549-1292. Arrangments will be made for pickup during non-event days. 
https://charlotte.app.pixithq.com/public/#!/pnc-music-pavilion-charlotte
Where can I find information for my Lawn Pass?
You can find more information pertaining to included/excluded shows and FAQs, on the Lawn Pass website.
What are your accessibility accommodations?
PNC Music Pavilion strives to ensure that all of our guests have a great time at our venue. If you need additional assistance while you are here please make sure you let us know.
Ticketing- ADA tickets can be purchased online via www.livenation.com. You do not need to call the box office to place an order as all of our accessible tickets are available through www.livenation.com. Look for the accessible logo on the Find Tickets page to view all available accessible seats. We do have accessible seating in every price range, but be advised it does occasionally sell out. We have very limited seating available for guests on the day of the event so please make sure you purchase accessible seating when you order tickets.
Day of Show Parking- Accessible Parking is located in our ADA Parking Lot. Let the parking staff know that you need accessible parking and they will direct you to this lot. Please be advised that parking is limited. If you do not absolutely need accessible parking- please park in the general lots.
Accessible Stations- if you have questions or in need of assistance, please see Guest Services located at Gate 2.
Unexpected Needs- if you have had an injury or illness that prevents you from using the original seat you purchased we strongly recommend going through www.livenation.com to exchange the tickets for accessible seating. We will have a very limited number of seats available on the day of the show for such issues, therefore we cannot guarantee we will be able to seat you. Please remember that accessible seating accommodates that guest plus one companion.
Interpreter Requests- if you will need an interpreter for an event please give us at least 2-weeks' notice to try and secure an interpreter. Guests that request an interpreter will need to pick up their tickets at will call. When the tickets are picked up we will introduce you to your interpreter for the evening and take you to your seats. There is no charge for interpreter services. Please call 704.887.6527 to arrange for an interpreter for your visit.
Accommodations- all venue restrooms, concession stands, and merchandise stands are accessible. 
How can I upgrade my experience?
Visit https://www.livenation.com/mobile/ to download the app and see all of the upgrades and experiences we have available. You can also visit the Upgrades tab of our website.
What if I have tickets at will call?
Will call tickets are available for pickup at the box office. Please make sure that you have a photo ID matching the purchaser's name to pick up tickets. Any name changes need to go through Ticketmaster Customer Service- 800-653-8000.
Guests are not permitted to put tickets in will call for other guests to pick up. You will need to arrange to meet your party at the facility to deliver tickets.
Any tickets/passes being provided directly to you from the tour or other promotional company will be available for pickup at the Box Office on day of the concert, by later afternoon. This included Meet and Greet passes, Backstage passes, Press passes, VIP/Seat tickets, etc. If your tickets/passes are not in the Box Office, it is your responsibility to confirm with your point-of-contact where the tickets/passes can be located. Staff will not contact any member of the tour for you. 
What is your camera policy?
SUBJECT TO CHANGE- The standard venue policy allows camera phones, disposable cameras, and small digital cameras. Any camera that has a detachable lens will be considered professional and not allowed in. If the camera lens zooms out of the camera more than 1 inch- it will be considered a professional camera and will not be allowed in. Some artists do not permit cameras so please check back for the show you will be attending to ensure that we will be allowing cameras in.
What food and drinks can I bring into the show?
Guests are permitted to bring food in a clear ziploc bag up to one gallon in size.
Guests are permitted to bring in one factory sealed bottle of water up to one gallon in size. This policy is subject to change based on artist requests or safety considerations. Aluminum bottles, refillable plastic water bottles are permitted and must be empty upon entry. Camelbacks are not permitted. Complimentary water fill stations are located at Guest Services inside Gate 2.
What is your alcohol policy?
PNC Music Pavilion offers a wide variety of alcoholic beverages for purchase during your time at the venue. You are not permitted to bring any alcoholic beverages into the venue. A valid and current Driver License or State ID card is required to purchase alcohol- guests will be required to show ID every time they purchase.
Is smoking permitted?
Smoking is permitted in the plazas and lawn area only. However, if guests in the lawn are complaining we will ask you to smoke in the plazas only. We appreciate your cooperation.
Are there concessions at the show?
PNC Music Pavilion offers a wide variety of concession options throughout the venue. This includes cheeseburgers, hot dogs, nachos, pretzels, candy, popcorn, fountain soda (Pepsi Products), water, and energy drinks.
What parking options are available?
General parking is included in your admission ticket. For those who wish to upgrade their parking experience, we have the following options available for purchase under the Upgrades tab of our website. Pricing varies by show.
Early Parking - Allows early access to the parking lots so guests can avoid traffic and tailgate longer.
Tailgate Area Parking - Allows early access and access to a shady tree lined grassy area for the best tailgate experience. 
Premier Parking - Gives guests access to the closest parking lot to the venue.
Oversized Parking - A space for any vehicle that requires more than one standard parking spot.
Pickup/Dropoff and Rideshare
Drop off areas are located at our A/B Parking Gate Entrance. Please let the parking staff know that you are dropping someone off and they will direct you. Guests cannot remain in their vehicles during the event; they must drop off and return 45 minutes prior to the end of the show. If you are not back within 45 minutes of the end of the event- you will not be allowed to enter until the majority of cars have exited the parking lot. Local law enforcement will shut down all incoming traffic and only allow traffic out of the venue. Taxi & Ride-Share drop off location is located at the A/B parking entrance only.
What is your oversized vehicle policy?
Busses, limos, and town cars are considered oversized vehicles and will be charged oversized vehicle parking fee if they will be remaining on site during the event. Busses that will be dropping off guests can leave the parking lot and return 45 minutes prior to the end of the event with no additional charge. Charlotte Mecklenburg Police Department will be on site assisting in the bus lot to ensure all guests on busses are acting appropriately and within accordance of the law. *Subject to change based on event. Parking prices vary based on event and can be purchased in advance at www.livenation.com. 
Do you allow camping or overnight parking?
The venue does not allow camping or overnight parking of any kind. Any unauthorized vehicles on site prior to an event or after an event will be towed at the owner's expense.
Where can I park my bike or motorcycle?
Motorcycles can park on the Motorcycle Pad, located near Pavilion Blvd in front of the box office. There is also a bike rack located at the Motorcycle Pad.
What is your cancellation policy?
Cancellations will only occur in the event of severe weather, artist cancellation, or circumstances beyond control. In the event of a cancellation we will notify fans and any information about a potential rescheduled date will be made available. Refunds will be available at the point of purchase.
What if there is an emergency at the show?
In the event of an emergency while on site- PNC Music Pavilion has trained paramedics to assist with any medical issues. First aid is located mid-North Plaza (as you face the stage, the plaza to your left) but any staff member with a radio can dispatch First Aid to the location needed. Local law enforcement officers are also on site for every event and can assist if needed or requested. Venue management works closely with all appropriate emergency agencies and services to ensure that we are up to date on any dangerous weather or potential crowd related issues. In the event of a weather emergency- we will communicate with guests that are inside of the facility as well as guests on their way to the venue. 
What if there is bad weather the day of my show?
How is traffic managed at the venue?
Traffic is controlled by local law enforcement and the venue. If there are any major traffic issues that will impact the start of the event we will post this information on our social media pages.
How can I get medical assistance at the show?
First Aid is located Mid North Plaza. We have trained medical personnel that are able to assist with any issue you encounter. We have ambulances on site throughout the duration of the event that can transport guests if needed. If you have medication that you need stored in a refrigerator please go to First Aid and our medical staff will assist you. If you have a condition that requires you to use a needle for medication while you are here- please do so in our medical office so the syringe can be properly disposed of.
What security precautions are in place?
Venue security and law enforcement are located throughout the facility to ensure a safe and secure environment. All security personnel are wearing white shirts and can assist with any questions or concerns. Please do not hesitate to contact our on-site staff if any assistance is needed.
When coming through the gates, please plan on security using metal detectors and/or a physical pat down for our search procedures. All bags are subject to inspection. If you have a medical reason for not wanting to be searched via metal detectors, please contact a supervisor and a pat-down search can be provided.
Guests are expected to behave respectfully and in accordance with venue policy, state and local laws. Any guest that is acting in a manner that venue management deems unsafe can be subject to eviction. If a guest violates a state or local law they will be subject to any disciplinary action deemed necessary by local law enforcement. We reserve the right to deny entry to any guest for any reason. 
Your safety and security are most important to us. The following details will outline our general venue's guidelines: https://www.livenation.com/venueguidelines
Do you allow conceal and carry?
PNC Music Pavilion does not allow weapons of any kind on our property. Guests should follow all applicable laws regarding securing a weapon in a vehicle if they have it on them when they arrive. The venue will not secure weapons and will take no responsibility for any weapons left in vehicles.
How can I get an artist VIP or meet and greet package?
Please visit the artist's website to find out if they are selling VIP packages for their show.
Is there an age requirement?
All of our events are all ages. Children 2 and under do not require a ticket, but must sit on a parent's lap.
Where can I purchase merchandise?
Merchandise will be available for all concerts at our Concert Gear booths located on both main plazas. For Festival shows- there will be merchandise located throughout the facility and sold by various vendors. All concert gear is property of the artist and the venue has no responsibility related to the craftsmanship or style of any merchandise. Please make sure you check that you have the correct size and there are no defects in the shirt before you walk away from the stand. The venue cannot assist with replacing or refunding any merchandise after the event has ended.
Do you have group ticket sales?
PNC Music Pavilion does not offer group ticket sales. If you have a large party that will be attending the show the only option would be through our Season Ticket Seating Department. Season Ticketing sells all VIP boxes, suites, and clubs at the venue that can accommodate larger parties than the standard ticket limit. Fill out the form on our Season Tickets tab to be contacted by someone from our team.
I have another question.
Feel free to give us a call at 704-549-1292 or reach out to us on social media!
Experience the VIP lifestyle at PNC Music Pavilion with Season Tickets: amazing seats, premium parking, VIP Club access, and personalized service can all be yours. Whether you're looking for an unforgettable outing with friends or family, new ways to entertain clients or reward your team at the office, we have a season ticket package that will exceed your expectations and make your concert experience extraordinary.
Benefits Include:
Premium Concert Seats 
VIP Parking (closest to the venue)
VIP Club Access
Private Venue Entrance
Private Restrooms
Additional Ticket Opportunities To Other Live Nation concert events in Charlotte
Dedicated customer service staff
Don't miss your chance to become a Season Ticket holder!
* Required fields
Legendary Venue, Epic Private Events!
Featuring outdoor setting and soaring views, PNC Music Pavilion is the perfect location for your next conference, corporate event, fundraiser, private concert or graduation. With access to the world's greatest musical entertainment, state-of-the-art lighting and sound, custom menus and mixology, our talented staff handles every detail, so you don't have to. Accommodating up to 18,000 guests, and located 10 miles from the Convention Center and 15 miles from the airport, this unique venue will exceed expectations.
Contact Our Special Events Sales Team
PNC Music Pavilion
Phone

704.916.8966

Email

Address

707 Pavilion Blvd. Charlotte, NC 28262