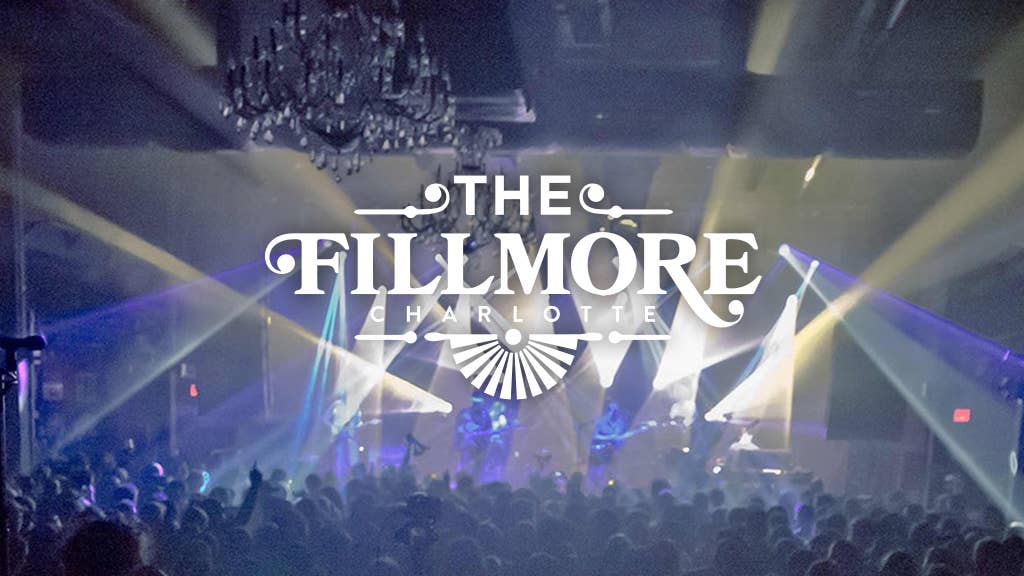 The Fillmore Charlotte
Welcome the The Fillmore Charlotte
Click our tabs below for everything you need to know before attending a show with us!
FAQs
What is the contact information for The Fillmore and The Underground?
Phone Number - (980) 266-6460
Email Address - FillmoreCLT.info@livenation.com
Physical & Mailing Address - 820 Hamilton Street, Charlotte, NC 28206
What is the bag policy?
Bags up to 12" x 6" x 12" are allowed in the venue. All bags will be searched prior to entry. Bags that are not clear will be subject to additional search.
How old do you have to be to attend a show?
Unless otherwise noted, most shows are all ages. Age restricted shows will be notated under 'More Info' when purchasing tickets on LiveNation.com. All patrons regardless of age must have a ticket to enter the facility. 18+ or 21+ shows will require a valid ID.
Where should I park?
The NC Music Factory has a parking lot located across the street from the venue just past the AvidXchange building. They may charge parking fees. These fees may vary and are NOT venue fees. 
What can I bring to the show?
Do bring yourself, your ticket, your friends, and your photo I.D.
What is NOT allowed into the venue?
Items NOT Allowed in the Venue (include but not limited to):
Weapons

Bags over 12" x 6" x 12" 

Alcohol

Drugs

Professional Cameras

Pet

Laser pointers

Light up whips

Light up/flow toys

Glow sticks

Hula hoops

Skates

Wallet chains

Spiked jewelry or belts

Banners

Flyers

Beach balls

Full face covering masks

Frisbees

Fireworks
Can I bring my camera? Can I video tape the show? Can I bring my audio equipment?
The Artist dictates our night-to-night camera policy. We generally allow small, personal cameras into the venue. We do not allow professional (detachable lens) cameras into the venue. If you do bring this type of camera, you will be asked to take it back to your car. There are some artist's who restrict ALL cameras. Please call the venue on the day of show to see if you can bring your camera. Video taping is not allowed under any circumstances at any show. Any professional video equipment will be confiscated for the remainder of the event. Some artists allow and encourage audio taping at their shows (and have their own policies posted on their websites). We suggest you check on the band's official website/message board regarding their taping policies and call us on the day of the show to ensure you are allowed to tape before you bring all of your equipment down to the venue.
Can I get something to eat and drink at the show?
Yes. We have an assortment of alcoholic and non-alcoholic beverages, as well as food items. The Fillmore Charlotte & The Underground offer a variety of alcoholic beverages to our guests who are of legal age. Guests must show valid photo identification to purchase these beverages and there is a maximum number of beverages a guest may purchase per any one time sale. The Fillmore Charlotte & The Underground have the right to decline sale of such beverages to a guest at any time.
Make sure to check out our Meal Packages under the Upgrades tab, which include a meal item, side, and non-alcoholic beverage. Available on a show-by-show basis. 
Can I smoke in the venue?
No. Smoking inside is prohibited by North Carolina State Law. We do have a patio located outside for patrons who wish to smoke.
Do you have seats at The Fillmore Charlotte or The Underground?
Unless otherwise stated we do not have seats for shows as we are a General Admission/Standing Room only concert venue. That said, your tickets will have a seat number and a row number listed (for our internal tracking purposes), however they do not bind you to a certain spot in the venue. A small number of Premium Seats are generally available. For information visit our Premium Tickets Page.
Do you have a dress code?
No specific dress code, but clothing and shoes are required. Style is totally up to you.
We do not allow full-face covering masks or full-face paint.
Do you have a lost and found?
If you notice you are missing an item during a show check with any of our event staff at the front door at the end of the show. Any items turned into us at the end of a show are held in the Fillmore Administration Offices. Please call our office at (980) 266-6460 or email us at FillmoreCLT.info@livenation.com to see if we have your item.
Do you have accessible seating?
Yes. After purchasing your General Admission tickets, please call the venue directly to set up a reservation for an accessible seating accommodation at 980-266-6460 or email FillmoreCLT.info@livenation.com.
How do I host a private event at the Fillmore Charlotte?
Wedding receptions, high school proms, business events, holiday parties and more are just a little bit cooler inside the walls of The Fillmore Charlotte. Please visit our Special Events page for more information.
My tickets are at will call, what do I need to bring to pick them up?
All guests picking up tickets at Will Call must show two forms of identification (Photo ID and the credit card used to purchase the tickets) and their ticket confirmation number.
Once I come into the venue, can I leave and come back?
We have a No Re-Entry policy. You may exit the venue for air or a cigarette if you exit to our smoking patios. At The Fillmore the smoking / outdoor area is located near the bathrooms. At The Underground they are located to the right of the stage while watching a show.
The show I had tickets to was just cancelled - how do I get my money back?
If a show is cancelled due to unforeseen circumstances (artist illness for example) you will be refunded the entire amount (services fees included) of your ticket price via the point of purchase. If you purchased a ticket online - your credit card will automatically be refunded (if the show is not rescheduled for a later date). You can always also call 800-745-3000 to speak to a Ticketmaster representative regarding your refund or come down to our Box Office to inquire in person.
What is the Fast Lane Ticket?
The Fast Lane Ticket allows you entrance to the venue in a separate line from the general public. Please note Fast Lane Tickets do not grant access to The Fillmore Charlotte's VIP Club/VIP Private Bar/VIP Private Bathrooms. The Fast Lane Tickets are also NOT a ticket to a show - they are considered an amenity. Patrons who attempt to enter shows with just a Fast Lane ticket will not be allowed into the show without an actual event ticket.
Where can I buy tickets to concerts at The Fillmore Charlotte & The Underground?
The most convenient way to purchase tickets is through www.LiveNation.com.
Tickets obtained from unauthorized sources may be invalid, refunded, lost, stolen or counterfeit, and if so are void. Ticket holders who purchase tickets from unauthorized sources may not receive important information pertaining to their show.
I still have a question you didn't answer.
Please feel free to call us directly 980-266-6460 from Monday - Friday 8am - 4pm or email us at FillmoreCLT.info@livenation.com and we will be happy to answer any questions you have. We can also be reached on Twitter, or Instagram at FillmoreNC.
We are redefiniing what it means to be a VIP. Contact us today to learn what it's all about. 
* Required fields
Legendary Venue, Epic Private Events!
Housed in a 100-year-old fiber mill in the Fourth Ward area of Uptown Charlotte, the stylish Fillmore has hosted artists such as B.B. King, Jason Mraz, The Smashing Pumpkins, Foo Fighters and more. As Charlotte's largest music venue, this incredible space is the perfect location to host your next corporate event, private concert, wedding, reception or business meeting. Located 2.2 miles from the Charlotte Convention Center, The Fillmore accommodates for 25 to 2,000 guests. Make your next meeting or private event, one to remember!
Contact Our Special Events Sales Team
The Fillmore Charlotte
Phone

704.916.8966

Email

Address

820 Hamilton Street Charlotte, NC 28206