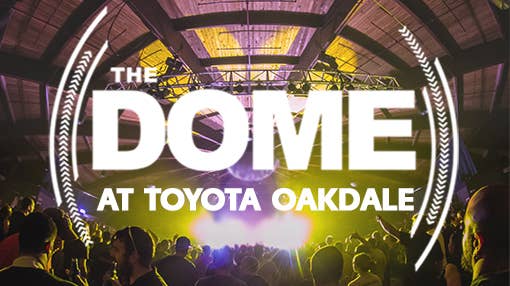 Dome at Toyota Oakdale Theatre
Know Before You Go
We can't wait to see you at The Dome at Toyota Oakdale Theatre! Here's what to expect when you visit us:
Coming to a show? Here's a few things to know before you go!
Door Times
Check back here closer to your show date for gate times!
Bag Policy
The following bag policy is in place: Bags up to 12" x 6" x 12" are allowed in the venue. All bags will be searched prior to entry. Bags that are not clear will be subject to additional search.
Mobile Ticketing
All our events will be Mobile Entry. That means your mobile device will be used to gain access to the event. Tickets will not be emailed or available for print.
For more information on mobile entry, click here.
Phone troubles? Visit the box office on event day for assistance. Be prepared to show your ID.
Cashless Payments
All concession, bar and ticket sales, once in the venue, will only accept credit or debit cards. Cashless payments are encouraged for ticket purchases at the box office. Cash to card conversion will be available inside the venue, dollar for dollar, without any service fees.
Directions
Toyota Oakdale Theatre
95 S Turnpike Rd, Wallingford, CT 06492
The entrance is located at 95 S Turnpike Road. Do not enter on Cook Hill Road, this is an exit only. Please respect the local neighborhoods and refrain from pulling into residential areas including private streets and driveways.
The Hartford HealthCare Box Office is located in the main lobby of the theatre entrance and is open Tuesday and Thursday 12PM - 5PM and shows days 2 hours prior to doors. Tickets obtained from unauthorized sources may be invalid, refunded, lost, stolen or counterfeit, and if so, are void and therefore not valid for entry. We recommend purchasing tickets directly via our box office, Ticketmaster or Live Nation only.
Toyota Oakdale Theatre strives to ensure that all of our guests have a great time at our venue. If you need additional assistance while you are here please make sure you let us know.
Ticketing - ADA tickets can be purchased online via 

livenation.com

. You do not need to call the box office to place an order as all of our accessible tickets are available through 

www.livenation.com

. Available Accessible seating can be identified by the handicapped logo on the seating map or by turning on "Show Accessible Tickets" under "filters" in the upper right-hand corner of the website. 

Types of Tickets: 

Semi-ambulatory Seating: Available for guests who can go up and down a few stairs to their seating location. Seats are located on the aisle and have an armrest that moves up and down so the guest can get in and out of the seat comfortably
Wheelchair Accessible: Available for guests who will be attending the show in a wheelchair. There is no physical seat, there is a space for an accessible approach to your seating location and the guest will be seated in their wheelchair for the duration of the show. 
Companion Seat: Available for guests to purchase when purchasing ADA Accessible seating only. Companion seats are located right next to the accessible seat being purchased. Guests may purchase up to 3 companion seats. 

Accessible seating is available at every price range and for every show. Please be advised that these seats do occasionally sell out. We cannot guarantee that we will have ADA Accessible seating on the day of the show; guests who require this accommodation are advised to purchase accessible seating when they place their order. 

Day of Show Parking - Accessible Parking is located directly in front of the building. Please stay right as you approach the parking attendants and have your ADA parking tag visible so our parking staff can direct you appropriately. If you do not absolutely need accessible parking, please park in the general lots.

ADA Accessible parking is available on a first-come, first-served basis

; the venue cannot reserve or hold these spaces for guests. 
Unexpected Needs - If you have had an injury or illness that prevents you from using the original seat you purchased we strongly recommend using

livenation.com

and contacting FAN SUPPORT to exchange all tickets for accessible. We have a very limited number of seats available on the day of the show for such issues, but we cannot guarantee we will be able to accommodate you or your group on the day of the show.  Accessible seating in these situations permits the guest with the accessible need and one (1) companion.
Interpreter Requests - If you will need an interpreter for an event, please contact the venue directly at least 2 weeks in advance so we may acquire the appropriate services. There is no charge for interpreter services. Please call (203) 265 -1505 and email FOJ@LiveNation.com to arrange for an interpreter for your visit. If your event is less than 2 weeks away, we cannot guarantee that we will be able to have an interpreter on-site on the day of your visit but we will make every effort to find appropriate accommodation. 

Guests who require assisted listening devices may contact our venue at least 2 days prior to the event to arrange the pick-up of a device on the day of the show. A photo ID is required when picking up the device. Please call (203) 265 -1505 and email FOJ@LiveNation.com. 

Accommodations - All venue bathrooms, concession stands, and merchandise stands are accessible.
Accessible Stations - If you have questions or need assistance during your visit, please visit Guest Services located at the front of the lobby or as soon as you enter the venue. 
Service Animals - Like many venues and other places of assembly, the Toyota Oakdale Theatre has a "no pets" policy, consistent with ADA's revised guidelines, which defines "service animals" as limited to a dog that is individually trained to do work or perform tasks for an individual with a disability. The task(s) performed by the dog must be directly related to the individual's disability

The Toyota Oakdale Theatre requires, consistent with the ADA, that service animals must be harnessed, leashed, or tethered unless these devices interfere with the service animal's work or the individual's disability prevents him or her from using these devices. Individuals who cannot use such devices must maintain control of the animal through voice, signal, or other effective methods. 
FAQs
Where Do I Park?
Premier Parking is located in the lot closest to the main entrance of the facility for an additional charge.  Premier Parking may be purchased in advance at all points of sale or day of show upon entrance to the parking lots pending availability, credit/debit/mobile pay only. Additional parking at no added cost is available at the back of the main parking lot.  Accessible Parking is located adjacent to the main entrance. To provide ADA Accessible parking to our guests who need it, we require guests to display a valid ADA Accessible hangtag or license plate. The owner of the placard must be in the vehicle and ready to provide proof of ownership. This includes a photo ID and signature to match.  ADA parking is limited and available on a first come first served basis.   
Where is Will Call?
Will Call is open during regular business hours and on event nights. Any unclaimed Will Call tickets will be brought to the Administrative Offices for latecomers. Picture ID is required for all tickets picked up from Will Call. However, if you will not be arriving with other members of your party, please plan to secure your tickets in advance, as the Hartford HealthCare Box Office can not accept tickets to be left at Will Call for someone arriving late.
Is There Food at the Venue?
The theater offers a variety of traditional items at our concessions stands. We also have a full bar with beer, wine, and select mixers for adults 21 years and older. Picture ID is required for the purchase of alcoholic beverages. Concessions items are credit/debit only.
Can I Smoke?
This is a non-smoking facility. A smoking area is located outside of the lobby for attendees.
Is the Venue Accessible?
Theater and all facilities are fully ADA accessible. Elevator access to all levels of the facility. Special seating is available for patrons with mobility impairments, visual impairments and hearing impairments. Infra-red hearing devices are available for all shows free of charge (ID required) at the administrative offices. Please reach out to FOJ@LiveNation.com with any questions or concerns. 
Can I Rent The Dome at Toyota Oakdale Theatre?
This legendary venue is the perfect location to host your next corporate event, private concert, wedding, reception or business meeting. Accommodating from 25 to 4,800 guests, our talented staff handles every detail, so you don't have to! Book today!