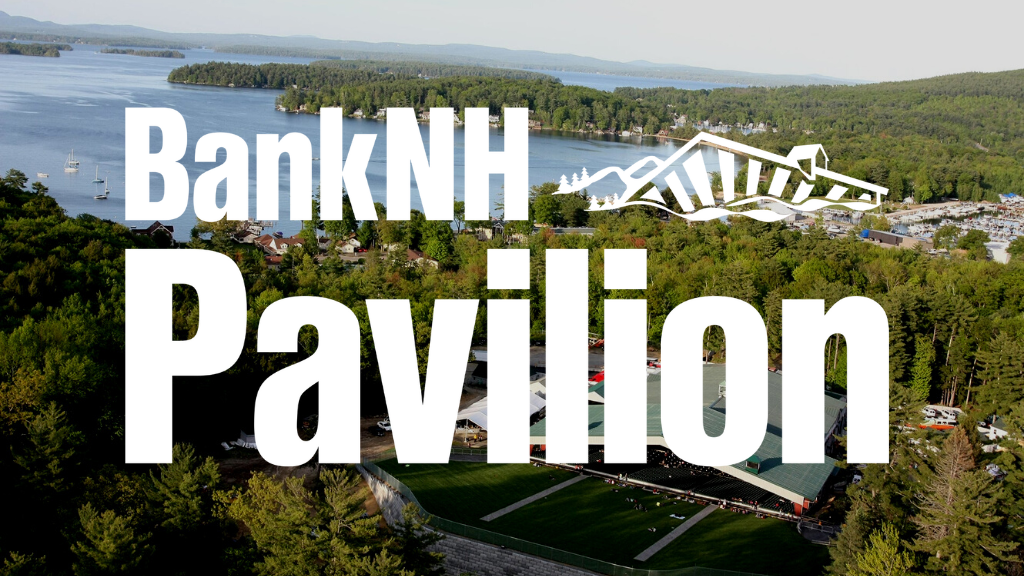 BankNH Pavilion
Know Before You Go
We can't wait to see you at BankNH Pavilion! Here's what to expect when you visit us:
Coming to a show? Here's a few things to know before you go!
Doors Time
Check back here closer to your show date for gate times!
Bag Policy
To reduce staff contact with guest belongings, we have implemented the following bag policy: we will allow clear plastic, vinyl or PVC tote bags no larger than 12" x 6" x 12" and/or small clutch bags (6"x 9"). No other bags of any type will be allowed.
Directions
BankNH Pavilion
72 Meadowbrook Ln, Gilford, NH 03249
Unless you have a parking pass directing you to the "Main Entrance," please proceed to the "West Entrance / Concert Entrance." Enter 80 Recycle Way, Gilford, NH 03249 for GPS navigation to the West Entrance. From the by-pass, you will take a left onto Rte. 11 and then take a left at the first light onto Rte. 11C/Lily Pond Rd. Recycle Way will be 1.25 miles on your right. Follow the signs to the West Entrance. From 11B South (Weirs Beach), take a right onto 11C/Lily Pond Rd and then a left onto Recycle Way in 1/2 mile.
The box office is open only on show days. Tickets obtained from unauthorized sources may be invalid, refunded, lost, stolen or counterfeit, and if so are void and therefore not valid for entry. We recommend purchasing tickets directly via our box office, Ticketmaster or Live Nation only.
BankNH Pavilion strives to ensure that all of our guests have a great time at our venue. If you need additional assistance while you are here, please make sure you let us know.
Ticketing- ADA tickets can be purchased online via www.livenation.com. You do not need to call the box office to place an order as all of our accessible tickets are available through www.livenation.com. Look for the   logo on the Find Tickets page to view all available accessible seats. We do have accessible seating in every price range, but be advised it does occasionally sell out. We have very limited seating available for guests on the day of the event so please make sure you purchase accessible seating when you order tickets.
Day of Show Parking - Accessible parking is not reserved in advance. A standard parking pass is all that is required. Vehicles with accessible placards will be assigned accessible parking on a first-come, first-serve basis the day or night of the show. Parking attendants will direct those with accessible plates or placards to accessible parking. Should the accessible parking be full, parking attendants will park you in the closest parking lot and, upon request, will arrange for a golf cart to pick you up and bring you to the venue entrance. If a golf cart is needed upon departing the venue, you may ask any of the ushers and they will arrange for the cart to bring you back to your vehicle. Vehicles with standard parking passes and ADA placards should come to the Main Entrance as soon as possible after parking opens.
Unexpected Needs - If you have had an injury or illness that prevents you from using the original seat you purchased, we strongly recommend going through www.livenation.com to exchange all tickets for accessible seating. We will have a very limited number of seats available on the day of the show for such issues, but we cannot guarantee we will be able to seat you. Please remember that accessible seating permits for the guest with the accessible need and one companion.
Interpreter Requests - If you will need an interpreter for an event, please give us at least 2 weeks notice to secure. Guests that request an interpreter will need to pick up their tickets at will call. When the tickets are picked up, we will introduce you to your interpreter for the evening and take you to your seats. There is no charge for interpreter services. Please call (603) 293-4700 to arrange for an interpreter for your visit.
Accommodations - All venue bathrooms, concession stands, and merchandise stands are accessible. 
Experience the VIP lifestyle at BankNH Pavilion with Season Tickets: amazing seats, premium parking, VIP Club access, and personalized service can all be yours. Whether you're looking for an unforgettable outing with friends or family, new ways to entertain clients or reward your team at the office, we have a season ticket package that will exceed your expectations and make your concert experience extraordinary.
Benefits Include:
* Premium Concert Seats 
* VIP Parking (closest to the venue)
* VIP Club Access
* Private Venue Entrance
* Private Restrooms
* Additional Ticket Opportunities To Other Live Nation concert events in New Hampshire
* Dedicated customer service staff

 Don't miss your chance to become a Season Ticket holder!
* Required fields
Legendary Venue, Epic Private Events!
Featuring outdoor setting and soaring views, BankNH Pavilion is the perfect location for your next conference, corporate event, fundraiser, private concert or graduation. With access to the world's greatest musical entertainment, state-of-the-art lighting and sound, custom menus and mixology, our talented staff handles every detail, so you don't have to. Accommodating up to 8,500 guests, and located 7 miles from downtown, this unique 48,150 square-foot venue will exceed expectations.
Contact Our Special Events Sales Team
BankNH Pavilion
Phone

972.560.3910

Email

Address

72 Meadowbrook Ln, Gilford, NH 03249