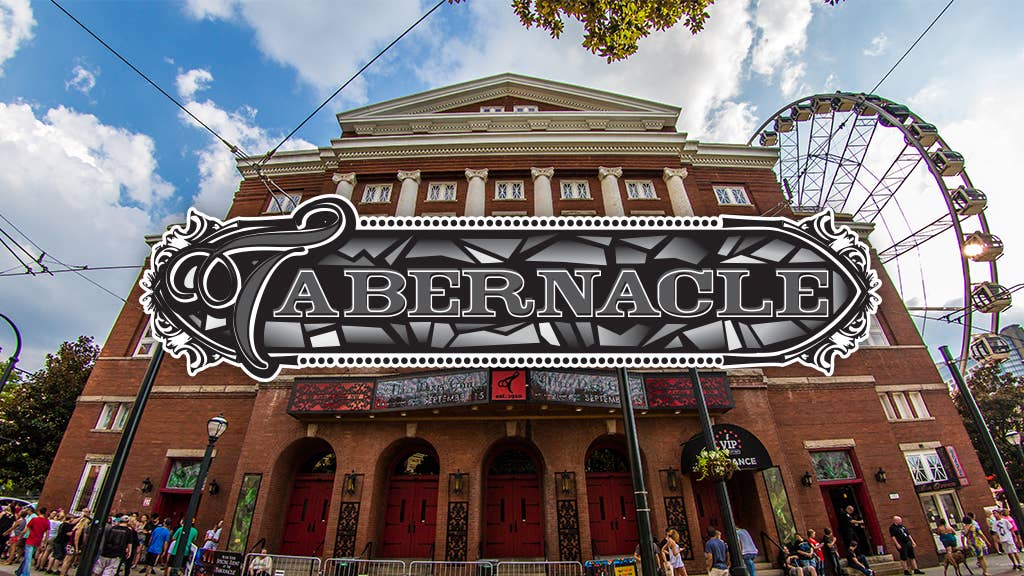 Tabernacle
Know Before You Go
Click our tabs below for everything you need to know before attending a show with us!
FAQs
What are your box office hours?
Our box office opens one hour before doors (two hours before showtime) on show-days only.
Is the Tabernacle handicap/ADA accessible?
The Tabernacle strives to ensure that all of our guests have a great time at our venue. If you need additional assistance while you are here, please be sure to notify our door or security staff of your needs upon your arrival.
Ticketing- 

For shows with General Admission floor, please purchase a General Admission ticket and inform our door or security staff upon your arrival of your needs. We offer a designated area for any patron with a disability need and one companion. Please note: this section is first come, first serve, but very rarely reaches capacity.
For shows with Reserved Seating, accessible tickets are available via livenation.com by clicking the "Filters" option on the ticketing page. If accessible tickets are no longer available, we have limited seating available for guests on the day of the event. Please inform our staff of your needs when you arrive at the venue.
Please note that only the main floor and lower level Cotton Club are ADA accessible. The balconies are only accessible by stairs.

Unexpected Needs- If you have had an injury or illness that prevents you from using the original seat you purchased, we kindly ask you to speak to the door or security staff upon your arrival. We have limited space available for those with accessibility needs and one companion, but please note that seats in this area are not guaranteed.

Interpreter Requests- If you will need an interpreter for an event, please give us at least one month notice to secure by emailing TabernacleTheatreSiteFeedback@livenation.com. Guests that request an interpreter will need to pick up their tickets at the box office. When the tickets are picked up, we will introduce you to your interpreter for the evening and take you to your seats. There is no charge for this service.

Hearing Assistance- Guests that require assisted listening devices can contact our venue office prior to the event to arrange for a device. Please give us at least 2 days' notice. We can be reached at TabernacleTheatreSiteFeedback@livenation.com.

Service Animals- Service animals are permitted inside the venue during events. Only registered working animals are permitted. Tabernacle requires, consistent with the ADA, that service animals must be harnessed, leashed, or tethered, unless these devices interfere with the service animal's work or the individual's disability prevents them from using these devices. Individuals who cannot use such devices must maintain control of the animal through voice, signal, or other effective methods.

Accommodations- Please note that only the main floor and lower level Cotton Club are ADA accessible. The balconies are only accessible by stairs.
Can I bring a bag with me to the Tabernacle?
The following bag policy is in place: Bags up to 12" x 6" x 12" are allowed in the venue. All bags will be searched prior to entry. Bags that are not clear will be subject to additional search.
What items are not allowed inside the Tabernacle?
The following items are prohibited for all shows:
• No Outside Food or Drink Allowed
• No guns, knives, weapons, pepper spray, projectiles of any kind, or any other item that could be used to inflict harm.
• Replicas of any type of weapon are NOT permitted
• No drugs, drug paraphernalia or illegal substances of any kind
• No personal video cameras, Go-Pros, selfie sticks, drones, masks that cover the entire face, or laser pointers.
• No professional audio, video, or audio recording equipment - (including detachable lenses, tripods, zooms or commercial use rigs)
• No unsealed liquids or gels of any kind
• No jewelry or clothing that could inflict harm
• No bags over 12" x 12" X 6" of any kind, backpacks, Camelbacks or Bota bags (or bags that don't fit our new bag policy)
• No stuffed animals or toys of any kind
• No hand fans
• No glow sticks, poi, hoops, or bitwhips
• Signs larger than 8.5"x11"
• This list of prohibited items is subject to change at the discretion of venue management
Where should I park at the Tabernacle?
You can purchase advance parking HERE.
Discounted parking in a nearby deck is available at 100 Luckie Street with LAZ Parking. The LAZ parking deck is located at the corner of Cone and Luckie Street and is a four level deck. Additional parking is available on numerous surface lots in the downtown area. The Tabernacle does not own or operate any of the parking lots, and we are not responsible for parking rates or for vehicles left on the lots.
If you prefer public transportation, the venue is also conveniently located near both Peachtree Center and the Dome MARTA Stations. Walking time is 10 minutes or less depending on the starting station. The Atlanta Streetcar also travels to the Tabernacle from the Peachtree Center station.
Peachtree Center Directions
After exiting the train at the Peachtree Center station, follow the signs "To John Portman Blvd". After going through the fare gate, follow the signs again to Peachtree Street West.
At street level turn right to walk along Peachtree Street. At the first intersection, turn right on Andrew Young International (Hard Rock Cafe will be across the street). Walk one block then turn left onto Spring Street, then make a right on Luckie Street just after you walk by Ted's Montana Grill. The Tabernacle is less than a block down on the left.
Dome Station Directions
You can also exit at the Dome/GWCC/Philips Arena station on the blue/green line. Take the Philips Arena exit out of the station and veer to the right and up the stairs to walk straight ahead on Centennial Park Drive. Turn right on Luckie Street next to SkyView. The walk is slightly longer on this route and can be more isolated, especially if there aren't any events going on around Philips Arena and the Dome.
After 8:30 p.m., you can only board a Doraville train at the Peachtree Center station to go north. If you need the North Springs train, exit at the Lindbergh Center station to transfer.
Lindbergh Center is a great place to park and ride the train if you are coming from north of the city, Inman Park or Candler Park on the east side.
More information regarding public transportation is available here.
Where is the lost and found?
For any questions regarding our lost and found, please email TabernacleTheatreSiteFeedback@LiveNation.com, and we will get back to you as soon as we can.
I left my credit card / ID at the bar at a show, how can I retrieve it?
Please email TabernacleTheatreSiteFeedback@livenation.com, and we will get back to you as soon as we can.
Does my child need a ticket to come with me to the show?
Yes. All patrons of any age require a ticket for admission to the Tabernacle.
Can I bring a camera to the show?
Cell phone cameras are permitted. Photography is not permitted at the majority of shows at the Tabernacle, though some bands permit cell phone cameras, provided that they are used without a flash. Photography equipment (with detachable or zoom lenses) is not permitted without an appropriate media or photo pass.
How can I rent the Tabernacle for a private event?
For private booking or corporate events, please contact Karyn Kotler at KarynKotler@livenation.com.
Can I check my coat / bag at the Tabernacle?
The building does set up a coat check at times during inclement weather. To find out if coat check will be setup for an event you are attending, please call 404-659-9022 or email us at TabernacleTheatreSiteFeedback@LiveNation.com.
Can I purchase alcohol at the Tabernacle?
Patrons of legal drinking age can purchase alcohol from our full service bars inside the Tabernacle. All patrons who wish to drink must furnish a photo ID for age verification.
Can I smoke inside the Tabernacle?
This is a smoke and vapor free facility. There is a smoking section accessible through the basement level to the right that is outside
Where do I pickup my Will Call tickets?
Will Call tickets can be picked up from the Tabernacle box office, located at the corner of the building closest to Centennial Olympic Park on Luckie Street. Our box office opens one hour before doors (two hours before showtime) on show-days only. 
What do I need to bring to pickup my Will Call tickets?
Please be sure to bring a photo ID, your confirmation number and card used to purchase tickets with you to the box office. The name on the ID must match the name on your ticket order.
If I leave the building during a show, can I return?
No. Once inside the building there is no exit and re-entry.
What methods of payment are accepted for purchasing tickets at the box office?
The Tabernacle box office accepts Visa, MasterCard, American Express. Cash is not accepted. 
Can I purchase unclaimed tickets from Will Call?
No - we cannot sell you someone else's tickets.
Can I buy tickets to shows at other venues at the Tabernacle box office?
No. Tickets are available only for shows at the Tabernacle. Our box office opens one hour before doors (two hours before showtime) on show-days only. To purchase tickets for other venues, please visit Livenation.com or Ticketmaster.com.
Tickets obtained from unauthorized sources may be invalid, refunded, lost, stolen or counterfeit, and if so are void.
How can I get a job at the Tabernacle?
How does my local band perform at Tabernacle?
Please email your EPK, contact information, and other materials to ATLLocalBooking@LiveNation.com for consideration.
We are redefining what it means to be a VIP. Contact us today to learn what it's all about. 
* Required fields
Legendary Venue, Epic Private Events!
Six ornate red doors welcome guests to this former church, which was transformed into a stylish music venue for the '96 Atlanta Olympic Games. This incredible space is the perfect location to host corporate, association, convention or experiential marketing groups. Located 2 blocks from the Georgia World Congress Center and 12 major hotel brands, Tabernacle can accommodate 25 to 2,200 guests, and our talented staff handles every detail, so you don't have to!
Contact Our Special Events Sales Team
Tabernacle
Phone

404-577-4855

Email

Address

152 Luckie Street NW Atlanta, GA 30303