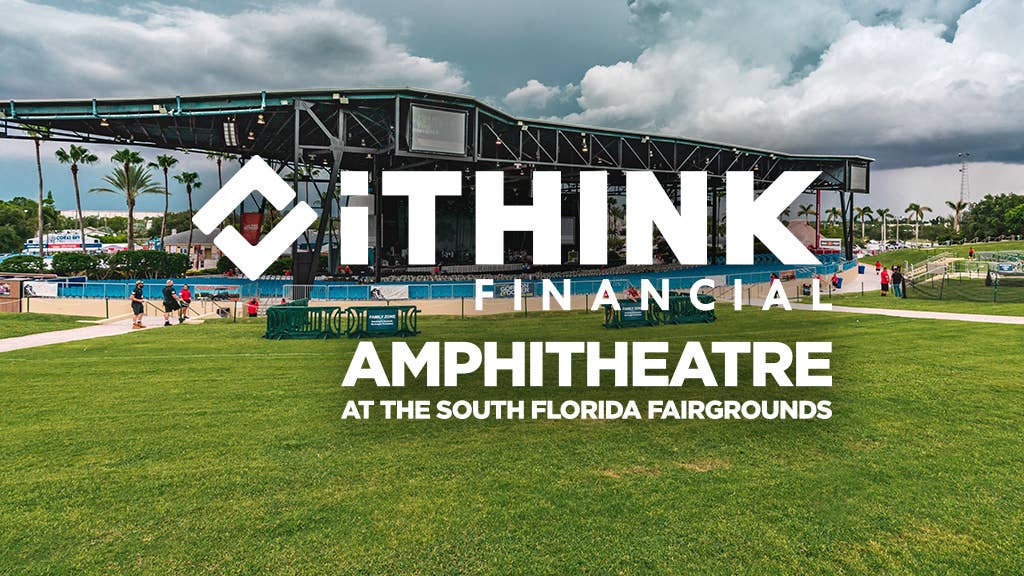 iTHINK Financial Amphitheatre
Know Before You Go
We can't wait to see you at iTHINK Financial Amphitheatre! Here's what to expect when you visit us. As a reminder, there will be NO OUTSIDE LAWN CHAIRS permitted into the venue. Lawn Chairs are available to rent, subject to availability. *Keep an eye on our website and social media handles, as guidelines are subject to change.
The box office at iTHINK Financial Amphitheatre will be open on Fridays from 12pm-6pm and on show days starting at 12pm. If you'd like to purchase tickets, please visit us at www.livenation.com. We look forward to seeing you at our next show at iTHINK Financial Amphitheatre.
Eric Church
The Outsiders Revival Tour
with Whiskey Myers
Friday, September 29
Box Office Opens: 12:00 PM
Early Bird Parking: Opens at 12:00 PM
Parking Lots Open: 4:00 PM
Gates Open: 5:30 PM
Show Time: 7:30 PM
---
Lawn Chairs
To reduce contact with guest belongings and for security reasons, no outside Lawn Chairs will be allowed into the building starting in 2023. Lawn Chairs are available for rental for guests on the Lawn (see our upgrades tab for details).
---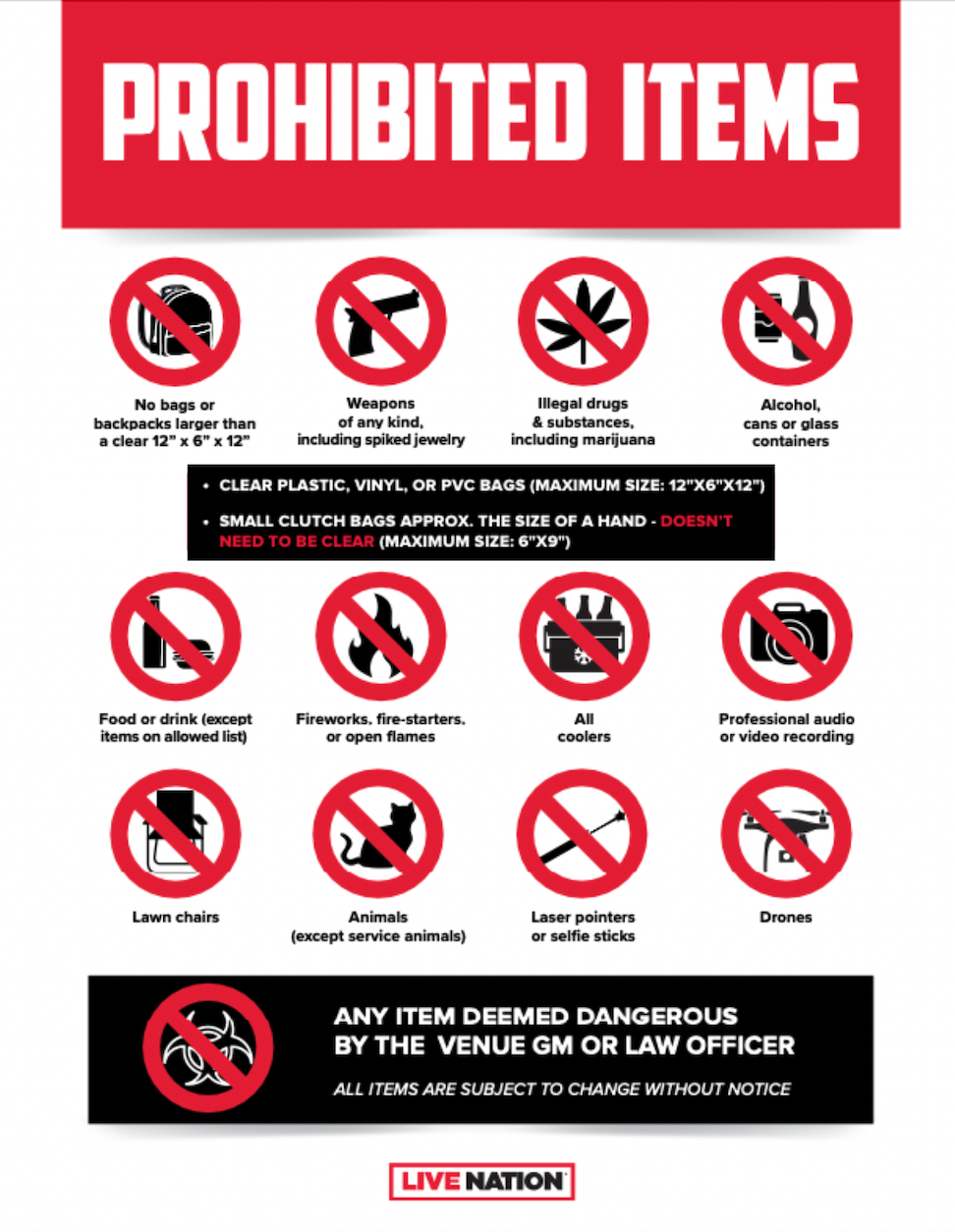 Items ALLOWED to be brought in to the venue: (Subject to change)
Clear plastic, vinyl or PVC tote bags no larger than 12" x 6" x 12" and/or small clutch bags (6"x 9"). 
Blankets
Cameras - nonprofessional only, no detachable lenses
Food - in a clear, 1-gallon ziplock bag
Water - up to 1 gallon in a factory sealed or empty bottle
Umbrellas- small/parasol 
For all general venue related topics, please see our FAQs below.

MOBILE ENTRY
All events are Mobile Entry. That means your mobile device will be used to gain access to the event. Tickets will not be emailed or available for print (for previously scheduled shows where you selected print at home or mail, your tickets will be honored accordingly). 
You have two options to access your tickets:
1. Add tickets to your mobile wallet by downloading the Live Nation App. 
- Click My Tickets and select your upcoming show.
- Add the ticket(s) to your phone's wallet and you're done!
- Present your mobile ticket(s) at entry
2. Add tickets to your mobile wallet by visiting Live Nation on your mobile browser.
- On your mobile phone, visit livenation.com in your web browser and select My Tickets.
- Sign in and select your desired order.
- Add the ticket(s) to your phone's wallet and you're done!
- Present your mobile ticket(s) at entry.
Phone troubles? Visit the box office on event day for assistance. Be prepared to show your ID.
Additional Tips:
Purchase tickets for a group? Arriving separately? Transfer tickets directly to friends and family using the Live Nation App. To expedite entry, we recommend doing this prior to arriving at the event.
- Using the Live Nation App or your phone's web browser, sign in to your account.
- Select the desired order and tap Transfer Tickets (event eligibility may vary).
- Select the ticket you'd like to transfer. Add the recipient's information and send. The recipient will receive an email with the ticket.
Due to large crowds and high traffic, be sure to leave early and give yourself plenty of time at the venue. Increase your phone screen brightness to assist with scanning. Lastly, make sure you have a fully charged battery!
Experience the VIP lifestyle at iTHINK Financial Amphitheatre with Season Tickets: amazing seats, premium parking, VIP Club access, and personalized service can all be yours. Whether you're looking for an unforgettable outing with friends or family, new ways to entertain clients or reward your team at the office, we have a season ticket package that will exceed your expectations and make your concert experience extraordinary.
Benefits Include:
Premium Concert Seats 
VIP Parking (closest to the venue)
VIP Club Access
Private Venue Entrance
Private Restrooms
Additional Ticket Opportunities To Other Live Nation concert events in West Palm Beach
Dedicated customer service staff
Don't miss your chance to become a Season Ticket holder!
Secure Your Season Tickets and Amenities Today
Season Tickets and VIP Ticket Packages at iTHINK Financial Amphitheatre provide a fantastic way to reward clients and employees, as well as a great way to enjoy a show with friends and family.
* Required fields
Legendary Venue, Epic Private Events!
Featuring outdoor setting and soaring views, iTHINK Financial Amphitheatre is the perfect location for your next conference, corporate event, fundraiser, private concert or graduation. With access to the world's greatest musical entertainment, state-of-the-art lighting and sound, custom menus and mixology, our talented staff handles every detail, so you don't have to. Accommodating up to 18,400 guests, and located 10 miles from Palm Beach County Convention Center, 10 miles from Downtown, and 8 miles from Palm Beach International Airport this unique venue will exceed expectations.
Contact Our Special Events Sales Team
iTHINK Financial Amphitheatre
Phone

305.938.2505

Email

Address

601-7 Sansburys Way West Palm Beach, FL 33411