Know Before You Go
We can't wait to see you at FPL Solar Amphitheater At Bayfront Park! Here's what to expect when you visit us. *Keep an eye on our website and social media handles, as guidelines are subject to change.
Daniel Caesar
Presents Superpowers World Tour -
Leg 2: U.S. & Canada
with special guest Orion Sun
Saturday, September 9
Box Office Opens: 2:00 PM
Gates Open: 7:00 PM
Show Time: 8:00 PM 
Please note our Clear Bag Policy will be enforced and in most cases your ticket is on your phone.

Drones and the items in the image below are prohibited: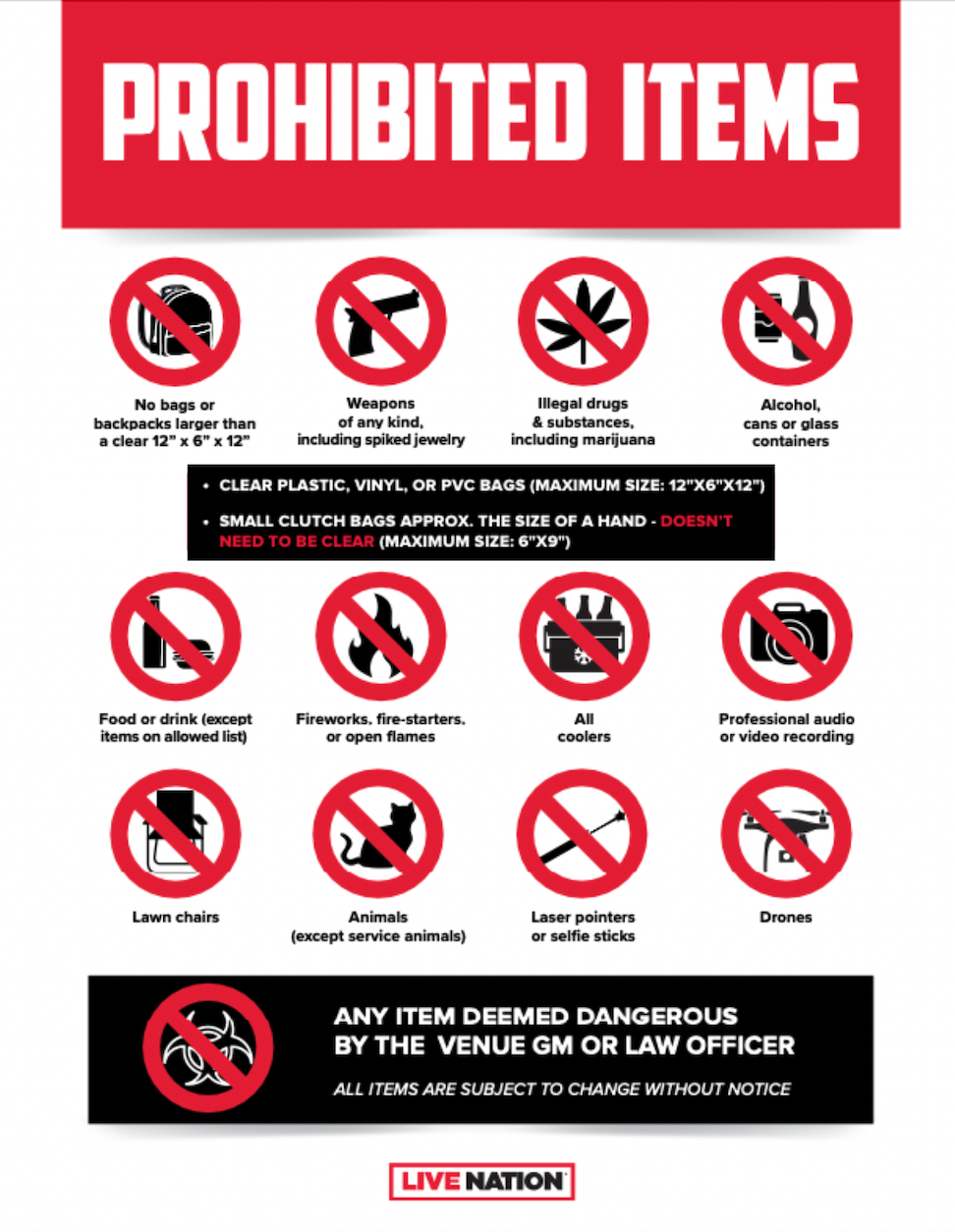 Items ALLOWED to be brought in to venue include, but not limited to:
Clear plastic, vinyl or PVC tote bags no larger than 12" x 6" x 12" and/or small clutch bags (6"x 9"). 
Blankets
Cameras - nonprofessional only, no detachable lenses
Food - in a clear, 1-gallon ziplock bag
Water - up to 1 gallon in a factory sealed or empty bottle
Umbrellas- small/parasol 
MOBILE TICKET ENTRY
All events are Mobile Entry. That means your mobile device will be used to gain access to the event. Tickets will not be emailed or available for print (for previously scheduled shows where you selected print at home or mail, your tickets will be honored accordingly). 
You have two options to access your tickets:
1. Add tickets to your mobile wallet by downloading the Live Nation App. 
- Click My Tickets and select your upcoming show.
- Add the ticket(s) to your phone's wallet and you're done!
- Present your mobile ticket(s) at entry
2. Add tickets to your mobile wallet by visiting Live Nation on your mobile browser.
- On your mobile phone, visit livenation.com in your web browser and select My Tickets.
- Sign in and select your desired order.
- Add the ticket(s) to your phone's wallet and you're done!
- Present your mobile ticket(s) at entry.
Phone troubles? Visit the box office on event day for assistance. Be prepared to show your ID.
Additional Tips:
Purchase tickets for a group? Arriving separately? Transfer tickets directly to friends and family using the Live Nation App. To expedite entry, we recommend doing this prior to arriving at the event.
- Using the Live Nation App or your phone's web browser, sign in to your account.
- Select the desired order and tap Transfer Tickets (event eligibility may vary).
- Select the ticket you'd like to transfer. Add the recipient's information and send. The recipient will receive an email with the ticket.
Due to large crowds and high traffic, be sure to leave early and give yourself plenty of time at the venue. Increase your phone screen brightness to assist with scanning. Lastly, make sure you have a fully charged battery!
The box office at FPL Solar Amphitheater is open on day-of-show only at 12pm.  If you'd like to purchase tickets, please visit us at www.livenation.com. We look forward to seeing you at our next show together at FPL Solar Amphitheater.
FAQs
What's your address?
Our address is 301 N Biscayne Blvd., Miami FL, 33132.
How can I contact FPL Solar Amphitheater?
Venue Phone number – (305) 358-7550
Are banners and signs allowed in?
Signs larger than 8.5 X 11 in are not permitted into the venue. This size is a standard sheet of paper. We do not allow in banners or signs that are larger than this due to the potential to block other guests view of the performance. All signs must be appropriate in nature and not be a distraction to the artist.
How do I enter the venue?
There are a total of two entrance gates to the facility. Both main gates and Box Office gate are available for use regardless of the ticket type. The Fast Lane is located at the main entrance. You must have your Fast Lane pass to utilize this gate.
What time do the gates open?
Gate times vary, but are usually one hour prior to show time. Please check the specific event page as these dates are subject to change. Please do not attempt to enter the venue any earlier than the designated times.
Do you conduct bag searches?
Yes, we do. All bags are subject to search upon entry. Guest have the right to refuse a bag search and the venue has the right to refuse entry. If you have any items that are not allowed into the venue please return them to your vehicle.
What is your bag policy?
To reduce staff contact with guest belongings, we have implemented the following bag policy: we will allow clear plastic, vinyl or PVC tote bags no larger than 12" x 6" x 12" and/or small clutch bags (6"x 9").
How is security on site?
Venue security and law enforcement are located throughout the facility to ensure a safe and secure environment. All security personnel are wearing white shirts and can assist with any questions or concerns. Please do not hesitate to contact our on-site staff if any assistance is needed.
Your safety and security are most important to us. The following details will outline our general venue's guidelines:
What are your security procedures?
When coming through the gates, please plan on security using metal detectors and/or a physical pat down for our search procedures. All bags are subject to inspection. If you have a medical reason for not wanting to be searched via metal detectors, please visit our First Aid station and they will give you an alternative to our metal detectors. More information can be found here https://www.livenation.com/venueguidelines/
Is there law enforcement on site?
Local law enforcement are on site for every event and are responsible for directing all traffic into the venue. On Duty law enforcement officers are the only individuals able to carry a weapon on our property. We do not allow conceal and carry weapons to be brought onto our property nor we will secure them.
How is traffic control around the venue?
Where can I find a restroom?
Restrooms are located on the north and south side of the venue.
Do you have a lost and found?
If you lose an item while you are at an event - you can visit the Bayfront Park Management Trust office to see if it has been turned in or by calling them at (305) 358-7550. 
Is merchandise available for purchase at FPL Solar Amphitheater?
Merchandise will be available for all concerts at our Concert Gear booths located at the top of the lawn near the walkway. For Festival shows- there will be merchandise located throughout the facility and sold by various vendors. All concert gear is property of the artist and the venue has no responsibility related to the craftsmanship or style of any merchandise. Please make sure you check that you have the correct size and there are no defects in the shirt before you walk away from the stand. The venue cannot assist with replacing or refunding any merchandise after the event has ended.
Are concessions available for purchase?
FPL Solar Amphitheater offers a wide variety of concession options throughout the venue.
What type of credit cards do you accept?
All main concession stands take Visa / MasterCard / Discover and American Express. Smaller stands and portable concessions may be cash only. All merchandise stands take all major credit cards.
Can I re-sell my ticket at FPL Solar Amphitheater?
Scalping or reselling tickets is strictly prohibited on the property of the venue. Any guest caught selling tickets on property will be turned over to local law enforcement.
What happens if I lose my ticket or it gets stolen?
Please report any lost or stolen tickets to Ticketmaster as soon as you are aware they are missing or destroyed. For more information, please visit Ticketmaster.com.
What are your will call protocols?
Will call tickets are available for pickup at the box office located on the south side of the venue on show days only beginning at 12pm. Please make sure that you have a photo ID matching the purchasers name to pick up tickets. Any name changes need to go through Ticketmaster Customer Service- 800-653-8000.
Guests are not permitted to put tickets in will call for other guests to pick up. You will need to arrange to meet your party at the facility to deliver tickets.
If tickets or passes are being left for you- they will only be left at the box office. This includes meet and greet passes, backstage passes, press passes, and tickets from the tour or other promotional company. We do not get these tickets until the day of the event close to doors so please do not try to pick them up earlier. If your tickets/passes are not in will call you will need to contact the person that left them for you to determine where they are. The box office cannot contact any member of the tour for you.
How does lawn seating work?
The lawn is always first come, first serve. Guests may notice a row or seat number on their lawn ticket, but that is only used for tracking purposes. There are no assigned seats on the lawn.
What happens if weather occurs?
All shows will go on rain or shine, however, in the event of severe weather we will update fans with show info via our social media pages. Ticket purchasers who have opted into communications will also receive emails with additional information. 
FPL Solar Facebook: https://www.facebook.com/FPLSolarAmp
FPL Solar Instagram: https://www.instagram.com/fplsolaramp/
An event may be delayed, postponed, or cancelled depending on the severity of the weather expected.
What happens when a show cancels?
Cancellations will only occur in the event of severe weather, artist cancelation, or an act of God. In the event of a cancelation, we will provide additional information via venue social media channels, through emails to ticketholders, or by phone. Refunds will be available at the point of purchase.
What happens in the event of an emergency?
In the event of an emergency while on site- FPL Solar Amphitheater has trained paramedics to assist with any medical issues. First aid is located adjacent to the stage, but any staff member with a radio can dispatch First Aid to the location needed. Local law enforcement officers are also on site for every event and can assist if needed or requested. Venue management works closely with all appropriate emergency agencies and services to ensure that we are up to date on any dangerous weather or potential crowd related issues.
In the event of a weather emergency- we will communicate with guests that are inside of the facility as well as guests on their way to the venue. Please follow our Facebook page for the latest developments on event days-
FPL Solar Facebook: https://www.facebook.com/FPLSolarAmp
FPL Solar Instagram: https://www.instagram.com/fplsolaramp/
How do you accommodate guests with disabilities?
FPL Solar Amphitheater strives to ensure that all of our guests have a great time at our venue. If you need additional assistance while you are here please make sure you let us know.
Ticketing - ADA tickets can be purchased online via www.livenation.com. You do not need to call the box office to place an order as all of our accessible tickets are available through www.livenation.com. Look for the  logo on the Find Tickets page to view all available accessible seats. We do have accessible seating in every price range, but be advised it does occasionally sell out. We have very limited seating available for guests on the day of the event so please make sure you purchase accessible seating when you order tickets.
Interpreter Requests - if you will need an interpreter for an event please give us at least 2 weeks notice to secure. Guests are required to provide proof of a ticket purchase prior to making this request. We will introduce you to your interpreter for the evening when you arrive at the venue and take you to your seats. There is no charge for interpreter services. Please call (561) 795-8883 to arrange for an interpreter for your visit.
Accommodations - all venue bathrooms, concession stands, and merchandise stands are accessible.
Do you offer accommodations for those who may need hearing assistance?
Guests that require assisted listening devices can contact our venue office prior to the event to arrange for a device. Please give us at least 2 days notice. We can be reached at (561) 795-8883.
What if I need medical assistance?
First Aid teams are located in backstage area. We have trained medical personnel that are able to assist with any issue you encounter. If you have medication that you need stored in a refrigerator please ask our medical staff who will assist you. If you have a condition that requires you to use a needle for medication while you are here- please do so in our medical office so the syringe can be properly disposed of.
How does parking work at FPL Solar Amphitheater?
Parking available in garage and lots that surround the venue. Rates vary.
What if I need automobile assistance at FPL Solar Amphitheater?
If any assistance is needed with your vehicle please contact your normal Emergency Assistance provider. FPL Solar Amphitheater does not have tow or lockout services on site. Emergency assistance vehicles are permitted on property to assist with lockouts, jumps or tows but the guest will need to arrange for such services.
What are your policies for guest conduct?
Guests are expected to behave respectfully and in accordance with venue policy, state and local laws. Any guest that is acting in a manner that venue management deems unsafe can be subject to eviction. If a guest violates a state or local law they will be subject to any tickets or punishment deemed necessary by local law enforcement. We reserve the right to deny entry to any guest for any reason or no reason. If a guest is denied entry to any event, such guest will be issued a refund of the face value of the ticket for the event.
What are your policies involving alcohol?
FPL Solar Amphitheater offers a wide variety of alcoholic beverages for purchase during your time at the venue. You are not permitted to bring any alcoholic beverages into the venue. A valid and current Driver License or State ID card is required to purchase alcohol- guests will be required to show ID every time they purchase.
Is camping allowed at FPL Solar Amphitheater?
The venue does not allow camping or overnight parking of any kind.
What is your cell phone policy?
Generally cell phones are permitted in the venue. On occasions, comedy shows in particular, cell phones usage may not be allowed due to artist requests.
What is your camera policy?
SUBJECT TO CHANGE- The standard venue policy allows camera phones, disposable cameras, and small digital cameras. Any camera that has a detachable lens will be considered professional and not allowed in. If the camera lens zooms out of the camera more than 1 in- it will be considered a professional camera and will not be allowed in. Some artists do not permit cameras so please check back for the show you will be attending to ensure that we will be allowing cameras in.
Is smoking permitted?
Smoking is not permitted in the seated area (e-cigarettes and vaping included). Guests may smoke on the lawn or on the crosswalks on top of the lawn. If another guest complains about the smoke, we may ask you to refrain from smoking or move to another location. We appreciate your cooperation. 
Can I bring water into FPL Solar Amphitheater?
Guests are permitted to bring in One (1) factory sealed bottle of water up to one gallon in size. This policy is subject to change based on artist requests or safety considerations. Aluminum bottles, refillable plastic water bottles are permitted. Camelbacks are not permitted.
Water fountains are located outside of the restrooms.
Do you allow weapons in your venue?
FPL Solar Amphitheater does not allow weapons on our property. Guests should follow all applicable laws regarding securing a weapon in a vehicle if they have it on them when they arrive. The venue will not secure weapons and will take no responsibility for any weapons left in vehicles.
Do you allow audio taping?
Some shows do allow audio recording so please contact us prior to the event you are attending to confirm if this will be allowed.
Do you permit service animals in your venue?
Service animals are permitted inside the venue during events. Only registered working animals are permitted.
Are strollers permitted?
Are not permitted because there is nowhere for them to be stored. The lawn has an incline that makes it unsafe for strollers to be on the lawn.
Are umbrellas permitted?
Umbrellas are not permitted in the reserved seating area.
Can I bring my kid to a show at FPL Solar Amphitheater?
All of our events are all ages. Children 2 and under do not require a ticket, but must sit on a parent's lap.
Do you allow re-entry?
Re-Entry is not permitted at FPL Solar Amphitheater. Please ensure that everything you will need for the event is brought in with you. If you do leave at any point in the evening- you will not be allowed back in without a new ticket.
What items do you allow in your venue?
We allow:
Clear plastic, vinyl or PVC tote bags n larger than 12" x 6" x 12" and/or small clutch bags (6"x 9").
Cameras – nonprofessional only, no detachable lenses
Food – in a clear, 1-gallon ziplock bag
Water – up to 1 gallon in a factory sealed or empty bottle
Blankets
What items are prohibited from FPL Solar Amphitheater?
Drones are prohibited, as well as the items in the image below: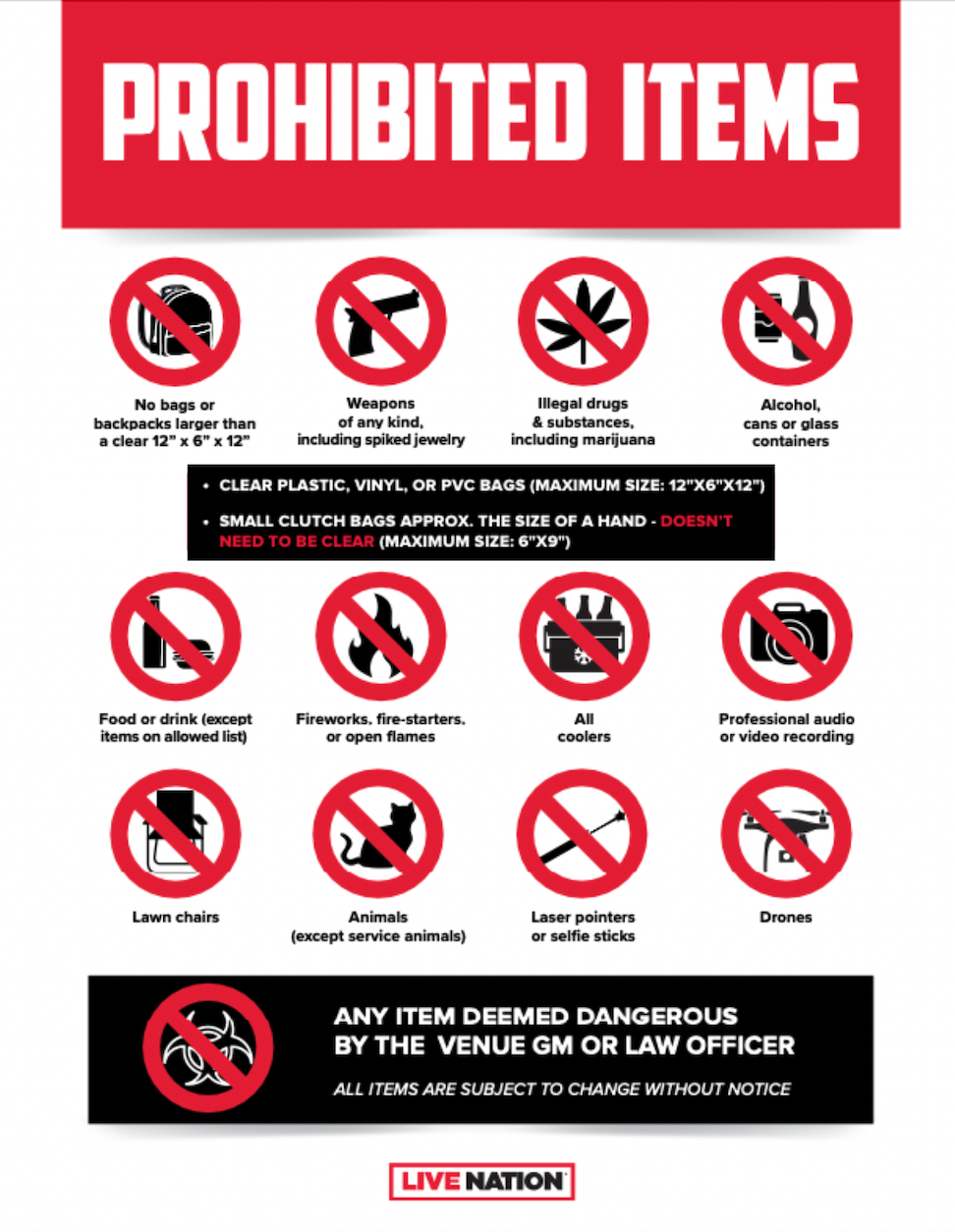 Do you offer group ticket sales?
FPL Solar Amphitheater does not offer group ticket sales. If you have a large party that will be attending the show, visit our VIP page for more information. 
How do I get an All Access or Backstage Pass?
All Access passes or Backstage Passes are not available for purchase. Visit www.livenation.com to view any VIP packages that may involve a meet and greet or additional access. The venue box office does not sell any meet and greet, backstage or venue passes.
Can I rent a lawn chair?
Lawn chairs are available for rent and must be turned in at the end of the event. Price may vary. Reserve yours in advance here. 
Do you offer Fast Lane passes?
For select events guests can purchase Fast Lane passes here. Fast Lane passes do not permit the guest to enter any earlier than the designated gate time, however it does have a shorter line. Fast Lane Gates are located at the main gate.
Do you have any specials for designated drivers?
Our concessionaire offers free fountain sodas to guests that commit to be the designated driver for their party. Please visit any of our concessionaires to receive your DD wristband and soda. 
Does FPL Solar Amphitheater offer upgrades?
Upgrades are available through our the Live Nation app on a show-by-show basis. Click here and select your show to see what is available. 
How do sponsorships work?
All sponsorship inquiries should be directed to our office- please call (561) 795-8883 and ask to speak with someone in sponsorship. Any handouts or presence on site needs to be cleared with venue sponsorship. If you do not have permission to be on site you will be escorted off property.
Experience the VIP lifestyle at FPL Solar Amphitheater with Season Tickets: amazing seats, premium parking, VIP Club access, and personalized service can all be yours. Whether you're looking for an unforgettable outing with friends or family, new ways to entertain clients or reward your team at the office, we have a season ticket package that will exceed your expectations and make your concert experience extraordinary.
Benefits Include:
Premium Concert Seats
In-seat Beverage Service
Additional Ticket Opportunities To Other Live Nation concert events in Miami
Dedicated customer service staff
Don't miss your chance to become a Season Ticket holder!
* Required fields
Legendary Venue, Epic Private Events!
Featuring outdoor setting and soaring views, FPL Solar Amphitheater at Bayfront Park is the perfect location for your next conference, corporate event, fundraiser, private concert or graduation. With access to the world's greatest musical entertainment, state-of-the-art lighting and sound, custom menus and mixology, our talented staff handles every detail, so you don't have to. Accommodating up to 8,500 guests, and located less than a mile from downtown Miami, 5.5 miles from Miami Beach Convention Center and 8.1 miles from the airport, this unique venue will exceed expectations.
Contact Our Special Events Sales Team
FPL Solar Amphitheater at Bayfront Park
Phone

305.938.2505

Email

Address

301 N. Biscayne Blvd. Miami, FL 33132