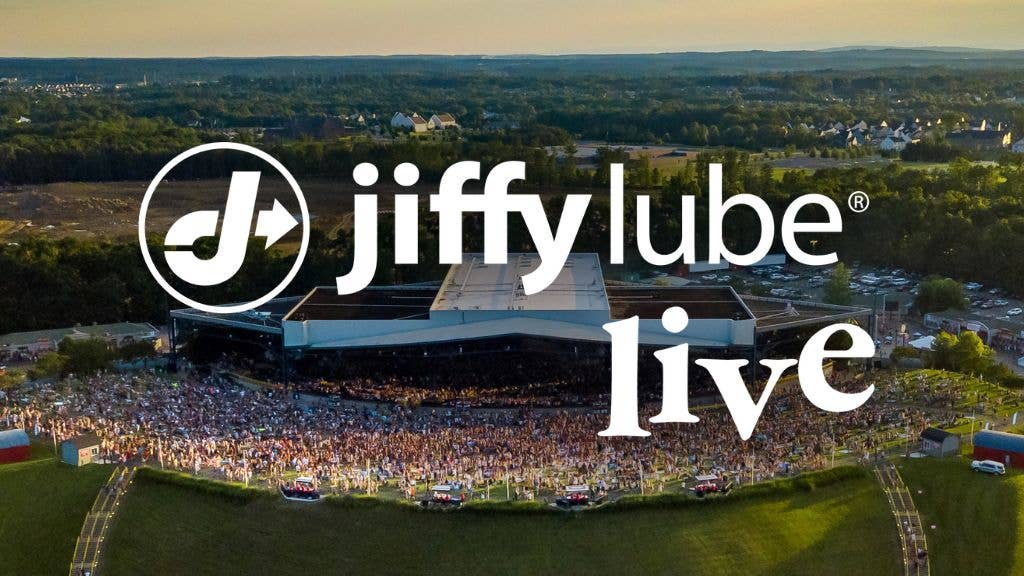 Jiffy Lube Live
Know Before You Go
We can't wait to see you at Jiffy Jube Live! Here's what to expect when you visit us: *Keep an eye on socials for updates and watch your emails for additional info about your show.
FAQs
What is your address?
Our address is 7800 Cellar Door Dr, Bristow, VA 20136.
What is your bag policy?
All bags are subject to search upon entry. Guest have the right to refuse a bag search and the venue has the right to refuse entry. If you have any items that are not allowed into the venue please return them to your vehicle.
Please note that we we require either a clear plastic, vinyl, or pvc bag (maximum size 12" x 6" x 12") OR small clutch bags that don't need to be clear (maximum size 6" x 9")
What are your box office hours?
Our box office will be closed until the beginning of the 2024 concert season. You can purchase tickets online via our website here. If you have any box office related questions please contact us at JLLboxoffice@livenation.com.
Is re-entry permitted?
Re-Entry is not permitted at Jiffy Lube Live.  Please ensure that everything you will need for the event is brought in with you. If you do leave at any point in the evening, you will not be allowed back in without a new ticket.
Do you have food and drinks at the venue?
Jiffy Lube Live offers a wide variety of concession options through the venue. This includes cheeseburgers, hot dogs, chicken fingers, pizza, nachos, pretzels, candy, popcorn, fountain soda (Pepsi Products), water, and Red Bull.
Concessions are located throughout the venue on both plazas.
What are your alcohol policies?
Jiffy Lube Live offers a wide variety of alcoholic beverages for purchase during your time at the venue. You are not permitted to bring any alcoholic beverages into the venue. A valid and current Driver License or State ID card is required to purchase alcohol - guests will be required to show ID every time they purchase.
What are your tailgating policies?
We are committed to creating a SAFE environment that is fan friendly for all of our guests to enjoy. For your SAFETY and the enjoyment of all, we ask that you please help by observing these tailgating guidelines:
Jiffy Lube Live parking lots are reserved for concert patrons only.
Please be aware of your surroundings and make note of where you are parked. Please be careful and mindful of all vehicle traffic while in the parking lot especially while your row is being parked.
Parking is first come-first served. No saving of parking spaces is permitted.
Occupy only ONE parking space per vehicle.
Guests must tailgate in front of or behind their vehicle only. Tailgating at your vehicle should not interfere with the normal traffic flow. 
All tailgating activities must be conducted in accordance with Virginia State Law. Virginia State Law (4.1-308 and 18.2-388) prohibits drinking in public and public intoxication. Underage drinking is prohibited by law and minors in possession will be addressed by Prince William County Police, Virginia ABC and JLL Staff.
Please be respectful of other guests. Guests who wish to report issues, concerns or to request assistance should speak with a Jiffy Lube Live Staff member.
Barbeque grills are allowed. All coals must be disposed of. Do not dump coals or store stoves on the grass, parking areas or under or around vehicles.
Tent toilets are not permitted in the parking lots. Portable toilets are available in every parking for guests to use. 
All guests will be encouraged to enter the facility at the start of the advertised show time.
Please clean up your tailgating area before entering the show. Bring trash bags with you to dispose of trash. Trash and recycling dumpsters will be placed throughout the parking lots, please refrain from leaving loose trash and litter in the parking areas.
Generally, the parking lots will open and tailgating will be allowed to start 2 hours prior to the door time, however, parking lot opening times may vary for some concerts. Please check our Facebook page at facebook.com/jiffylubelive for event specific times.
Tailgating will shut down 20 minutes after the start of the advertised show time. Guests will be asked to enter the show or leave the parking lot.
Tailgating is not allowed after the concert. All parking lots will be closed at the conclusion of egress.
Are there any perks for designated drivers?
Our concessionaire offers free fountain sodas to guests that commit to be the designated driver for their party. Please visit the guest services booth located in the main entry plaza for more information.
Can I smoke or vape at the venue?
Smoking, including e-cigarettes and vaporizers, is not permitted in the reserved seating area. While we do not restrict smoking on the lawn - if guests around you are complaining we will ask you to smoke in the plazas. We appreciate your cooperation.
What items ARE allowed to be brought into the venue?
Clear plastic, vinyl or PVC tote bags no larger than 12" x 6" x 12" and/or small clutch bags no larger than 6"x 9". 
Small Blankets / Beach Towels
Cameras - non-professional only, no detachable lenses
Food - in a clear, 1-gallon ziplock bag
Water - up to 1 gallon in a factory sealed or empty bottle

Lawn Chairs 
Can I bring my own water to the venue?
Guests are permitted to bring in One (1) factory sealed bottle of water up to one gallon in size. This policy is subject to change based on artist requests or safety considerations. Aluminum bottles, refillable plastic water bottles are permitted. Camelbacks are not permitted.
Water fountains are located outside of each public restroom. Water bottle refilling stations are also located in both North Plaza and South Plaza.
Can I bring an umbrella?
Small personal collapsable umbrellas are permitted.
Can I park closer to the entrance?
Preferred Parking is available for every event. The price will vary based on event. This can be purchased prior to the show here or on site at the venue. Preferred Parking is located adjacent to the main entry gates and is accessible via Cellar Door Drive. Preferred Parking does not guarantee early exit out of the parking lot.
Do you have VIP Seating or other amenities?
If you are interested in purchasing a box or season seats for the season please contact our Premium Seating department at 703-468-2503. Neither the venue receptionists nor the box office can answer questions regarding pricing or availability for these boxes. If you would like to inquire about Premium Seating online, you can visit the page here. 
Do you have a VIP Club?
Our VIP Club is exclusive to our Premium Seating clients; however, we do offer limited access to the VIP Club through www.livenation.com. If you are interested in Premium Seating, please call 703-468-2503.
Can I rent a lawn chair at the venue?
Lawn chairs are available to rent at the venue and must be turned in at the end of the event. Lawn chairs are available to reserve ahead of time for pick up day of show at www.livenation.com.
What policies exist for lawn seating?
The lawn is always first come, first serve. Guests may notice a row or seat number on their lawn ticket, but that is only used for tracking purposes. We do offer a limited number of reserved seating on the lawn for select shows. These "reserved lawn" tickets may be purchased in advance at www.livenation.com.
Can I camp at the venue or park overnight?
The venue does not allow camping or overnight parking of any kind. Any unauthorized vehicles on site prior to an event or after an event will be towed at the owners expense.
Can I bring banners or signs into the venue?
Signs larger than 8.5in x 11in in are not permitted into the venue. This size is a standard sheet of paper. We do not allow in banners or signs that are larger than this due to the potential to block other guests view of the performance. All signs must be appropriate in nature and not be a distraction.
Can I bring a camera to the show?
SUBJECT TO CHANGE - The standard venue policy allows camera phones, disposable cameras, and small digital cameras. Any camera that has a detachable lens will be considered professional and not allowed in. If the camera lens zooms out of the camera more than 1 inch, it will be considered a professional camera and will not be allowed in.
Can I bring a service animal?
Service animals are permitted inside the venue during events. Only registered working animals are permitted.
What happens in the event of inclement weather?
All shows will go on rain or shine. However, in the event of severe weather we will keep our fans notified via our social media pages.
www.facebook.com/JiffyLubeLive/
An event may be delayed, postponed, or canceled depending on the severity of the weather expected.
Where do I go for taxis / ride-share?
Please proceed to C Lot for ride-side pick up at the end of the event.
Does the venue have administrative hours of operation?
Generally, our Admin Hours are from 10:00 AM - 4:00 PM.
Do you have a Lost & Found at the venue?
If you lose an item while you are at an event you can visit our Guest Services booth located in the Entry Plaza to see if it has been turned in or contact us during business hours at 703-754-6400.
Are children permitted?
All of our events are all ages. Children 2 and under do not require a ticket, but must sit on a parent's lap.
Can I bring a stroller?
Strollers are not permitted and there is nowhere for them to be stored at the venue.
Where can I get assistance inside the venue?
If you need assistance while at an event please visit one of our guest services areas located in each plaza.
What accommodations exist for guests with disabilities?
Jiffy Lube Live strives to ensure that all of our guests have a great time at our venue. If you need additional assistance while you are here please make sure you let us know.
Ticketing - ADA tickets can be purchased online via www.livenation.com. You do not need to call the box office to place an order as all of our accessible tickets are available through www.livenation.com. Look for the  logo on the Find Tickets page to view all available accessible seats. We do have accessible seating in every price range, but be advised it does occasionally sell out. We have very limited seating available for guests on the day of the event so please make sure you purchase accessible seating when you order tickets.
Day of Show Parking - We have multiple accessible parking areas that can be accessed from any venue entrance. Let the parking staff know that you need accessible parking and they will direct you to an appropraite area. You must have an accessible parking placard visible with matching ID. Please be advised that parking is limited. If you do not absolutely need accessible parking,  please park in the general lots. 
Accessible Stations - if you have questions or need assistance we have booths staffed with Guest Service employees to help answer questions related to seating or other accommodations. These stations are located in each plaza. 
Unexpected Needs - if you have had an injury or illness that prevents you from using the original seat you purchased we strongly recommend going through www.livenation.com to exchange all tickets for accessible. We will have a very limited number of seats available on the day of the show for such issues, but we cannot guarantee we will be able to seat you. Please remember that accessible seating permits for the guest with the accessible need and one companion.
Interpreter Requests - if you will need an interpreter for an event please give us at least 2 weeks notice to secure. Guests that request an interpreter will need to pick up their tickets at will call. When the tickets are picked up we will introduce you to your interpreter for the evening and take you to your seats. There is no charge for interpreter services. Please call the box office at 703-754-6419 to arrange for an interpreter for your visit.
Accommodations - all venue bathrooms, concession stands, and merchandise stands are accessible. 
Can you provide hearing assistance?
Guests that require assisted listening devices can contact our venue office prior to the event to arrange for a device. Please give us at least 3 days notice. Guests that require interpreter service can call the venue and arrange this for any event. We need at least 2 weeks notice to secure an interpreter. We can be reached at 703-754-6419.
Where can I request press credentials or a photo pass?
What methods of payment are allowed inside?
All points of sale will only accept credit or debit. In the event you are not carrying a credit or debit card, staff will be available on-site to exchange cash for card, dollar for dollar, without any service fees.
Where can I drop someone off for a concert?
If you are trying to drop someone off please enter at Cellar Door Drive and follow parking staff directions to the drop area. 
How can I contact the venue?
Phone Number: 703-754-6400
Email: JLLCustomerService@LiveNation.com
Address: 7800 Cellar Door Dr, Bristow, VA 20136
Can I host a private event at Jiffy Lube Live?
Our incredible space is the perfect location to host your next corporate event, private concert, conference, fundraiser or graduation. For more information about renting please click here.
What items are NOT-ALLOWED to be brought in to the venue?
Items NOT-ALLOWED to be brought in to the venue include but are not limited to:
Weapons of any kind
Alcohol
Illegal drugs/substances
Glass containers
Cans
Non-clear bags larger than 6"x 9"
Clear bags larger than 12"x 6" x12"
Laser pointers
Animals (except service animals)
Fireworks
Drones
Any item deemed to be dangerous
Bags for camping style chairs
Are firearms permitted?
Jiffy Lube Live does not allow weapons on our property. Guests should follow all applicable laws regarding securing a weapon in a vehicle if they have it on them when they arrive. The venue will not secure weapons and will take no responsibility for any weapons left in vehicles.
Experience the VIP lifestyle at Jiffy Lube Live with Season Tickets: amazing seats, premium parking, VIP Club access, and personalized service can all be yours. Whether you're looking for an unforgettable outing with friends or family, new ways to entertain clients or reward your team at the office, we have a season ticket package that will exceed your expectations and make your concert experience extraordinary.
Benefits Include:
Premium Concert Seats 
VIP Parking (closest to the venue)
VIP Club Access
Private Venue Entrance
Private Restrooms
Additional Ticket Opportunities To Other Live Nation Concert Events
Dedicated customer service staff
Don't miss your chance to become a Season Ticket holder!
* Required fields
Legendary Venue, Epic Private Events!
Featuring outdoor setting and soaring views, Jiffy Lube Live is the perfect location for your next conference, corporate event, fundraiser, private concert or graduation. With access to the world's greatest musical entertainment, state-of-the-art lighting and sound, custom menus and mixology, our talented staff handles every detail, so you don't have to. Accommodating up to 23,115 guests, this unique venue will exceed expectations.
Contact Our Special Events Sales Team
Jiffy Lube Live
Phone

202.626.8261

Email

Address

7800 Cellar Door Dr. Bristow, VA 20136