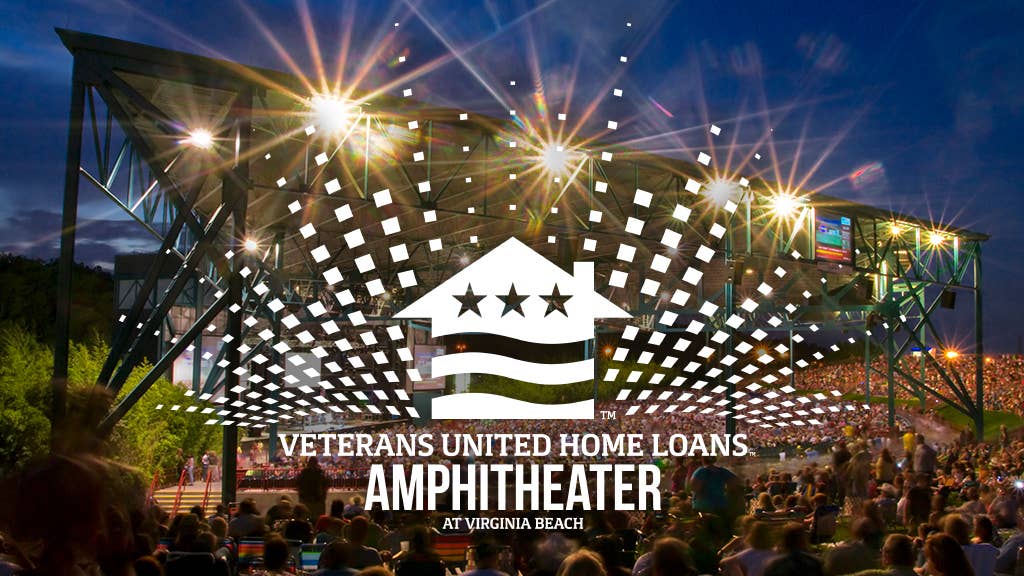 Veterans United Home Loans Amphitheater at Virginia Beach
Know Before You Go
Here's what to expect when you visit us again! As a reminder, there will be NO OUTSIDE LAWN CHAIRS permitted into the venue lawn chairs are available to rent subject to availability. *Keep an eye on socials for updates and watch your emails for additional info about your show.
JOB FAIR UPDATE
We will be hosting a job fair at Landstown Middle School (2204 Recreation Drive) on Saturday, April 1st from 9 AM - 2 PM! Hiring for several venue positions. For more information on open positions, visit our job site and apply today:
https://livemu.sc/3FD2ZsG
Meet with our hiring team and land the coolest gig in town! We can't wait to meet you!
The venue box office is closed until further notice. 
*Subject to change.
---
Items ALLOWED to be brought into the venue: (Subject to change)
Clear plastic, vinyl or PVC tote bags no larger than 12" x 6" x 12" and/or small clutch bags (6"x 9"). 
Cameras - nonprofessional only, no detachable lenses
Food - in a clear, 1-gallon ziplock bag
Water - up to 1 gallon in a factory sealed or empty bottle
Small Blankets / Beach Towels
Personal umbrellas 
Items NOT-ALLOWED to be brought in to the venue include but are not limited to: (Subject to change)
Weapons of any kind
Alcohol
Illegal drugs/substances
Glass containers
Cans
Non-clear bags larger than 6"x 9"
Clear bags larger than 12"x 6" x12"
Laser pointers
Animals (except service animals)
Fireworks
UAV (Drones)
Any item deemed to be dangerous
Lawn chairs of any kind
---
Please note our Clear Bag Policy will be enforced, we are a Cashless Venue and in most cases your ticket is on your phone.
Fan Guidelines
We can't wait to see you at Veterans United Home Loans Amphitheater! Here's what to expect when you visit us:
Bag Policy
To reduce staff contact with guest belongings, we have implemented the following bag policy: we will allow clear plastic, vinyl or PVC tote bags no larger than 12" x 6" x 12" and/or small clutch bags (6"x 9"). 
*Keep an eye on our website and social media handles, as guidelines are subject to change. Links to all relevant accounts are at the bottom of this page.
For more venue related details, please refer to the A-Z Venue Info tab.
If you have a question about the status of an event, please visit livenation.com/eventstatus.
The safety of our artists, fans and staff is always our top priority. For more on Amphitheater Health & Safety CLICK HERE.  
For all Venue related details, please refer to the A-Z Venue Info tab.     
DIRECTIONS & TRAFFIC
Due to event and local traffic, please expect delays and give yourself plenty of time to arrive at Veterans United Home Loans Amphitheater. If you need directions to the venue, click here to visit our website. Early arrival and carpooling are strongly recommended. Please check local traffic reports for real time updates.
PARKING
ON-SITE parking is available. Parking fee is included in ticket price.  Upgraded parking options and parking for oversized vehicles may be purchased in advance via livenation.com or you may purchase on-site. Limited quantities are available.
Mobile Ticketing
All events will be Mobile Entry. That means your mobile device will be used to gain access to the event. Tickets will not be emailed or available for print (for previously scheduled shows where you selected print at home or mail, your tickets will be honored accordingly). 
You have two options to access your tickets:
1. Add tickets to your mobile wallet by downloading the Live Nation App. 
- Click My Tickets and select your upcoming show.
- Add the ticket(s) to your phone's wallet and you're done!
- Present your mobile ticket(s) at entry
2. Add tickets to your mobile wallet by visiting Live Nation on your mobile browser.
- On your mobile phone, visit livenation.com in your web browser and select My Tickets.
- Sign in and select your desired order.
- Add the ticket(s) to your phone's wallet and you're done!
- Present your mobile ticket(s) at entry.
Phone troubles? Visit the box office on event day for assistance. Be prepared to show your ID.
Additional Tips:
Purchase tickets for a group? Arriving separately? Transfer tickets directly to friends and family using the Live Nation App. To expedite entry, we recommend doing this prior to arriving at the event.
- Using the Live Nation App or your phone's web browser, sign in to your account.
- Select the desired order and tap Transfer Tickets (event eligibility may vary).
- Select the ticket you'd like to transfer. Add the recipient's information and send. The recipient will receive an email with the ticket.
Due to large crowds and high traffic, be sure to leave early and give yourself plenty of time at the venue. Increase your phone screen brightness to assist with scanning. Lastly, make sure you have a fully charged battery!
Follow us for up to day of show info:
Frequently Asked Questions - Digital/MobileTicketing:
https://lne.box.com/s/98e493sfjohgkkbtklnj5xsfbgt3ovew
WEATHER
https://weather.com/weather/today/l/6cdfcad7a019a754b0c5491efbbb8ed4ca60090cad2a5ab2a9daef081658c687
Veterans United Home Loans Amphitheater at Virginia Beach
3550 Cellar Door Way Virginia Beach, VA 23456
757-368-3000
#VBSTRONG
Our box office is open on general on sale days. This is the only time our box office is open until further notice. 


Veterans United Home Loans Amphitheater at Virginia Beach strives to ensure that all of our guests have a great time at our venue. If you need additional assistance while you are here please make sure you let us know.
Ticketing- ADA tickets can be purchased online via www.livenation.com. You do not need to call the box office to place an order as all of our accessible tickets are available through www.livenation.com. Look for the   logo on the Find Tickets page to view all available accessible seats. We do have accessible seating in every price range, but be advised it does occasionally sell out. We have very limited seating available for guests on the day of the event so please make sure you purchase accessible seating when you order tickets.
Day of Show Parking- Accessible Parking is located in both lots A and B. Let the parking staff know that you need accessible parking and they will direct you to this lot. You do not need to have an accessible placard in order to park in this lot, but please be advised that parking is limited. If you do not absolutely need accessible parking- please park in the general lots. 
Accessible Stations- if you have questions or need assistance we have booths staffed with Guest Service employees to help answer questions related to seating or other accommodations. These stations are located in all three plazas. 
Unexpected Needs- if you have had an injury or illness that prevents you from using the original seat you purchased we strongly recommend going through www.livenation.com to exchange all tickets for accessible. We will have a very limited number of seats available on the day of the show for such issues, but we cannot guarantee we will be able to seat you. Please remember that accessible seating permits for the guest with the accessible need and one companion.
Interpreter Requests- if you will need an interpreter for an event please give us at least 2 weeks notice to secure. Guests that request an interpreter will need to pick up their tickets at will call. When the tickets are picked up we will introduce you to your interpreter for the evening and take you to your seats. There is no charge for interpreter services. Please call the box office at 757-368-3000 to arrange for an interpreter for your visit.
Accommodations- all venue bathrooms, concession stands, and merchandise stands are accessible. 
Experience the VIP lifestyle at Veterans United Home Loans Amphitheater with Season Tickets: amazing seats, premium parking, VIP Club access, and personalized service can all be yours. Whether you're looking for an unforgettable outing with friends or family, new ways to entertain clients or reward your team at the office, we have a season ticket package that will exceed your expectations and make your concert experience extraordinary. 
Benefits Include:
Premium Concert Seats 
VIP Parking (closest to the venue)
VIP Club Access
Private Venue Entrance
Private Restrooms
Additional Ticket Opportunities To Other Live Nation concert events in Virginia Beach
Dedicated customer service staff
Don't miss your chance to become a Season Ticket holder!
* Required fields
Legendary Venue, Epic Private Events!
Featuring outdoor setting and soaring views, Veterans United Home Loans Amphitheater at Virginia Beach is the perfect location for your next conference, corporate event, fundraiser, private concert or graduation. With access to the world's greatest musical entertainment, state-of-the-art lighting and sound, custom menus and mixology, our talented staff handles every detail, so you don't have to. Accommodating up to 20,000 guests, and located 11 miles from Virginia Beach Convention Center and 11.6 miles from Downtown, this unique venue will exceed expectations.
Contact Our Special Events Sales Team
Veterans United Home Loans Amphitheater at Virginia Beach
Phone

202.626.8261

Email

Address

3550 Cellar Door Way, Virginia Beach, VA 23456