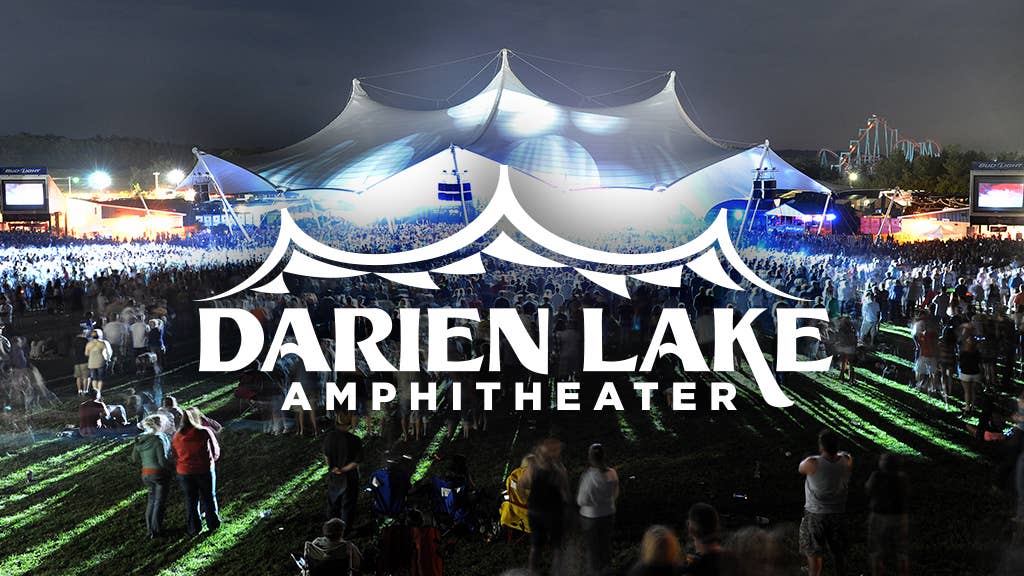 Darien Lake Amphitheater
Know Before You Go
We can't wait to see you! Here's what to expect when you visit us again. *Keep an eye on our website and social media handles as guidelines are subject to change.
Door Times
Check back here closer to your show date for gate times!
Times are all approximate. The show information is always subject to change.
Please review our Clear Bag, Mobile Ticketing, and Contactless Payment information before you arrive:
A clear bag policy is in place. We will allow CLEAR plastic/vinyl tote bags no larger than 12" x 6" x 12" and/or small clutch bags (6"x 9"). The small clutch bags do not need to be clear. No other bags of any type will be allowed. Any bags that do not meet our guidelines must be returned to your vehicle.

All events are mobile entry only. Please download your tickets to your phone using the Live Nation app at home before driving to the venue. Previously delivered hard/paper tickets will also be honored. Get more info at livenation.com/venuemobileticketing

All points of sale will only accept credit. In the event you are not carrying a credit card, staff will be available on-site at the merchandise tent to exchange cash for card, dollar for dollar, without any service fees.
Parking:
ON-SITE parking is available for free. Upgraded parking options and parking for oversized vehicles may be purchased in advance via livenation.com or you may purchase on-site. Limited quantities are available.
Oversize vehicles will be charged a flat rate upon arrival or buy your spot in advance at LiveNation.com. Oversize parking must be purchased for buses, limos and any vehicle that is 15 passenger van or larger.
Accessible parking is located in the paved lots for guests with an ADA placard at no charge. You must present your placard in order to park in this lot, but please be advised that parking is limited.
New for our 2023 Season:

Oversized Parking Pass - any vehicle deemed oversized will require a parking pass to be purchased online before the event. This includes but is not limited to RV's/Campers, School Buses, Limos, Limo Buses, etc.
For all general venue related topics, please refer to the Venue Details tab: https://livemu.sc/2VPM1Uu
Items ALLOWED to be brought in to venue:
Clear plastic, vinyl or PVC tote bags no larger than 12" x 6" x 12"
Small clutch bags (6" x 9") – these do not need to be clear
Blankets
Food Items – (1) 1-gallon clear bag/person
Water – (1) 1-gallon factory sealed bottle/person
Bug Spray and Sunscreen – non-aerosol only please
Umbrellas (36" or shorter; no metal tips)
Cameras (non-professional only; no detachable lenses)
Items NOT ALLOWED to be brought in to venue include, but are not limited to:
Lawn chairs of any kind
Coolers of any kind
Weapons of any kind
Alcohol
Illegal drugs/substances
Glass containers
Cans
Bags that are not clear or are larger than 12" x 6" x 12"
Laser pointers
Animals (except service animals)
Fireworks
Weather
All events at Darien Lake Amphitheater are rain or shine. Click here for up to date weather for Darien Center, NY.
Traffic
Traffic is always heavy on show day, expect delays. We strongly encourage carpooling and arriving early. Click here to check traffic!
Six Flags Darien Lake Theme Park:
Access into the theme park will be redeemable via your paid concert ticket at the front entrance of Six Flags Darien Lake on the date of your concert. The theme park is currently open 11am to 7pm Sunday, Monday, Wesnesday and Thursday. Friday and Satursday hours are 11am to 9pm. The park is closed on Tuesdays. Starting September 6th, the theme park is only open on Saturdays and Sundays.
Parking Policy
All concert-goers are required to park in free on-site lots. Pedestrian access to the Darien Lake Amphitheater will be restricted to passenger drop-offs only. No foot traffic will be permitted onto Theme Park property. Parking upgrades are available day of show at our lots. Upgrade to Premier Parking or EZ-Out Parking here: https://livemu.sc/3yBxM3D
Oversized Parking Pass – Starting in 2023, any vehicle deemed oversized will require a parking pass to be purchased online before the event.  This includes but is not limited to RV's/Campers, School Buses, Limos, Limo Buses, etc.
Important Note Regarding Secondary Re-Sellers:
Please be advised that LiveNation.com, Ticketmaster.com, Six Flags Darien Lake theme park, and the Darien Lake Box Office are the ONLY authorized ticket provider for Live Nation concerts at Darien Lake Amphitheater. Ticket buyers who purchase tickets from a ticket broker or any third party should be aware that Darien Lake Amphitheater is unable to reprint or replace lost or stolen tickets and is unable to contact patrons with any pertinent updates regarding the performance.
Accommodations
Stay where you play and turn a concert date into a getaway. Visit darienlake.com for hotel, campground or RV accommodations with park admission included.
---
Concert Fans Are Loyal, Passionate, Knowledgeable and Have Tremendous Pride In Their Bands
Darien Lake and our valued partners are committed to providing all guests with a safe, clean, comfortable and enjoyable concert experience inside and outside the facility. We strive to promote responsible behavior and make the Fan Experience family friendly, memorable and positive for fans of all ages. Any irresponsible conduct will not be tolerated in the parking lots or in Darien Lake Amphitheater, and in some cases may result in ejection from the premises, revocation of ticket privileges and/or arrest.
Everyone deserves the right to enjoy the excitement and enthusiasm of concert days. Please treat all fans with courtesy and respect.
Directions
Darien Lake Amphitheater
9993 Alleghany Road, Darien Center, NY 14040
The box office will be open on-day-of-show only. If you'd like to purchase tickets, please visit us at our event ticketing page here. We look forward to seeing you at our next show!
IMPORTANT 2023 SEASON PARKING UPDATE

Oversized Parking: Any vehicle deemed oversized will require a parking pass to be purchased online before the event. This includes but is not limited to RV's/Campers, School Buses, Limos, Limo Buses, etc. Passes should be purchased prior to day of show to guarantee entry into the lot.
Passes are recommended to purchased prior to the day of your event and can be purchased on the Upgrades Tab on our website.
Darien Lake Amphitheater strives to ensure that all of our guests have a great time at our venue. If you need additional assistance while you are here please make sure you let us know.
Ticketing - ADA tickets can be purchased online via livenation.com. You do not need to call the box office to place an order as all of our accessible tickets are available through www.livenation.com. Look for the logo on the Find Tickets page to view all available accessible seats. We do have accessible seating in every price range, but be advised it does occasionally sell out. We have very limited seating available for guests on the day of the event so please make sure you purchase accessible seating when you order tickets.
Day of Show Parking - Accessible Parking is located outside adjacent to the VIP Parking Lot.  Please stay left as you approach the parking toll booths and have your ADA parking tag visible so our parking staff can direct you appropriately.  If you do not absolutely need accessible parking, please park in the general lots.
Accessible Stations - If you have questions or need assistance we have a booth staffed with customer service employees to help answer questions related to seating or other accommodations. This station is located in the south concourse, adjacent to the south main gate.
Unexpected Needs - If you have had an injury or illness that prevents you from using the original seat you purchased we strongly recommend going through livenation.com to exchange all tickets for accessible. We will have a very limited number of seats available on the day of the show for such issues, but we cannot guarantee we will be able to seat you. Please remember that accessible seating permits for the guest with the accessible need and one companion.
Interpreter Requests - If you will need an interpreter for an event please give us at least 2 weeks notice to secure. There is no charge for interpreter services. Please call (716) 428-5930 to arrange for an interpreter for your visit.
Accommodations - All venue bathrooms, concession stands, and merchandise stands are accessible.
Experience the VIP lifestyle at Darien Lake Amphitheater with Season Tickets: amazing seats, premium parking, VIP Club access, and personalized service can all be yours. Whether you're looking for an unforgettable outing with friends or family, new ways to entertain clients or reward your team at the office, we have a season ticket package that will exceed your expectations and make your concert experience extraordinary.
Benefits Include:
Premium Concert Seats 
VIP Parking (closest to the venue)
VIP Club Access
Private Venue Entrance
Private Restrooms
Additional Ticket Opportunities To Other Live Nation concert events
Dedicated customer service staff
Don't miss your chance to become a Season Ticket holder!
* Required fields
Legendary Venue, Epic Private Events!
Featuring outdoor setting and soaring views, Darien Lake Amphitheater is the perfect location for your next conference, corporate event, fundraiser, private concert or graduation. With access to the world's greatest musical entertainment, state-of-the-art lighting and sound, custom menus and mixology, our talented staff handles every detail, so you don't have to. Accommodating up to 21,600 guests, this unique 165,000 square-foot venue will exceed expectations.
Contact Our Special Events Sales Team
Darien Lake Amphitheater
Phone

212.837.2421

Email

Address

9993 Alleghany Rd. Darien Center, NY 14040