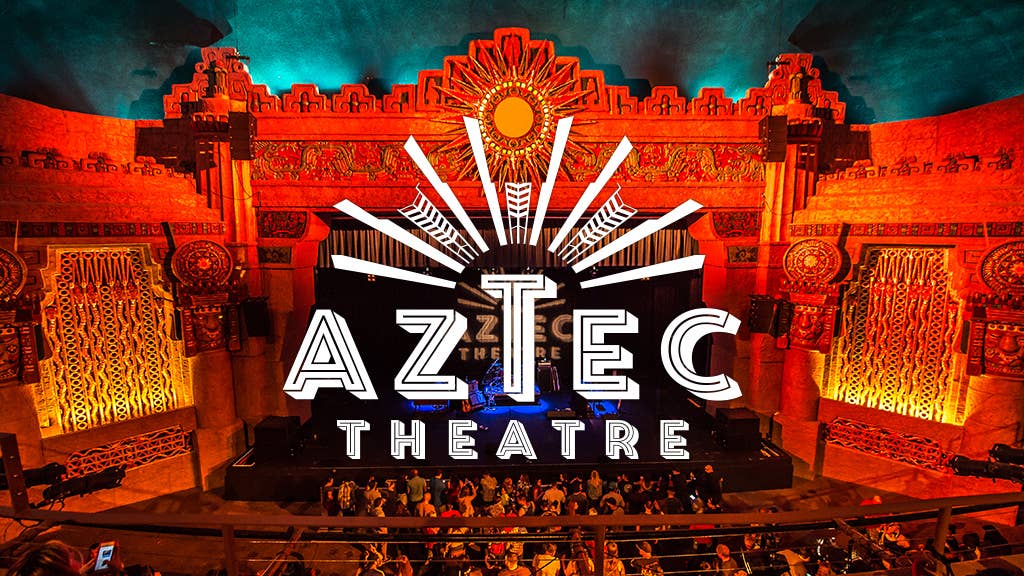 Aztec Theatre
Know Before You Go
Built in 1926, the 1600-capacity Aztec Theatre is a notable example of the impressive exotic-theme motion picture palaces constructed in the United States during the economic boom of the 1920s. It is decorated with vibrantly-colored columns, sculptures, furnishings and murals, many of which are authentic reproductions of Meso-American artifacts. A massive two-ton chandelier dominates the theater lobby. The chandelier was installed the same day the stock market crashed in 1929. The Box Office is located 104 North St. Mary's St. at the corner of North St. Mary's St. and Crockett.
Coming to a show? Here's a few things to know before you go!
This week at the Aztec Theatre
FRIDAY, OCTOBER 6TH: DR CESAR LOZANO
M&G: 7PM
DOORS: 7PM
SHOW: 8PM
SUNDAY, OCTOBER 8TH: HALF ALIVE
M&G: CHECK IN AT 4:30, STARTS AT 5:30PM
DOORS: 6:30PM
SHOW: 7:30PM
LINE UP: Thomas Headon, half alive
MONDAY, OCTOBER 9TH: FKJ
EARLY ENTRY: CHECK IN AT 6:15PM, ENTER AT 6:30PM
DOORS: 7PM
SHOW: 8PM
LINE UP: Dreamcastmoe, FKJ
Doors open one hour before the show's scheduled start time.
Bag Policy
The following bag policy is in place: Bags up to 12" x 6" x 12" are allowed in the venue. All bags will be searched prior to entry. Bags that are not clear will be subject to additional search.
Mobile Ticketing
All our events will be Mobile Entry. That means your mobile device will be used to gain access to the event. Tickets will not be emailed or available for print. Screenshots will not be accepted.
For more information on mobile entry, click here.
Phone troubles? Visit the box office on event day for assistance. Be prepared to show your ID.
Cashless Payments
Cashless payments will be available at all points of sale and are recommended. We do not have an ATM on the premises.
FAQs
I left something at the Aztec Theatre. How can I find it?
If you're still at the venue during the show, please head to the kiosk in the front lobby, where we hold lost and found items. If the show has already ended, please give us a call at (210) 812-4355. 
Parking near the Aztec Theatre
The Aztec Theatre is located in the heart of downtown San Antonio at the corner of Commerce and St. Mary's. There are many parking garages within a few blocks walking distance to the venue. We do not have an attached parking garage. Please allow yourself extra time to park before arriving at the venue. Street parking is also available. Please be sure to pay close attention to any parking restrictions.
Re-entry - Can I leave and come back?
There will be no re-entry unless otherwise noted. Once you're out, you're out for the night.
Types of Payment Accepted
Our bars accept Visa, MasterCard, Discover, & American Express. The Box Office also accepts ApplePay. We are a cashless venue, and do not have an ATM on the premises.
What items are restricted from the Aztec?
No bags that do not adhere to LiveNation's bag policy: we will allow bags no larger than 12" x 6" x 12". Clear bags encouraged. All bags will be searched prior to entry. Bags that are not clear will be subject to an additional search. Backpacks are not allowed.
No outside food or drink is allowed. This includes water bottles, camel packs and bota bags. 
No guns, knives, pepper spray, projectiles of any kind, or any other item that could be used to inflict harm.
Replicas of any type of weapon are NOT permitted
No drugs or drug paraphernalia, illegal substances of any kind.
No video cameras, GoPros, selfie sticks, drones, masks that cover the entire face or laser pointers.
No professional photo, video, or audio recording equipment - (including detachable lenses, tripods, zooms or commercial use rigs)
No unsealed liquids or gels of any kind
No jewelry or clothing that could inflict harm (spikes on boots or jackets, spiked collars, or chains).
No stuffed animals or toys of any kind
No flags or posters
This list of prohibited items is subject to change at the discretion of venue management.
Will Call
Will Call tickets can be picked up at the Box Office starting at 2 hours prior to doors on the day of the event only.
Please be sure to have the following: A VALID PHOTO ID, THE ACTUAL CREDIT CARD USED TO PURCHASE THE TICKETS, AND YOUR ORDER NUMBER
What are the types of upgrades the Aztec offers?
We offer several upgrades that you can purchase in advance online or day of show in person:
Fast Lane - Skip the General Admission line with the Fast Lane pass. This will get you in right at doors. Please note: if there are show specific upgrades, you will be let in after patrons who purchased these upgrades. You must also purchase a ticket, as this upgrade is not a concert ticket.
VIP Club Access - This upgrade gets you access to our Warrior Room,  the Aztec's exclusive VIP club. Score early entry to the venue an hour before door time. You'll also receive access to the private Warrior Room bar and bathrooms before and during the show.  Start the fun off early with VIP beverages as you enjoy in-room entertainment on select nights. Please note: this upgrade is not a concert ticket and an additional concert ticket must be purchased to use the upgrade.
VIP Table Upgrades - Reserve a table for you and up to three guests. Please see the Premium Seats tab for more information!
Accessible Seating
Guests with special needs can email the Box Office Manager in advance at aztecboxoffice@livenation.com to make us aware of the show and date that assistance will be needed.
For all general admission shows, we have a designated area for patrons with special needs and one companion. Please look for ADA tickets on the floor map. 
For reserved seated shows, guests with limited mobility should purchase tickets on the theatre floor in the Orchestra.
While we do have an elevator, the seats in the Mezzanine and Balcony are only reachable by stairs. Our bathrooms and first floor are all ADA accessible, so please make us aware of your needs when purchasing tickets and upon your arrival to the venue.
On the date of the show, please make our Guest Services staff aware of your needs and we will assist you in any way we can!
Box Office Information
The box office at The Aztec Theatre will be open on show dates only. We will open two hours before door time.
If you'd like to purchase tickets, please visit us at www.livenation.com.
Camera Policy
Personal cameras are allowed in the venue. Flash photography, video and removable lens cameras are not permitted without venue approval. We do not allow selfie sticks or professional level cameras.
How do I request a mediapass?
Any media inquiries regarding day of show press needs to be submitted to www.livenation.com/pressrequests. 
Please note: media credentials need to be requested a minimum of five business days prior to the event. You must be on assignment from an accredited media outlet to apply for media credentials.
We are redefining what it means to be a VIP. Contact us today to learn what it's all about. 
* Required fields
Legendary Venue, Epic Private Events!
Built in 1926, The Aztec Theatre is San Antonio's premier events facility and considered by many as a Mesoamerican architectural work of art. As one of the Alamo City's most cherished historical landmarks, it is the perfect location to host your corporate event, private concert, wedding, reception or business meeting. Located just blocks from the Henry B. Gonzalez Convention Center, Aztec Theatre accommodates 25 to 1,500 guests, and our talented staff handles every detail, so you don't have to!
Contact Our Special Events Sales Team
Aztec Theatre
Phone

210.780.3608

Email

Address

104 N St Marys St San Antonio, TX 78205