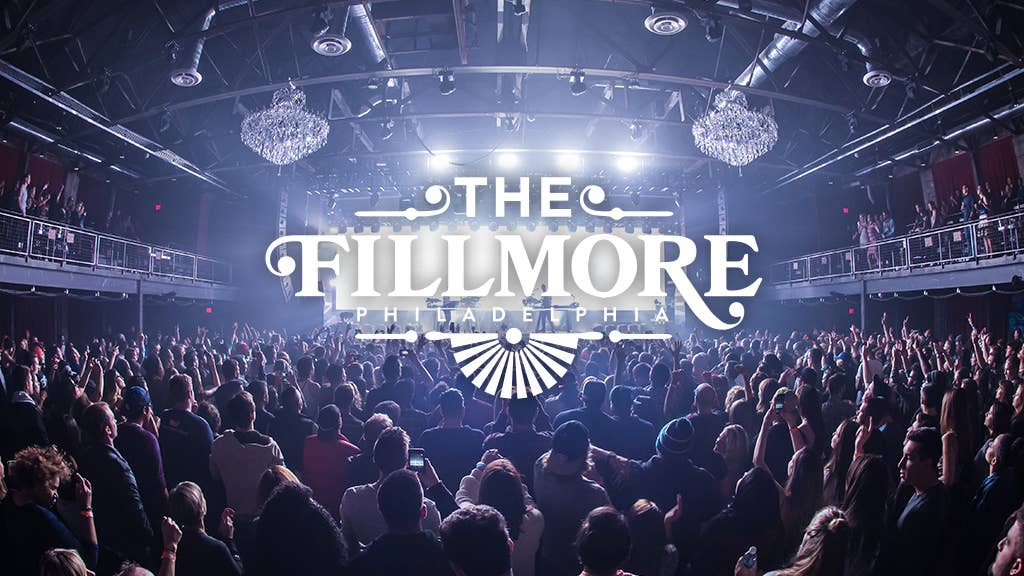 The Fillmore Philadelphia
Know Before You Go
We can't wait to see you! Here's what to expect when you visit us again. *Keep an eye on our website and social media handles as guidelines are subject to change.
Coming to a show? Here's a few things to know before you go!
Doors Time
Doors generally open one hour before the show's scheduled start time.
Bag Policy
The following bag policy is in place: Bags up to 12" x 6" x 12" are allowed in the venue. All bags will be searched prior to entry. Bags that are not clear will be subject to additional search.
Mobile Ticketing
All our events will be Mobile Entry. That means your mobile device will be used to gain access to the event. Tickets will not be emailed or available for print.
For more information on mobile entry, click here.
Phone troubles? Visit the box office on event day for assistance. Be prepared to show your ID.
Cashless Payments
Cashless payments will be available at all points of sale and are recommended
29 E Allen St Philadelphia, PA 19123
FROM I-95 NORTH
Take I-95 N to Exit 22 for Callowhill St. in Philadelphia. Turn Right onto N. 5th St. Turn Right onto Spring Garden. Turn Left onto N. Front St. and look for our "Official Parking" banners at 1025 N. Front St.
FROM I-95 SOUTH
Take I-95 S to Exit 23 for Girard Ave. toward Lehigh Ave. Merge onto Girard Ave. Make a Left onto N. Front St. and look for our "Official Parking" banners at 1025 N. Front St.
FROM NEW JERSEY
Take I-676 N toward the Ben Franklin Bridge/Philadelphia. Take the 5th St. Exit from I-676 W. Turn Right onto Spring Garden St. Turn Left onto N. Front St. and look for our "Official Parking" banners at 1025 N. Front St.
FROM N. DELAWARE AVE
From N. Delaware Ave., turn onto Frankford Ave across from the Casino. Immediately turn left onto Laurel St. Turn right onto N. Front St. and look for our "Official Parking" banners at 1025 N. Front St.
The box office at the Fillmore Philly will be open on day-of-show only. On show days, the box office will open 2 hours prior to door time. If you're looking to purchase tickets, we ask you to visit us at www.livenation.com . If you're looking to obtain a refund for a show that was either canceled or rescheduled, please visit www.livenation.com/refund for more information. We look forward to seeing you at our next show at the Fillmore Philly.
Tickets obtained from unauthorized sources may be invalid, refunded, lost, stolen or counterfeit, and if so are void.
FAQs
ADA Details
The Fillmore Philadelphia offers ADA seating and additional accommodations (as needed) for those with disabilities. To inquire, please arrive as early as possible to speak to a Guest Services or Box Office representative for further assistance.
Are there items that I can not bring to the venue?
Customer Safety
Click Here to review Customer Safety Instructions.
Click Here to view more Customer Safety Information.
Getting to The Fillmore
Fear not - whether you prefer Uber (like us), SEPTA or driving yourself - we have you covered. Please click here for all transportation information. 
How can I get my local band booked at the Foundry?
Philly has an amazing local and regional live music scene and we want to see as many bands as possible grace our stage! For information on local booking please contact foundrybookings@livenation.com.
How can I rent The Fillmore for a private event?
We have multiple spaces and can cater to groups of 25-3,000 for special events. Our event specialists are ready to talk to you and help take your event to the next level. Please contact fillmoreevents@livenation.com for more information.
How do I buy tickets to upcoming concerts?
Once tickets go on sale for any given show there are many ways to purchase tickets for concerts at The Fillmore and The Foundry. You can visit our website thefillmorephilly.com, ticketmaster.com or livenation.com. Please note that there are no services fees charged at any of our box offices if you are purchasing tickets on the day tickets are going on sale to the public.
How do I find out about Premium Seating opportunities at the Fillmore Philly?
I bought tickets to an upcoming show, but I also want to purchase parking passes, coat check, and fast lane passes. How do I know if those things are available for my show?
Is there a Lost & Found?
May I bring my children?
Children of all ages are welcome—with an admission ticket—at family-oriented concerts and performances. Appropriate adult supervision may be required. All guests over two-years-old are required to have their own ticket. Non-family oriented concerts and performances may not be suitable for young children, and venue management reserves the right to refuse admission for any reason, including concerns about safety. Children of any age may NOT attend a "18 " or "21 " concert or performance.
What kind of food will you serve?
Where can I park at the venue?
We have two parking locations to choose from: Our lots are located at 1025 North Front Street & 98 Richmond Street (at the corner of Richmond St & Frankford Ave).Click here to view additional fan information, including further parking info and directions to the venue. 
Secure your Season Tickets and Premium Benefits today. Contact us to learn more! 
* Required fields
Legendary Venue, Epic Private Events!
The Fillmore was the focal point for the psychedelic music scene during the 1960s and 1970s, helping launch the careers of the biggest names of the era such as The Grateful Dead, Jimi Hendrix, Led Zeppelin, and The Doors. Modeled after The Fillmore in San Francisco, this unique setting is the perfect location to host your corporate event, private concert, award ceremony, fundraiser, bar/bat mitzvah, wedding or reception. With access to the world's greatest musical entertainment, full service event production, state-of-the-art lighting and sound, custom menus and mixology - our unique venue will exceed expectations. Accommodating groups of 50 to 3,000 guests and conveniently located 2.5 miles from the Convention Center, our talented staff handles every detail, so you don't have to!
Contact Our Special Events Sales Team
The Fillmore Philadelphia
Phone

215.309.0166

Email

Address

29 East Allen Street Philadelphia, PA 19123