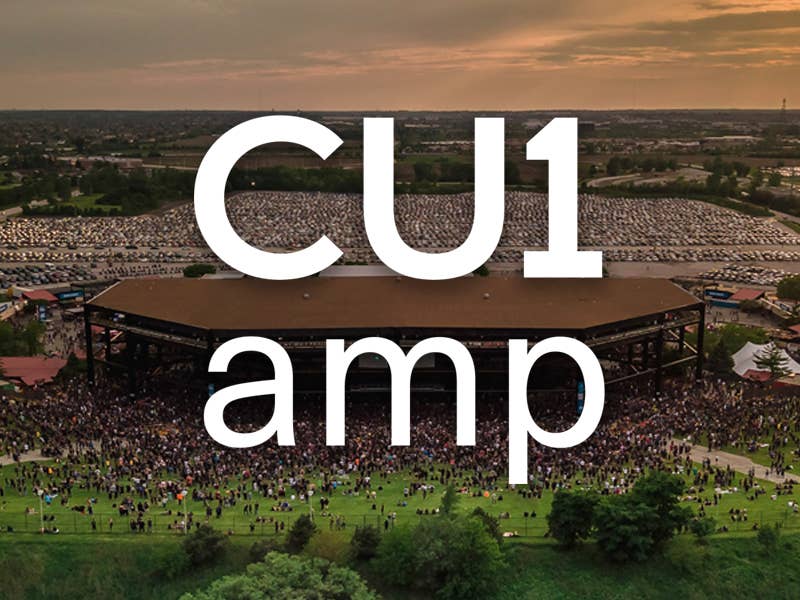 Credit Union 1 Amphitheatre
Know Before You Go
We can't wait to see you! Here's what to expect when you visit us for a show! *Keep an eye on our website and social media handles as guidelines are subject to change.
The show information below is always subject to change.
Thank you for joining us this season! We can't wait to see you in 2024.  Find us on social media for latest updates:
Please review our Clear Bag, Mobile Ticketing, and Contactless Payment information before you arrive:
To reduce staff contact with guest belongings, we have implemented the following bag policy: we will allow CLEAR plastic, vinyl or PVC tote bags no larger than 12" x 6" x 12" and/or small clutch bags (6"x 9"). The small clutch bags do not need to be clear. No other bags of any type will be allowed.
All events are mobile entry only. Please download your tickets to your phone using the Live Nation app at home before driving to the venue. Get more info at livenation.com/venuemobileticketing.
All points of sale will only accept credit, debit, or mobile pay (such as Apple Pay or Google Pay). In the event you are not carrying a credit or debit card, staff will be available on site in the South Plaza, next to Gate 5 to exchange cash for card, dollar for dollar, without any service fees.
Please note: To improve venue entry and for security purposes, personal lawn chairs will no longer be allowed. Lawn chairs are available to reserve ahead of time for pick up day of show.  
Permitted Items:
Clear plastic, vinyl or PVC tote bags no larger than 12" x 6" x 12" and/or small clutch bags (6"x 9")
Blankets
Cameras – nonprofessional only, no detachable lenses
Food – in a clear, 1-gallon ziploc bag
Water – up to 1 gallon in a factory sealed or empty bottle
Bug spray & sunscreen – non-aerosol only please
*** Subject to change based on the show. 
Non-Permitted Items:
Weapons of any kind
Alcohol
Illegal drugs/substances, including marijuana
Chairs of any kind
Strollers
Glass containers
Cans
Hard sided/large coolers
Bags that are not clear or are larger than 12" x 6" x 12" (clutch bags smaller than 6" x 9" do not need to be clear)
Tarps
Laser pointers
Animals (except service animals)
Fireworks
Aerosol cans of sunscreen or bug spray
*** Subject to change based on the show. 
Weather:
5-day forecast below - click on link for hourly weather information
https://www.accuweather.com/en/us/tinley-park-il/60477/daily-weather-forecast/338071
Wifi:
No password needed - just log on to Free_Fan_WiFi
The box office is open on show days only, beginning at 12pm.
Box Office: (708) 614-1616
Season Tickets: (866) 847-8499
While we may be known for our concerts, our goal is to make sure you have an awesome experience at our venue in every way possible.One of the ways we've worked to make that happen is by collaborating with top chefs and brands around the country to bring new food concepts to you.We'd love for you to experience what we've worked on and welcome you to have dinner with us at your next show.
Credit Union 1 Amphitheatre strives to ensure all of our guests have a great time at our venue. Please let us know if you need additional assistance while you are at our venue. 
Ticketing

- ADA tickets can be purchased online via

www.livenation.com

. Be advised all our designated wheelchair accessible seats can be ordered online via Ticketmaster. Therefore, there is no need to call the Box Office for purchasing purposes. Although wheelchair accessible seating is located in every price category, it is sold on a first come, first served basis.

Day of Show Parking

- Accessible Parking is located outside Gate 5. Let parking staff know if you require accessible parking and they will direct you to this lot. Please note: You must have a state-issued accessible parking placard or license plate to park in our Accessible Parking Lot.

Accessible Stations

- If you have questions or require assistance, we have a table staffed with guest services crew members to help answer questions related to seating or other accommodations. These stations are located at the entrance to the lower pavilion on the north and south side.

Unexpected Needs

- If you have a temporary injury or illness preventing you from using the original seat you purchased, please contact Ticketmaster as soon as possible for ticket exchange resolutions. Any and all exchanges are subject to wheelchair accessible seating availability. Be advised that due to spacing issues, only one (1) companion will be immediately adjacent to the patron requesting wheelchair accessible seating. Additional companion seating will be located in the closet available seating area. 

Interpreter Requests

- Guests requiring interpreting services for concerts and events should contact Credit Union 1 Amphitheatre at 708-614-1616 at the time you purchase your tickets. Please be advised because of booking constraints, we may not be able to secure qualified ASL interpreters two (2) weeks before a show or event.

Accommodations

- All venue restrooms, concession stands, and merchandise stands are accessible. If you are in our VIP seating areas we provide lifts to our Sky Suites as well as VIP Club. Please contact a VIP staff member if assistance is required.

Service Animals -

Credit Union 1 Amphitheatre welcomes service animals. We encourage guests requiring service animals to contact us as early as possible for potential seating relocation purposes. Please call 708-614-1616 for more information.

Hearing Assistance -

Guests that require assisted listening devices can contact our venue office prior to the event to arrange for a device. Please give us at least 2 days' notice. Guests that require interpreter service can call the venue and arrange this for any event. We need at least 2 weeks notice to secure an interpreter. We can be reached at 708-614-1616.
SEASON TICKETS AVAILABLE NOW
Season Ticket and VIP Ticket Packages
Experience the thrill of live performances at Credit Union 1 Amphitheatre this season!
Whether it's with friends, family, clients, or co-workers, make your next outing one to remember. Ticket Packages come packed with everything you need to fully enjoy the concert experience.
Ticket Packages include prime seats, VIP Parking, priority entrance and exits along with VIP Club access featuring an exclusive menu of snacks and drinks, private restrooms plus terrace views of the stage that are open before and after the show.
---
CHECK OUT OUR OPTIONS
---
BOX
SEATS
Box Seats offer beautiful sightlines in a spacious designated area, with premium food and beverages delivered right to you.
DREAMS
 SEATS
Come enjoy the show in maximum comfort and ample legroom with our plush leather seats located in Sections 102-104.
SKY SUITES
| SKY CLUB
Get a bird's-eye-view of the whole show from our exclusive luxury suites featuring premium food and beverage packages and room for up to 26 guests.
ROCK
BOX
Rock Box Seats offer beautiful sightlines in a spacious designated area, with premium food and beverages delivered right to you.
---
* Required fields
Legendary Venue, Epic Private Events!
Featuring outdoor setting and soaring views, Credit Union 1 Amphitheatre is the perfect location for your next conference, corporate event, fundraiser, private concert or graduation. With access to the world's greatest musical entertainment, state-of-the-art lighting and sound, custom menus and mixology, our talented staff handles every detail, so you don't have to. Accommodating up to 28,000 guests, and located 1 mile from the convention center, this unique 235,500 square-foot venue will exceed expectations.
Contact Our Special Events Sales Team
Credit Union 1 Amphitheatre
Phone

312.923.7061

Email

Address

19100 Ridgeland Ave. Tinley Park, IL 60477