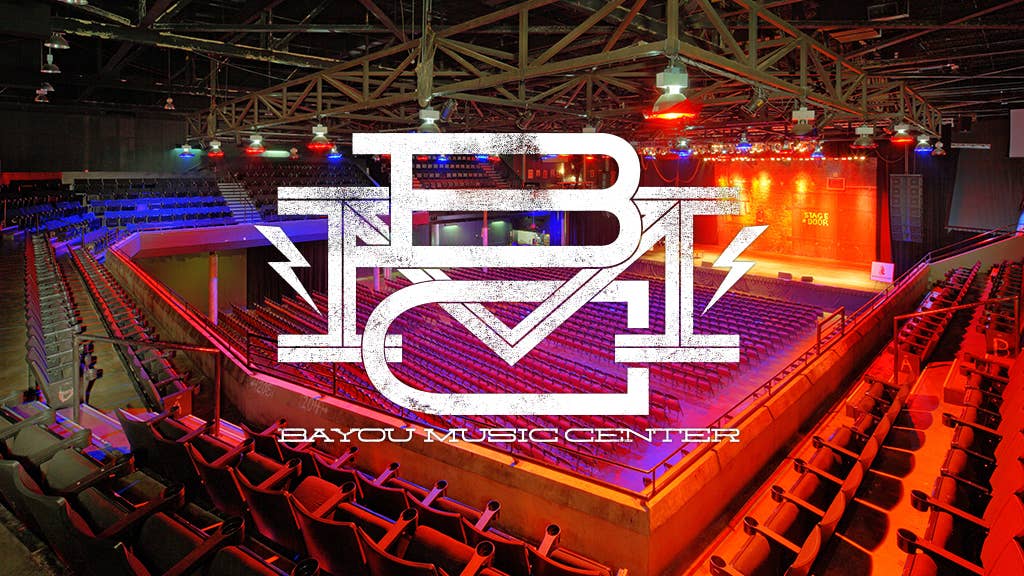 Bayou Music Center
Know Before You Go
Coming to a show? Here's a few things to know before you go!
Doors Time
Doors generally open one hour before the show's scheduled start time.
Bag Policy
The following bag policy is in place: Bags up to 12" x 6" x 12" are allowed in the venue. All bags will be searched prior to entry. Bags that are not clear will be subject to additional search.
Mobile Ticketing
All our events will be Mobile Entry. That means your mobile device will be used to gain access to the event. Tickets will not be emailed or available for print.
For more information on mobile entry, click here.
Phone troubles? Visit the box office on event day for assistance. Be prepared to show your ID.
Cashless Payments
Cashless payments will be available at all points of sale and are recommended
Our box office is open 2 hours prior to door time on a night of show only! 
Bayou Music Center offers ADA seating and additional accommodations (as needed) for those with disabilities. To inquire in advance, please contact the box office directly via email at BayouBoxOffice@LiveNation.com or phone for further details. To inquire on-site/upon arrival, please arrive as early as possible to speak to a guest services or box office representative for further assistance.
Our box office is currently open 2 hours prior to event door time.
FAQs
Are Season Tickets available?
YES! Click HERE for more info.
Can I rent Bayou Music Center?
Yes! The venue can be rented for private events, concerts, recitals, etc., and your details would be handled by our experienced team. For more information and to start planning your event rental, ticketed concert or special event contact us at bmcevents@livenation.com or 713.230.1630. Additional details on special events can be found here. 
Can I bring my child to the theater?
All ages are welcome, unless otherwise stated. Please check with the venue.

Everyone needs a ticket to enter.
Can you smoke in the theater?
No smoking is allowed inside the theater. Exterior areas are available for those who do smoke.
Do you have an ATM?
ATMs are available in the venue and located in the lobby area.
Do you have a Lost & Found?
Yes! If you attended a show at our venue and lost something during your visit, please visit the link below to file a claim. If the item was turned into our lost & found, a venue member will reach out with information on how to obtain your item(s).
Click here to access our lost & found!
Do you sell food and drinks?
Beer, wine and liquor are available to patrons 21 and up, with a valid Texas photo ID. No alcohol can be carried outside the venue except to the designated smoking patio. Several different types of food are available, ranging from hamburgers to salads.
Where do I park?
Valet service is available at the venue complex, there is also street parking and underground parking in the city's garage. Please note that the valet service is run by the City of Houston and not the venue. 
My tickets are at will-call, how do I pick them up?
Customers may pick up tickets day of show with a valid photo ID and the credit card used for purchase. The name on the ID must match the name on the credit card used to purchase tickets.
This is an accessible venue. Space is limited and is based on a first come, first served basis.
What Types of Payment are accepted for ticket purchases?
Cash, American Express, Discover, MasterCard and Visa. Credit card holder must present a valid matching photo ID for all purchases made in person. The name on the ID must match the name on the credit card used.
How do I get the Premium Experience at shows I'm going to?
Customer Safety & Restricted Items
Live Nation and House of Blues Entertainment are committed to providing a safe and secure environment for our guests to enjoy their visit to our venues.
We encourage you to review our safety and security information below prior to arriving at the venue.
Please arrive early to the venue to allow enough time for you and your guests to move through the queue and enter the venue.
Prior to entering the venue, guests will be searched (wand or walk through metal detection and/or pat-downs) to ensure that nothing on the restricted list of items enters the building.
We suggest you leave valuable and unnecessary items at home.
You may be asked to empty your pockets of all items so that they can be examined.
All alcohol and narcotic laws will be strictly enforced.
All bags will be searched and must adhere to our new clear bag policy.
We reserve the right to refuse entry to anyone. If you see something that concerns you, please say something to our Management or Security so we can ensure the best experience possible.
Restricted Items:
(Keep in mind priority number 1 is to HAVE FUN! Just please do it without the items listed below)
No Outside Food or Drink Allowed
No guns, knives, pepper spray, projectiles of any kind, or any other item that could be used to inflict harm.
Replicas of any type of weapon are NOT permitted
No drugs or drug paraphernalia, illegal substances of any kind.
No video cameras, GoPros, selfie sticks, drones, masks or laser pointers.
No professional photo, video, or audio recording equipment - (including detachable lenses, tripods, zooms or commercial use rigs)
No unsealed liquids or gels of any kind
No jewelry or clothing that could inflict harm
No stuffed animals or toys of any kind
This list of prohibited items is subject to change at the discretion of venue management
All bags must adhere to our bag policy
Zero Tolerance For Drug Use or Possession
The use or possession of any illegal drugs will not be tolerated anywhere inside or outside the venue. Security personnel and narcotics officers will be working and enforcing all drug related laws. Do not bring any illegal substances to the event as violators will be prosecuted to the fullest extent of the law. If you are found impaired at the door, security will not allow you to enter the venue. Event staff reserves the right to refuse entry to anyone. Please come with a smile and be prepared to enjoy a fun filled night of music and dancing.
Safety and Medical
Live Nation is dedicated to providing a safe environment. Public and private security will be present throughout the entire event. The Security Staff will be available to assist your needs including any medical requests.
We are redefining what it means to be a VIP. Contact us today to learn what it's all about. 
* Required fields
Legendary Venue, Epic Private Events!
Located in Houston's Bayou Place Entertainment Complex, this incredible space is the perfect location to host your next corporate event, private concert, wedding, reception or business meeting. Less than a mile from the George R. Brown Convention Center, the Bayou Music Center accommodates from 200 to 3,464 guests. Our talented staff handles every detail, so you don't have to!
Contact Our Special Events Sales Team
Bayou Music Center
Phone

713.230.1630

Email

Address

520 Texas Avenue Houston, TX 77002