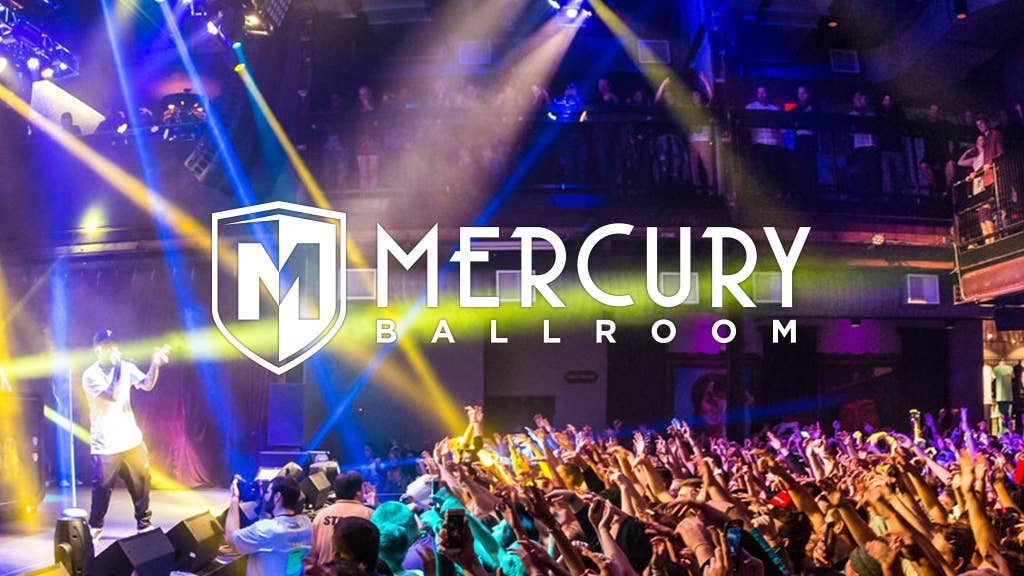 Mercury Ballroom
Know Before You Go
We can't wait to see you! Here's what to expect when you visit us again. *Keep an eye on our website and social media handles as guidelines are subject to change.
Coming to a show? Here's a few things to know before you go!
Door Time
Doors generally open one hour before the show's scheduled start time.
Bag Policy
The following bag policy is in place: Bags up to 12" x 6" x 12" are allowed in the venue. All bags will be searched prior to entry. Bags that are not clear will be subject to additional search.
Mobile Ticketing
All our events will be Mobile Entry. That means your mobile device will be used to gain access to the event. Tickets will not be emailed or available for print.
For more information on mobile entry, click here.
Phone troubles? Visit the box office on event day for assistance. Be prepared to show your ID.
Cashless Payments
Cashless payments will be available at all points of sale and are recommended
Non-Permitted Items:
Weapons of any kind – including but not limited to knives, guns, mace, pepper spray etc.
Alcohol, cans or glass containers
Outside food or drink
Illegal drugs/substances
Bags that are not clear or are larger than 12" x 6" x 12"
Laser pointers
Animals (except service animals)
GoPros
Selfie Sticks
iPads or tablets
Video cameras
Drones
Large signs, posters or flags
In-Line skates, skateboards, bicycles or action sports equipment
Wagons or large non-collapsible stroller
Boot Spurs
Any other item that may pose a threat to other guests, staff, or performers
Wallet chains and Carabiners
We are located at 611 S. 4th Street, Louisville, KY 40202. Metered street parking and parking garages are available around the venue.
Our Box Office is regularly open to buy tickets in person on Mondays & Tuesdays from 12pm-5pm and on Fridays from 12pm-5:30pm. On show days, the Box Office will open 1 hour prior to door times for ticketing needs. Tickets can also be purchased online at our website.  We look forward to seeing you at our next show!
Mercury Ballroom strives to ensure that all of our guests have a great time at our venue. If you need additional assistance while you are here, please make sure you let us know.
Accessible Tickets - If you need accessible seating, we have a reserved ADA section to the front left of our stage. Our fans are permitted to bring one guest in the area with them to enjoy the show.
Hearing and/or Vision Assistance - Please contact our Box Office at (502) 583-4555 or email mercuryballroomhelp@livenation.com to set-up additional accommodations.
Service Animals - Trained guide, signal, or service dogs assisting guests with disabilities are permitted inside. To better serve you, please call our Box Office at (502) 583-4555 to arrange accommodations prior to the show. Upon venue arrival please identify such dogs to security and ticket takers.


FAQs
Interested in upgrading to our upstairs seated section?
We are a standing General Admission venue, but do offer upgraded seating in our upstairs section! If you arrive before doors open for the show, someone will be outside offering this upgrade. If you come after they open, then you just go up the stairs &/or elevator and our team will help you!
I left something behind. Do you have a lost & found?
Is the venue all-ages?
Most shows are all ages events, unless otherwise specified on our calendar. There are bars inside the venue selling alcohol. You MUST be 21 with a valid ID in order to purchase an alcoholic beverage. No fake ID's, please! They will be confiscated and you will not be provided access to our bar areas.
How can I rent Mercury Ballroom for a private event?
With its rock royalty memorabilia, this eclectic venue boosts a cool, Southern charm that's perfect for your next corporate event, private concert, wedding, reception or business meeting. Mercury Ballroom can accommodate from 25 to 750 guests, and our talented staff handles every detail, so you don't have to! This 11,490 square-foot venue in the heart of Louisville will exceed expectations. Adorned with décor shadowing rock and roll legends such as Jimi Hendrix, David Bowie, and Amy Winehouse, this modern and funky venue is the perfect location to host soirées of every description, including all your big milestones.
Contact us for more information and to start planning by emailing our Director of Sales, Special Events at sydneyanthony@livenation.com or visiting here.
I'm interested in working at the venue. How do I apply?
All open Live Nation positions are listed here.
Can I smoke in the venue?
Mercury Ballroom is a non-smoking venue. Smoking of cigarettes and/or electronic cigarettes is prohibited inside. During events there is a smoking section outside on our two patio levels.  
Is there food at the venue?
Our concession stand sells popcorn, soft pretzels, sodas and snacks.
Is there Will-Call?
Will-call or guest list physical tickets will be available to pick up on the day of the show only, starting 1 hour before doors open.
I am diabetic, is it OK to bring in a small snack?
Yes, guests who have a small amount of UNOPENED snacks such as a snack size pack of cookies, etc. are allowed to bring this item in for medical reasons.
What is your camera policy for concerts?
Generally, the camera policy is set by the artist. In most cases, we prohibit professional cameras, including cameras with detachable lenses, recording devices as well as external flash/lighting. We also do not allow disposable or point-and-shoot cameras. If you have a question about the camera policy for a specific show, please contact us at mercuryballroomhelp@livenation.com. 
Do you have re-entry?
We have a strict NO RE-ENTRY policy.
Do you have a coat check?
Yes, coat check is available for most shows.
How do I get a media or photo pass to cover a show?
All passes must be approved by the band/artist's publicist or management. Contact information can usually be found on the artist's website or social media pages.
How do I get in touch with the venue?
Secure your Season Tickets and Premium Benefits today. Contact us to learn more!
* Required fields
Legendary Venue, Epic Private Events!
With its rock royalty memorabilia, this eclectic venue boosts a cool, Southern charm that's perfect for your next corporate event, private concert, wedding, reception or business meeting. Located less than a mile from the Kentucky International Convention Center, Mercury Ballroom can accommodate from 25 to 750 guests, and our talented staff handles every detail, so you don't have to!
Contact Our Special Events Sales Team
Mercury Ballroom
Phone

502.883.5772

Email

Address

611 S 4th Street Louisville, KY 40202