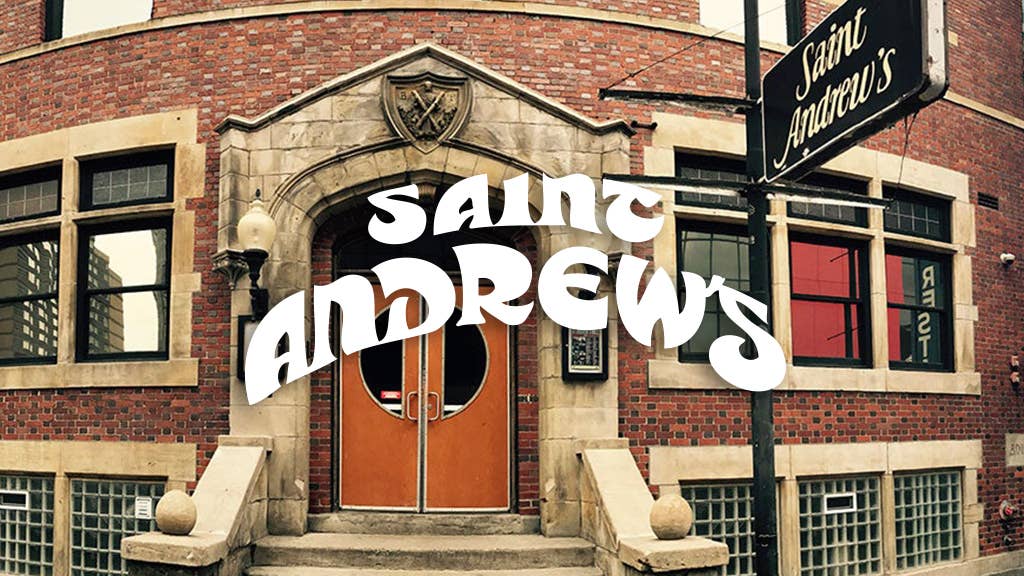 Saint Andrew's Hall
Welcome to Saint Andrew's Hall
Originally home to the Scottish Society of Detroit, this iconic music venue is located in Bricktown, close to the Detroit River and Greektown. We can't wait to see you! Here's what to expect when you visit us again. *Keep an eye on our website and social media handles as guidelines are subject to change.
Coming to a show? Here's a few things to know before you go!
Doors Time
Doors generally open one hour before the show's scheduled start time.
Bag Policy
The following bag policy is in place: 
- Clear plastic, vinyl or PVC bags (maximum size: 12"x6"x12")
- Small clutch bags approximately the size of a hand (maximum size: 4.5"x6.5")
Mobile Ticketing
All our events will be Mobile Entry. That means your mobile device will be used to gain access to the event. Tickets will not be emailed or available for print.
For more information on mobile entry, click here.
Phone troubles? Visit the box office on event day for assistance. Be prepared to show your ID.
Cashless Payments
Cashless payments will be available at all points of sale and are required.
The box office is open 60 minutes before the listed door time on show days.
If you'd like to purchase tickets online, please visit us at www.livenation.com. If you're looking to obtain a refund for a show that was either canceled, postponed or rescheduled, please visit us at www.livenation.com/refund for more information.  We look forward to seeing you at our next show!
You can also leave a message for our box office and we will respond as quickly as possible at saintandrewshallboxoffice@livenation.com or call 313-230-2430.
FAQs
Do you have ADA seating?
Call our box office (313) 230-2430 in advance, and let us know the date of the show you are attending. Arrive the day of the show and notify us of your arrival by calling our ADA coordinator at 313-230-2434. If your call goes unanswered, please call (313) 961-8961 or head directly to the front of the line and our Guest Services team will assist you into the venue. At this time our team will escort you to the ADA section located on the right side of the main floor. The ADA section is adjacent to a full bar, and restrooms are available in the main lobby. If you need assistance at any time, there is a Guest Services team member assigned to the ADA section that can help you with anything you might need.
Can I smoke?
Smoking is not allowed inside St. Andrew's Hall / The Shelter, however we do provide outdoor smoking sections for our patrons.
How do I book St. Andrew's Hall for a special event?
I want to book a show or being an opening act!
Please submit your info to our talent buyers via this form!
Who do I contact about my experience at St. Andrew's Hall?
Do you have coat check?
Coat check is available during winter months – weather permitting
Is there an ATM in the building?
No, there are no ATMS inside the venue. 
All concession, bar and ticket sales, once in the venue, will only accept credit or debit cards and/or mobile pay.  Cashless payments are encouraged for ticket purchases at the box office. Cash to card conversion will be available inside the venue, dollar for dollar, without any service fees.
Once inside the building, am I able to leave and come back in?
No, there is no re-entry allowed.
Prohibited Items
Professional photo/video equipment (unless approved photo pass from artist)
Illegal substances/drugs/drug paraphernalia
Pets, unless it is a registered service animal
Laser pointers/glow sticks/LED gloves or microlights
Metal studded/spiked clothing, jewelry and accessories
Balloons/inflatable balls
Candy bracelets/necklaces
Large purses/bags/backpacks/drawstring bags
Weapons of any kind (mini pepper spray/knives/fireworks)
Firearms (including off duty law enforcement and CPL holders)
What amenities are available?
St. Andrew's Hall and The Shelter both have full service bars that feature dozens of liquor brands and over 80 brands of beer. The Shelter ( Lower level ) is open during most events and offers additional bars, restrooms, seating and food. Patrons who wish to take a break from the main ballroom event may go downstairs and listen to music, sit and relax. The Society Room is also open during most St. Andrew's Hall shows and offers a private premium bar, private restrooms and balcony access.
To purchase Premium Seat packages contact us at 313-230-2614 or MattHerold@livenation.com
What are your box office hours?
The box office is open 60 minutes before the listed door time on show days.
What is the Fast Lane?
The Fast Lane allows first entry after door time for concert-goers and may be purchased at the time of ticket purchase. There are a limited number of Fast Lane tickets available for each show. Advisable for General Admission events.
What is your camera policy?
It depends on each individual artist or performer's policies. Usually, small point-and-shoot cameras and cell-phone cameras are allowed. Cameras with lenses on them are considered to be professional-length and are not allowed to be brought into the venue, unless artist has given prior approval to individual. Ushers will ask guests to leave such cameras in their cars. Audio or video recording is also almost never allowed at concerts unless otherwise noted.
Do you have a Lost & Found?
If you have lost something at a show please click here.
We are redefining what it means to be a VIP. Contact us today to learn what it's all about. 
* Required fields
Legendary Venue, Epic Private Events!
Music fans and avid concert-goers might feel nostalgic of their youth when entering St. Andrew's Hall, which has hosted thousands of musical performances over the years. Originally home to the Scottish Society of Detroit, this iconic music venue is located in Bricktown, close to the Detroit River and Greektown. Located less than a mile from Cobo Center, St. Andrew's Hall can accommodate 25 to 1,000 guests. Our talented staff handles every detail of your event, so you don't have to!
Contact Our Special Events Sales Team
Saint Andrew's Hall
Phone

313.230.2602

Email

Address

431 E Congress St Detroit, MI 48223