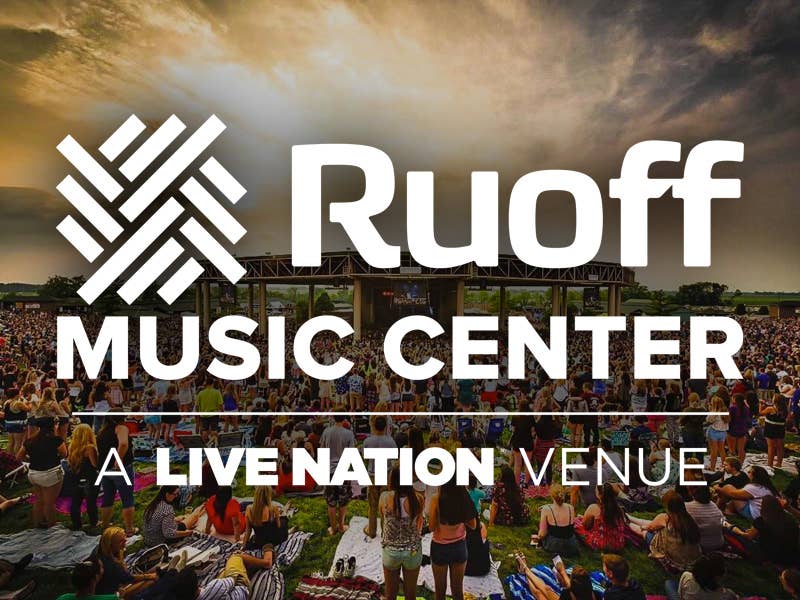 Ruoff Music Center
Know Before You Go
We can't wait to see you! Here's what to expect when you visit us again. *Keep an eye on our website and social media handles as guidelines are subject to change.
Times are all approximate. The show information below is always subject to change.
Contactless Payment information before you arrive:
A clear bag policy is in place.

We will allow CLEAR plastic/vinyl tote bags no larger than 12" x 6" x 12" and/or small clutch bags (6"x 9"). The small clutch bags do not need to be clear. No other bags of any type will be allowed. Any bags that do not meet our guidelines must be returned to your vehicle.

All events are mobile entry only. Please download your tickets to your phone using the Live Nation app at home before driving to the venue. Previously delivered hard/paper tickets will also be honored. Get more info at livenation.com/venuemobileticketing
All points of sale will only accept credit or debit. In the event you are not carrying a credit or debit card, staff will be available on-site at the main gate information booths at both entrances to exchange cash for card, dollar for dollar, without any service fees.
The following items will be permitted. Permitted items are, as always, subject to change depending on the show. Check our Facebook page on the day of show for specific permitted items and show info.:
CLEAR plastic/vinyl tote bags no larger than 12" x 6" x 12"
Small clutch bags (6" x 9") – these do not need to be clear

Blankets and Tarps *Blankets and tarps not permitted for all shows. Subject to change 

Binoculars 

Lawn Chairs – no more than 9" off ground, non-camping style *lawn chairs not permitted for all shows. Subject to change

Bug Spray and Sunscreen – non-aerosol only please

Food Items – (1) 1-gallon clear bag/person

Water – (1) 1-gallon factory sealed bottle/person

Clear, empty Nalgene bottles 

Umbrellas* (36" or shorter) *Umbrellas not permitted for all shows. Subject to change

Cameras (no professional)
The following items are NOT permitted through the ticket gates. We appreciate your help in leaving these items at home.
Alcohol, frozen water bottles, glow sticks, selfie sticks, iPads, GoPros, tablets, weapons of any kind, knives, chains, coolers, spike jewelry, signage and bags larger than 12" x 6" x 12"
Looking for Lawn Pass info? Get all the 2023 details here:
RUOFF MUSIC CENTER LAWN PASS 2023
We look forward to seeing you!
The Box Office is open on show days beginning at 12pm and on Fridays 12pm-6pm.
The Box Office will open at 10am on Saturday, September 23 for Farm Aid. 
While we may be known for our concerts, our goal is to make sure you have an awesome experience at our venue in every way possible.One of the ways we've worked to make that happen is by collaborating with top chefs and brands around the country to bring new food concepts to you.We'd love for you to experience what we've worked on and welcome you to have dinner with us at your next show.
Thank you for your interest in joining the Live Nation family with Ruoff Music Center!
We have the following positions open for the 2023 season:
Apply for all of these positions at Lnindyemployees.com
Experience the VIP lifestyle at Ruoff Music Center with Season Tickets: amazing seats, premium parking, VIP Club access, and personalized service can all be yours. Whether you're looking for an unforgettable outing with friends or family, new ways to entertain clients or reward your team at the office, we have a season ticket package that will exceed your expectations and make your concert experience extraordinary.
Benefits Include:
Premium Concert Seats 
VIP Parking (closest to the venue)
VIP Club Access
Private Venue Entrance
Private Restrooms
Additional Ticket Opportunities To Other Live Nation Concert Events in Indianapolis
Dedicated customer service staff
Don't miss your chance to become a Season Ticket holder!
* Required fields
Legendary Venue, Epic Private Events!
Featuring outdoor setting and soaring views, Ruoff Music Center is the perfect location for your next conference, corporate event, fundraiser, private concert or graduation. With access to the world's greatest musical entertainment, state-of-the-art lighting and sound, custom menus and mixology, our talented staff handles every detail, so you don't have to. Accommodating up to 24,000 guests, and located 1.6 miles from Embassy Suites by Hilton Noblesville Indianapolis Conference Center, this unique 586,895 square-foot venue will exceed expectations.
Contact Our Special Events Sales Team
Ruoff Music Center
Phone

317.536.6507

Email

Address

12880 E 146th St. Noblesville, IN 46060