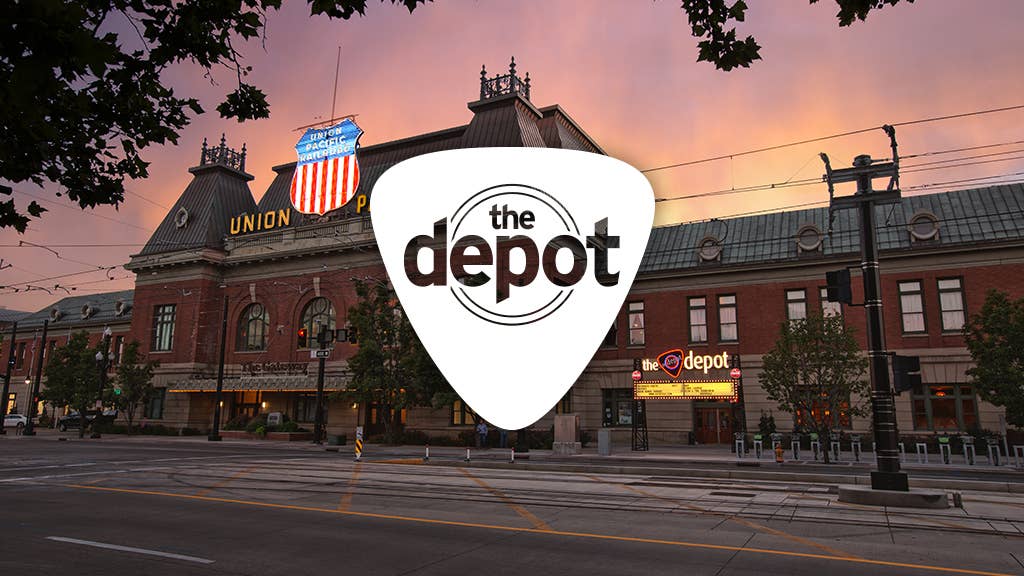 The Depot
Know Before You Go
We can't wait to see you! Here's what to expect when you visit us again. *Keep an eye on our website and social media handles as guidelines are subject to change.
Coming to a show? Here are a few things to know before you go!
Doors Time
Doors generally open one hour before the show's scheduled start time.
Bag Policy
The following bag policy is in place: Bags up to 12" x 6" x 12" are allowed in the venue. All bags will be searched prior to entry. Bags that are not clear will be subject to additional search.
Mobile Ticketing
All our events will be Mobile Entry. That means your mobile device will be used to gain access to the event. Tickets will not be emailed or available for print.
For more information on mobile entry, click here.
Phone troubles? Visit the box office on event day for assistance. Be prepared to show your ID.
Cashless Payments
Cashless payments will be available at all points of sale and are recommended
The Depot is located at 13 N 400 W, Salt Lake City, UT 84101. We recommend parking across the street or in The Gateway underground parking lots. If taking TRAX, please take the Blue Line & get off at the Arena stop.
The box office is open one hour before doors on show days only.
FAQs
Where is The Depot located?
13 N 400 W, Salt Lake City, UT 84101
Where is the lost and found?
What items are prohibited?
Weapons, including but not limited to: firearms, knives, combat weapons (e.g., swords, nunchakus, kamas, sai), explosives, heavy chains (excluding wallet chains and purse straps less than one (1) inch in diameter and two (2) feet in length), brass knuckles (excluding carabiners), clubs/bats/sticks, pepper spray, aerosol sprays, nitrous oxide, ammunition and training submunition rounds, explosives and explosive components, fireworks, CBR (chemicalbiological-radiological) substances, projectiles of any kind and any replica of same items that could be mistakenly identified as weapons under this policy.
Illegal drugs and substances, including unmarked liquid or pill medication bottles. Legally prescribed medications may be permitted if in a prescription bottle/container with a pharmacy-generated label containing the individual's name – subject to verification via valid identification.
The following bag policy is in place: Bags up to 12" x 6" x 12" are allowed in the venue. All bags will be searched prior to entry. Bags that are not clear will be subject to additional search.
Alcohol, cans and bottles
Food or drink
Laser pens or pointers
Professional cameras, including professional camera equipment (e.g. camera stand, lenses)
Fireworks, fire-starters, and open flames
Audio recording equipment, noise-making devices
Skateboards and rollerblades, hover-boards, scooters, bicycles, and other personal motorized and non-motorized vehicles
All unapproved unmanned aerial systems (UAS) or drones, unless expressly authorized in accordance with LNE's Unmanned Aerial Systems Policy.
Animals not authorized under the Americans with Disabilities Act or relevant state and local laws
Unauthorized solicitation or marketing materials (e.g., handbills, flyers, stickers)
Pen, Pencil, Markers and other writing utensils
Selfie Sticks
No Signs over 11X17 in size
Any item deemed to be dangerous by the Venue General Manager or Law Enforcement Officer
What forms of identification are accepted at The Depot?
You must have a valid ticket or credential to enter the venue. To enter a 21+ area, you must have a valid, if the show is 21+ you must have a valid ID to enter the building. Valid IDs are: State ID, State Driver's License, Passport, Military ID.
What are the age restrictions?
Age requirements differ depending on the event. All age requirements are listed on our online event calendar.
Is The Depot standing room only?
Yes, we are standing room only but if you would like a seat, we definitely have some available for you! Check in with our Night of Show staff once you arrive for upgrades or click here.
How do I get ADA accessible seating?
While our venue is standing room only, we do have an ADA section for qualified patrons. We suggest you get to the venue early for best viewing options in the ADA area. Please note that each ADA guest is allowed one extra guest into the ADA area. Please let security know when you arrive that you need ADA accessible tickets.
Can I leave the venue and come back in?
In-and-outs are not permitted at our venue. Make sure you don't leave the venue unless you don't plan on coming back!
Can you smoke inside the venue?
You can't smoke inside, but we have an awesome outside patio for patrons who wish to smoke.
Are cameras allowed?
Professional cameras and/or cameras will detachable lenses are NOT allowed without a valid media pass. Personal point-and-shoot cameras or cellphones are OK.
Do you have a coat check?
During the winter (November - April), we have coat check available for $5.
Do children need a ticket?
Children two and up will need a ticket to enter. Please bring ear protection for children.
When is the box office open?
The box office is open one hour before doors on show days only.
When can I line up for a show?
The venue does not allow camping. Lines will be allowed starting at 8am.
Is The Depot haunted?
We can't confirm nor deny this statement, so buy a ticket and come find out!
Is The Depot on social media?
Yes! Check out our pages below for all the info you need on our shows!
https://instagram.com/depotslc
https://www.facebook.com/depotslc
https://twitter.com/depotslc
We are redefining what it means to go VIP with VIP Club access, private entrance, parking and more await you with our premium ticket offerings. 
* Required fields
Legendary Venue, Epic Private Events!
The Depot is one of Salt Lake City's most unique and innovative venues located in the Historic Union Pacific Train Station. This iconic setting is the perfect location to host your next corporate event, private concert, product launch, fundraiser, wedding, reception or business meeting. Accommodating groups of 50 to 1,000 guests and conveniently located within 1 mile of the Salt Palace Convention Center, our talented staff handles every detail, so you don't have to!
Contact Our Special Events Sales Team
The Depot
Phone

801.456.2803

Email

Address

13 North 400 West Salt Lake City, UT 84101