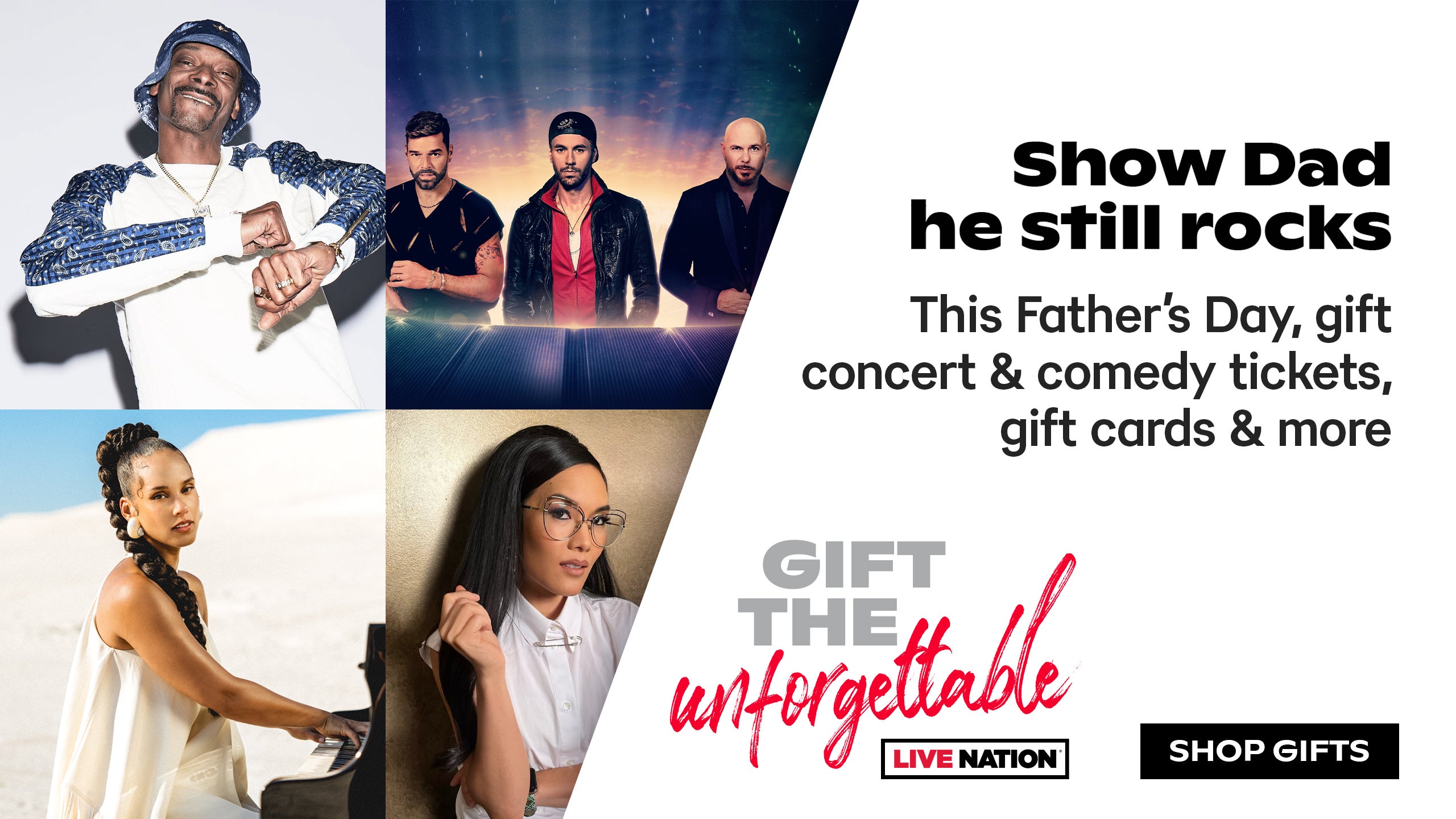 Father's Day Gift Guide
Make Dad's Day and Gift the Unforgettable!
Looking for a special Father's Day gift? Remind Dad he still rocks with concert and comedy tickets, gift cards, VIP Packages, merch, and more. Whatever his style, find the perfect gift for every Dad at any price point.
For Dads Who Air Drum
Tell Dad to break out that leather jacket. With great rock shows like KISS, Zac Brown Band, and Metallica, Father's Day will still be ringing in his ears for days.
For Dads Who Tell Dad Jokes
After everything you've put him through, Dad deserves a laugh. And maybe some new material. Crack him up with tickets to top comedians like Trevor Noah, Desi Banks, Ali Wong, and Sebastian Maniscalco.
For Dads Who Like a Beat
Let Dad know you're paying attention to his playlists with the chart toppers he loves, like Karol G, Duran Duran, Post Malone, Aerosmith, Lionel Richie, and Earth, Wind & Fire.
For Dads Who Play It Cool
His tastes are simple: He likes the best. Give Dad a chance to get down to his favorite artists like Matchbox Twenty, John Mayer, and Depeche Mode.
For Dads Who Wear Their Heart on Their Sleeve
Don't get Dad another tie or pair of socks this Father's Day. The gift he really wants features the artist he loves *almost* as much as you. Choose from hoodies, tees, hats, and more.
For Dads Who Deserve VIP Treatment
Give a gift card in any size to let Dad pick the gift he wants most, or surprise him with a special VIP Package for artists like 50 Cent, Alicia Keys, Ben Folds, The Doobie Brothers, and Guns N' Roses.
Check out all the best gifts and make this Father's Day one for the books.