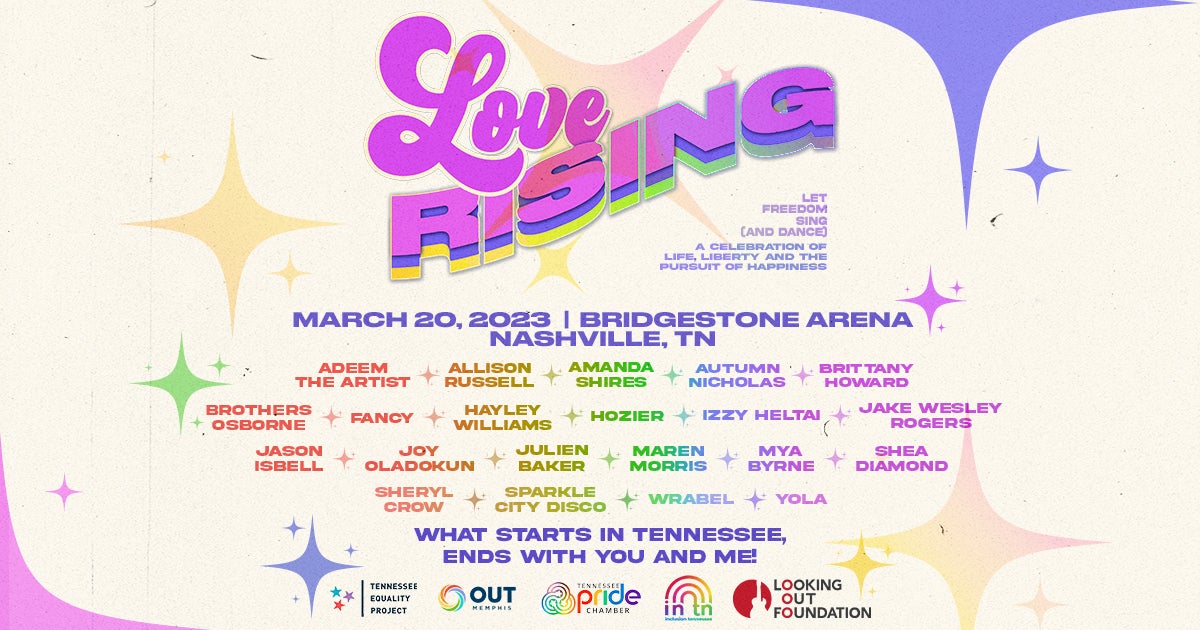 LOVE RISING: A benefit concert and celebration of Life and Liberty
LOVE RISING: A benefit concert and celebration of Life and Liberty
A Benefit Concert for Tennessee Equality Project, Inclusion Tennessee, OUTMemphis and The Tennessee Pride Chamber in Partnership With Looking Out Foundation
LOVE RISING, a benefit concert for the Tennessee Equality Project, inclusion tennessee, OUTMemphis and The Tennessee Pride Chamber will take place on March 20th at Bridgestone Arena in Nashville, TN presented by Live Nation and streaming worldwide on Veeps. Today, additional artists have been announced along with a number of Drag Queens and Kings who will be joining the show. The full list of new performers is below. The event will be MC'd by Asia O'Hara. Previously announced artists include Sheryl Crow, Maren Morris, Jason Isbell, Hayley Williams, Hozier, Brittany Howard, Brothers Osborne, Amanda Shires, Julien Baker, Joy Oladokun, Yola, Jake Wesley Rogers, Mya Byrne and Allison Russell and the Rainbow Coalition Band.
Tickets are on sale now with net proceeds benefiting these important organizations. The Looking Out Foundation will support the event by accepting donations and doubling contributions received, up to a maximum of $100,000. Fans can purchase in-person tickets on Ticketmaster or livestream tickets on Veeps with add-on donations available.
New Artists Announced: Adeem The Artist, Autumn Nicholas, Fancy Hagood, Izzy Heltai, Shea Diamond, Sparkle City Disco & Wrabel.
Drag Queens and Kings Announced: Alexia Noelle, Aura Mayari, Britney Banks, Cya Inhale, Deception, Jaxson Stone, Justine Van de Blair, Obsinity, Samira Valentine, Sasha Dereon, Shelby La Banks, Trey Alize, Vanity, Veronika Electronika, Vidalia Anne Gentry, Vivica Steele.
Fans from all over the world can join the cause and celebrate this amazing community as Love Rising will now stream globally via the concert streaming platform Veeps. Tickets are on sale today for $14.99 via LoveRising.Veeps.com. In addition to raising money through the streaming platform, Propeller is designing and powering The Looking Out Foundation Action Center where fans will be able to take actions like donating and registering to vote to support the cause. Visit Propeller. There will also be opportunities to win prizes and bid on exclusive auction items from artists performing at the show.
Since 2015, Tennessee has enacted more anti-LGBTQIA+ laws than any other state in the country. The latest of these are Senate Bill 3 and House Bill 9 — two anti-LGBTQIA+ bills that ban all performances deemed male or female impersonation otherwise known as "drag" from taking place on any public property in the state, as well as in any location where people under 18 could be present.
Take action! - view current legislative proposals and campaigns
Register to vote in Tennessee.
Join Love Rising on March 20th.
Donate!
What starts in Tennessee ends with you and me!
Get Our Newsletter
Sign up now for weekly updates on your favorite artists, music releases, live streams, content, and more.