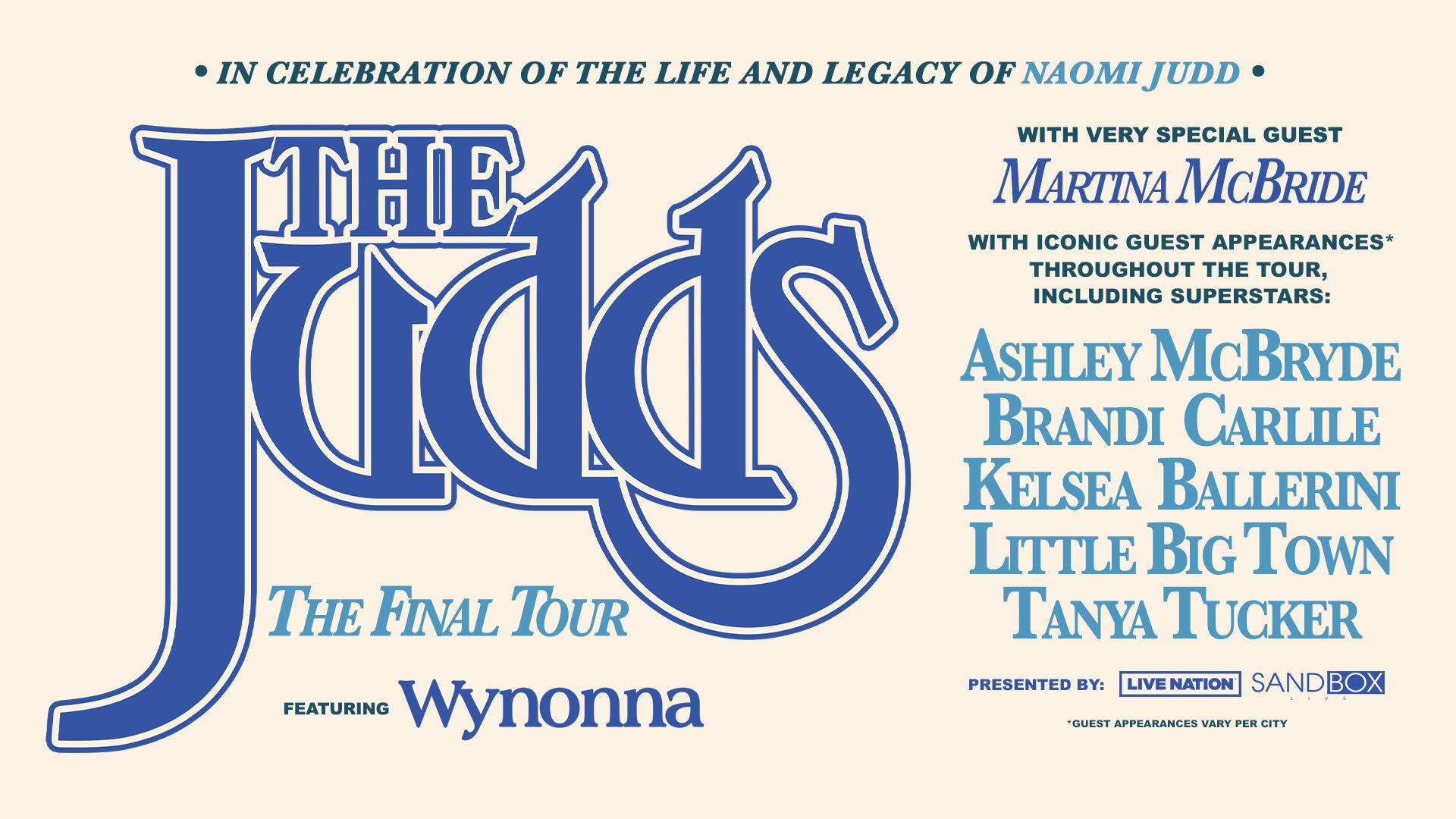 The Judds: The Final Tour - Q+A with Wynonna Judd
The Judds: The Final Tour - Q+A with Wynonna Judd
Country star Wynonna Judd sits down to share her insights from being on the road and feelings on The Judds Final Tour in 2023.
1. How does it feel to have the "final" dates of The Judds: The Final Tour plotted for 2023?
It is bittersweet. I am grateful and excited for the opportunity to add more dates, and I'm already sad that it's going to come to an end. It has been one the most unforgettable experiences of my life, getting to celebrate The Judds music and legacy with the fans, while publicly grieving the loss of my mother.
2. This has to be an emotional tour for you, how do you keep your composure on stage?
Well…I don't. I've been letting my feelings fly onstage. I've learned that the best way to heal is to walk through the storm. The fans singing the words back to me has been so therapeutic, so I've literally been letting the music and this time heal me.
3. What has it been like for you performing The Judds songs again?
Performing Judd music has always been a blessing. At the same time, it feels strange to be the age that I am, singing the songs that I recorded when I was in my 20's. I am, however, realizing that the fans are loving every minute of it! My fans and I grew up together, so it thrills me to watch them have their own experience with these songs and to be able to take them back to a certain memory or time in their life. I also love seeing the reactions of the new fans that are perhaps hearing some of these songs for the first time.
4. What does a typical tour day look like for you - both pre and post show?
Since we have so many guest artists on this tour, my day starts with a soundcheck and rehearsal with each artist. They all bring something so different to the show, so I have really enjoyed that aspect of it. No two shows are the same! We all have the best time together and laugh A LOT. Sometimes I wish the soundcheck could be the show, because we have so much fun together.
Then, we let a group of fans in for a pre-show performance and Q&A. It gives me a chance to make a connection with the fans who have been with me for so long, as well as the new fans who are seeing me for the first time. It's really, really special.
After that I go to the bus and I try to rest my brain, because I'm on fire most of the day! I find that I try to relax as much as possible because I go from 0 to 100mph at showtime. I light my candles, do my hair and makeup, and get ready for the show.
Once I get inside the venue, we all gather in a circle and Cactus leads us in a pre-show prayer. Between our band, crew, families, and the guest artists, our circle has grown so much this year. We are truly surrounded with the best people. "Boot Scootin' Boogie" plays in the arena and then…showtime!
After the show I find that I go to sleep soundly because I am so exhilarated and exhausted from the 2+ hours onstage. The day is so fast paced and seems to fly by. I'm singing 25 songs each night, so when I come offstage I am done. D-U-N!
5. What's it like to see more women in country music now vs. when you first started out? What would it mean to you, to see/hear more of re: women in country music?
To me, there have always been so many great women around me in country music. I've been in such great company with Trisha, Martina, Reba, Faith, Shania…the list goes on and on! As for the females in country music today, it's been an honor and a privilege to pass the torch to such a talented group of women. My hope is that they continue to stay authentic, and never let anybody tell them who they are. I continue to love the songs that are so honest, true, and real. It is so important that we carry on the traditions that separate country music from other genres, and to never forget where we come from in country music.
7. What do you want fans to get from the live experience that they can't get just from listening to the albums on their own?
The thing I love most about being in this business is the live show experience. What you see is what you get. The tears, the laughter, a lot of it comes out onstage. There is nothing like a live performance because it's raw emotion happening in real time. It's the one chance that we, as artists, get to make a human connection with our fans.
8. How have the fans made this tour special for you?
I look out into the audience and I see 3, sometimes 4 generations of fans with their vintage Judds shirts and homemade signs, and it just blows me away. These fans have been with me since the very beginning and are now bringing their children and grandchildren. It is quite a family reunion every night, and as corny as that sounds, it is really what has made the difference in this particular tour.
9. What has to happen for you to feel like, "that was a great show, we nailed it!"?
When I walk offstage feeling like we made a connection with the crowd, is when I feel like we "nailed it." There is no better feeling than seeing the audience up on their feet for the entire show, and hearing them sing every word back to me. Sometimes the energy and the love coming at me is so strong that it almost knocks me over. THAT is the biggest reward!
Artists Featured
Get Our Newsletter
Join us daily for livestreams music, stories, and more from around the globe.