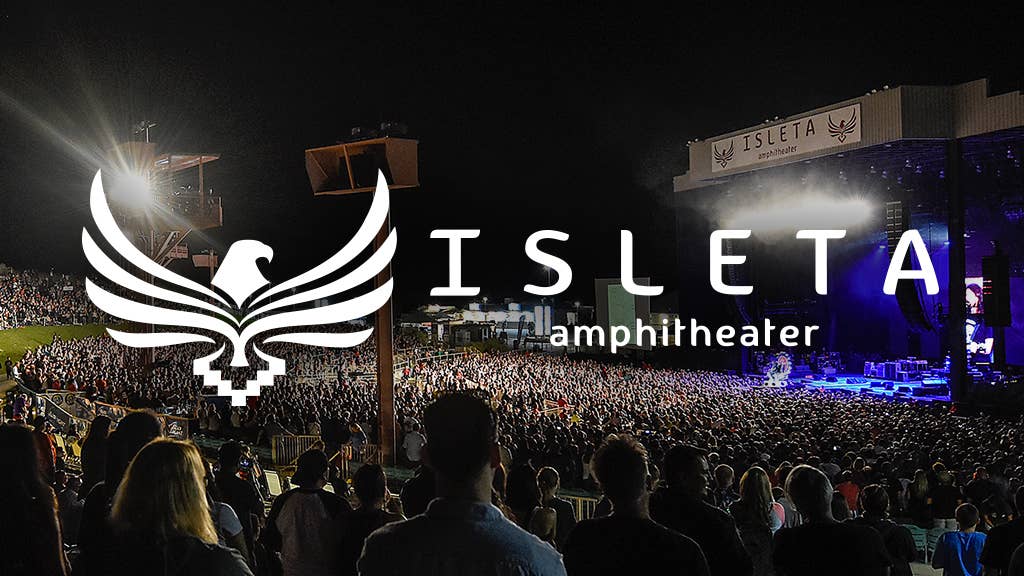 Isleta Amphitheater
Know Before You Go
We can't wait to see you at Isleta Amphitheater! Here's what to expect when you visit us again. *Keep an eye on our website and social media handles as guidelines are subject to change.
Clear Bag Policy: Any bag, clutch, or fanny pack larger than 6" x 9" will NOT be allowed into the venue unless it is clear. The maximum size clear bag allowed is 12"x12"x6" (roughly the size of a backpack). Staff will be stationed at the gates to ensure bags meet these size requirements. Any bag deemed too big must be returned to your vehicle. See below for more information on the venue's clear bag policy. 
The venue will be cashless on the night of the show.
Lawn chairs are not allowed at this venue.
In most cases, your ticket is on your phone.
The venue box office is only open on show days starting at noon.
---
Bag Policy: To reduce staff contact with guest belongings, we have implemented the following bag policy: we will allow clear plastic, vinyl or PVC tote bags no larger than 12" x 6" x 12" and/or small clutch bags (6"x 9").
Venue management reserves the right to add, delete and interpret the above policy for the safety of guests, artists, and staff.
We are happy to announce that we are now selling clear bags for $5 at our guest service booths!
Items ALLOWED to be brought into the venue:
Clear Bag/Totes - no larger than 12" x 6" x 12"
Small Clutch Purse - no bigger than 6" x 9"
Fanny Packs - no bigger than 6" x 9"
Factory Sealed Water Bottle - up to one gallon per person or empty bottle to fill inside (NON-FROZEN)
Reusable Water Bottle - must be empty upon arrival, metal hydroflasks are permitted (water stations are available in the venue)
Camel Packs - must be empty upon arrival
Blankets
Cameras - non professional only, no detachable lens
Sunscreen
Small tote/parasol umbrellas
E-Cigarettes & Vape Pens ONLY IN PLAZAS AND LAWN AREA
Personal Misting Fans - must be empty upon arrival
Stadium Seat Cushions (with no metal frame parts)
Signs/Posters no larger than 12" x 12" (approx. the size of a vinyl record)
Items NOT ALLOWED to be brought into the venue include, but are not limited to:
Lawn Chairs 
Weapons of any kind / Knives
Outside food or drink, except factory sealed water
Large Bags/Backpacks that aren't clear and larger than the palm of your hand
Alcohol
Coolers of any kind
No torch style lighters/lighter fluid
Illegal drugs/substances
Glass containers
Cans
Laser pointers
Glow sticks
Strobe lights/flashing lights of any kind
Animals (except service animals)
Fireworks
Large umbrellas
Strollers/Wagons
Selfie sticks
Go Pros
Tablets/iPads
Spike jewelry/Wallet chains
Poi balls/Hula hoops
---
Fan Guidelines
Cashless Payments
All points of sale will only accept credit, debit or mobile pay (such as Apple Pay or Google Pay). In the event you are not carrying a credit or debit card, staff will be available on site at the Guest Services Booth to exchange cash for card, dollar for dollar, without any service fees.
Mobile Ticketing
All events will be Mobile Entry. That means your mobile device will be used to gain access to the event. Tickets will not be emailed or available for print (for previously scheduled shows where you selected print at home or mail, your tickets will be honored accordingly). 
You have two options to access your tickets:
1. Add tickets to your mobile wallet by downloading the Live Nation App. 
Click My Tickets and select your upcoming show.
Add the ticket(s) to your phone's wallet and you're done!
Present your mobile ticket(s) at entry
2. Add tickets to your mobile wallet by visiting Live Nation on your mobile browser.
On your mobile phone, visit livenation.com in your web browser and select My Tickets.
Sign in and select your desired order.
Add the ticket(s) to your phone's wallet and you're done!
Present your mobile ticket(s) at entry.
Phone troubles? Visit the box office on event day for assistance. Be prepared to show your ID.
Purchase tickets for a group? Arriving separately? Transfer tickets directly to friends and family using the Live Nation App. To expedite entry, we recommend doing this prior to arriving at the event.
Using the Live Nation App or your phone's web browser, sign in to your account.
Select the desired order and tap Transfer Tickets (event eligibility may vary).
Select the ticket you'd like to transfer. Add the recipient's information and send. The recipient will receive an email with the ticket.
Due to large crowds and high traffic, be sure to leave early and give yourself plenty of time at the venue. Increase your phone screen brightness to assist with scanning. Lastly, make sure you have a fully charged battery!
Box Office
The Isleta Amphitheater Box Office is only open on event days after 1:00 PM. All tickets can be purchased online at livenation.com.
Traffic
Leave yourself plenty of time to get to the venue. Traffic can be heavy prior to and after events, so please be patient. Follow the instructions given by police and parking staff.
Please use an alternate route to ease the traffic congestion. I-25 South to Rio Bravo head West to Broadway turn South approximately 2.5 miles to Bobby Foster turn East and turn right at "T" follow the road for 3 miles, turn left in parking lot.
Due to the high number of fans expected, we strongly encourage carpooling.
Parking
Premier Parking can be purchased online or at the entrance to the Premier Parking lot. Premier Parking can only be purchased with credit card - cash is not accepted.
ADA Parking is located on the southwest corner of the upper parking lot or lower level lot.
Season ticket holders must have parking credentials displayed. 
TAILGATING IS NOT PERMITTED IN THE VENUE PARKING LOTS. Fans will be ticketed if caught tailgating in any of the venue parking lots.                            
Weather
Click Here to see today's forecast. 
Follow Us
Follow us on social media for the most up-to-date information on your show!
Facebook  |  Instagram
The box office at Isleta Amphitheater is open on day-of-show only at 1:00 PM. 
Isleta Amphitheater strives to ensure that all of our guests have a great time at our venue. If you need additional assistance while you are here please make sure you let us know.
Ticketing - ADA tickets can be purchased online via www.livenation.com. You do not need to call the box office to place an order as all of our accessible tickets are available through our website. Look for the logo on the Find Tickets page to view all available accessible seats. We do have accessible seating in every price range, but be advised it does occasionally sell out. We have very limited seating available for guests on the day of the event, so please make sure you purchase accessible seating when you order tickets.
Day of Show Parking - Accessible Parking is located outside the main entrances by the guitar. Let the parking staff know that you need accessible parking and they will direct you to this lot. Please be advised that parking is limited. If you do not absolutely need accessible parking, please park in the general lots. ADA Parking is located in the southwest corner of the upper parking lot or in the lower level lot.
Accessible Stations - if you have questions or need assistance we have a table staffed with customer service employees to help answer questions related to seating or other accommodations. These stations are located at Guest Services.
Unexpected Needs - if you have had an injury or illness that prevents you from using the original seat you purchased, we strongly recommend going through our website to exchange all tickets for accessible seats. We will have a very limited number of seats available on the day of the show for such issues and we cannot guarantee we will be able to seat you. Please remember that accessible seating permits for the guest with the accessible need and one companion.
Interpreter Requests - if you will need an interpreter for an event, please give us at least 2 weeks notice to secure. Guests that request an interpreter will need to pick up their tickets at will call. When the tickets are picked up, we will introduce you to your interpreter for the evening and take you to your seats. There is no charge for interpreter services. Please call 505-452-5100 to arrange for an interpreter for your visit.
Accommodations - all venue bathrooms, concession stands, and merchandise stands are accessible.
Experience the VIP lifestyle at Isleta Amphitheater with Season Tickets: amazing seats, premium parking, VIP Club access, and personalized service can all be yours. Whether you're looking for an unforgettable outing with friends or family, new ways to entertain clients or reward your team at the office, we have a season ticket package that will exceed your expectations and make your concert experience extraordinary.
Benefits Include:
Premium Concert Seats 
VIP Parking (closest to the venue)
VIP Club Access
Private Venue Entrance
Private Restrooms
Additional Ticket Opportunities To Other Live Nation concert events in Albuquerque
Dedicated customer service staff
Don't miss your chance to become a Season Ticket holder!
* Required fields
Legendary Venue, Epic Private Events!
Featuring outdoor setting and soaring views, Isleta Amphitheater is the perfect location for your next conference, corporate event, fundraiser, private concert or graduation. With access to the world's greatest musical entertainment, state-of-the-art lighting and sound, custom menus and mixology, our talented staff handles every detail, so you don't have to. Accommodating up to 15,000 guests, and located 10 miles from Albuquerque Convention Center and 3 miles from Albuquerque International Sunport, this unique venue will exceed expectations.
Contact Our Special Events Sales Team
Isleta Amphitheater
Phone

602.379.2857

Email

Address

5601 University Blvd. SE Albuquerque, NM 87106