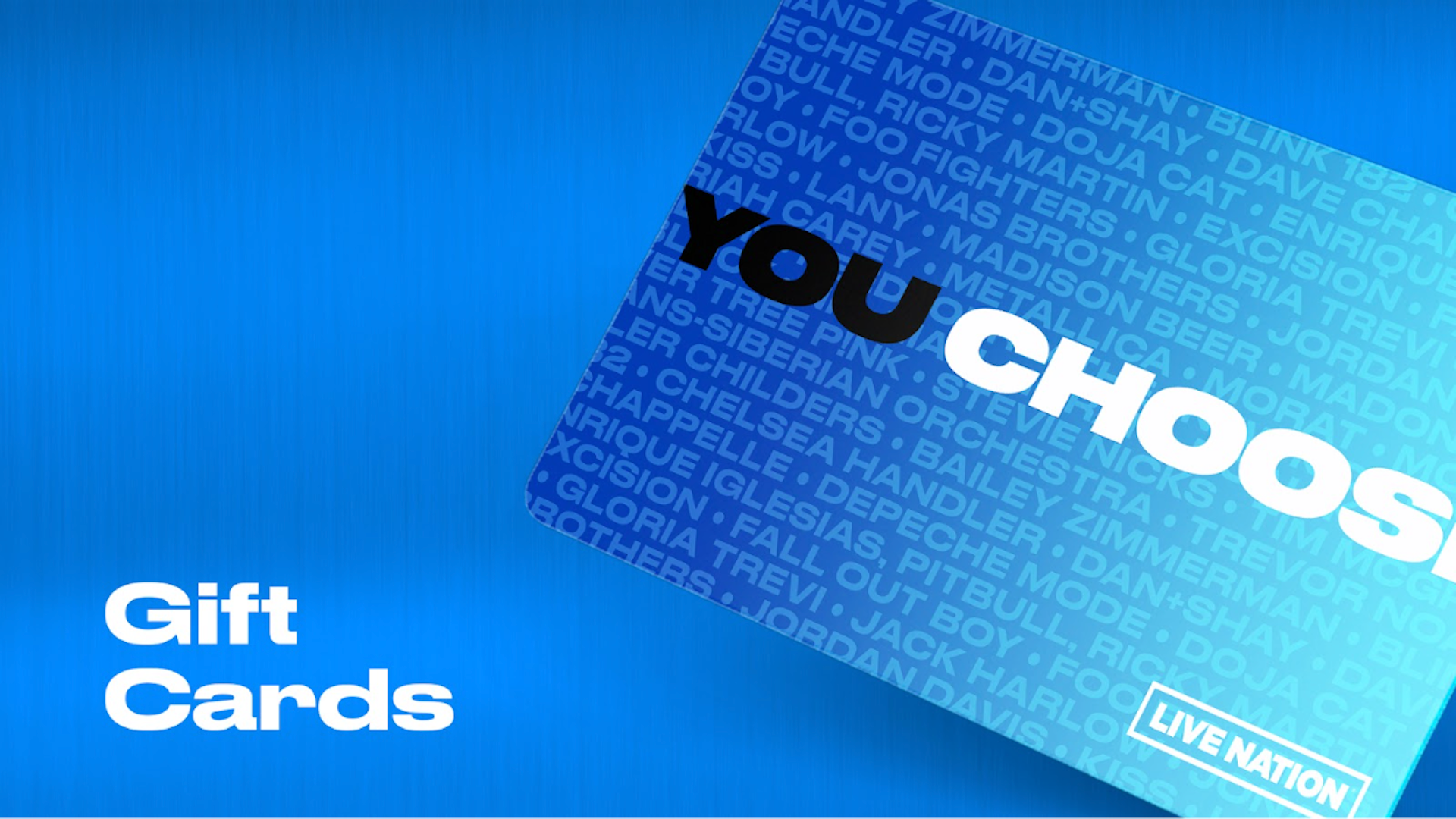 FAQ: Live Nation Gift Cards
FAQ: Live Nation Gift Cards
Gift the music lovers in your life this holiday season with Live Nation VIP packages, official artist merch, gift cards and more. Available from Thursday, Nov 2 - Tuesday, Dec 26 while supplies last for select events as listed at LiveNation.com/Gifts.
How do I purchase a gift card?
1. Go to LiveNation.com/GiftCards
2. Select one of our digital ecards and add an amount + your personal message
3. Add an email address to send the digital gift card to
4. Select the date you want it delivered
5. And checkout - your gift card will be on the way!
I was sent a gift card. How do I use it?
When you're ready to check out, follow these steps:
1. Click the Add Credits / Promo Codes / Gift Card section on the payment screen. If you don't see the button, you can't use a gift card for that event. Gift Cards aren't accepted for MLB or Fan-to-Fan Resale tickets.
2. Enter your gift card number and PIN. All Live Nation Gift Cards have a PIN number.
3. Your Gift Card balance will be applied to your order.
What can I use the gift card for?
Live Nation Gift Cards can be used for the purchase of tickets, parking, VIP packages, and select merchandise. However, the Gift Card cannot be used for events outside the United States or Canada or the purchase of Fan-to-Fan resale tickets. Restrictions may apply.
Visit our Gift Card Terms of Use for more information.
For more information on gift cards, please visit: https://help.livenation.com/hc/en-us/sections/9788704875409-Gift-Cards?language=en_US