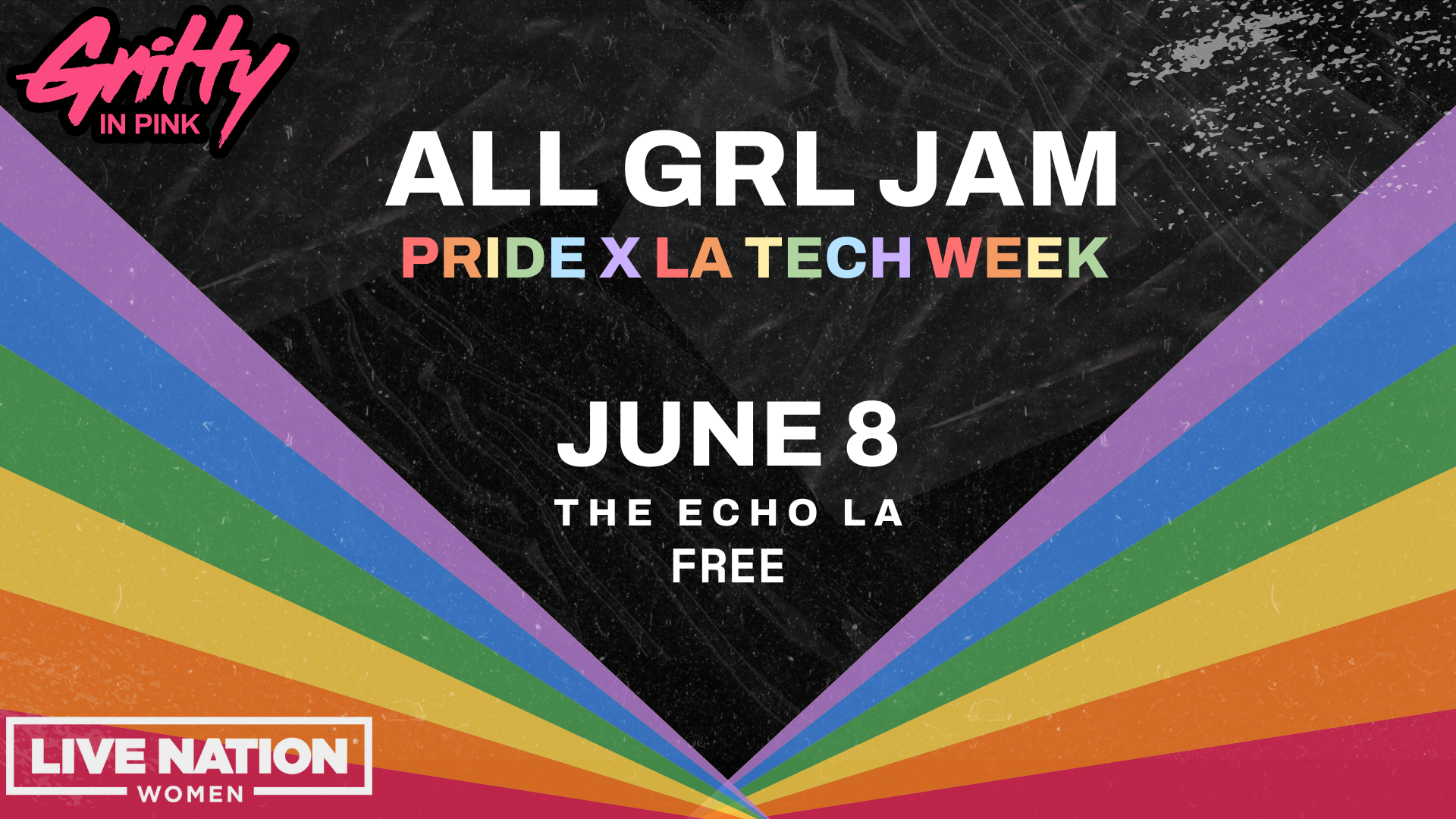 GRITTY IN PINK TO CELEBRATE PRIDE MONTH WITH ALL GRL JAM & LA TECH WEEK MIXER AT THE ECHO LA
GRITTY IN PINK TO CELEBRATE PRIDE MONTH WITH ALL GRL JAM & LA TECH WEEK MIXER AT THE ECHO LA
SHOW TO FEATURE 50 FEMALE & NON-BINARY MUSICIANS
Gritty In Pink is taking over LA Tech Week and celebrating Pride Month with their Pride: All GRL Jam at the Echo LA on Thursday, June 8 at 7 PM. The showcase will feature 50 women and non-binary musicians and in partnership with Live Nation Women, Tunecore, Drew Martin, Taylor Guitars, Vox, Blackstar, Korg, Get'm Get'm, Guitar Girl Magazine, and Gritty In Pink's new talent hub to hire women in music, INPINK. The event is free with RSVP and login into INPINK at the door. Leading up to the Pride showcase, Gritty In Pink will host a pre-show Instagram live stream on Thursday, June 1 at 5 PM PST / 8 PM EST.
The June 8 event kick-off with an exclusive mixer and panel hosted by B.Pagels-Minor, Tatiana DeMaria, and Kat Cunning, will be bringing together LA tech leaders, founders, and Gritty In Pink partners for LA Tech Week. The showcase will feature musical sets from DJ Lisa Pittman and a spectacular opening performance from the poetic icon Bitch (Bitch and Animal). The night will be co-hosted by Gritty ringleader Shiragirl and singer/actress/TV personality Mikalah Gordon.
Attendees can expect a fantastic lineup of female and non-binary musicians covering queer artists and anthems. The All GRL Jam will include the multi-talented, vocalist/percussionist Chastity Ashley (Duran Duran), Swedish pop star Manda Malina, modern songstress Sterling Victorian, pop singer/songwriter/model Chel, celestial pop/rock artist Whitney Tai, Gritty musical director Lisa Bianco, progressive pop singer/songwriter Brenda Carsey, hard rocker VK Lynne (The Spider Accomplice) and the electric Frankie Berry (Frankie & the Studs).
To tune into the Gritty In Pink IG livestream on Thursday, June 1 at 5 PM PST / 8 PM EST visit @grittyinpinklife on Instagram. Those in the LA area, see you at The Echo!
Get Our Newsletter
Sign up now for weekly updates on your favorite artists, music releases, live streams, content, and more.