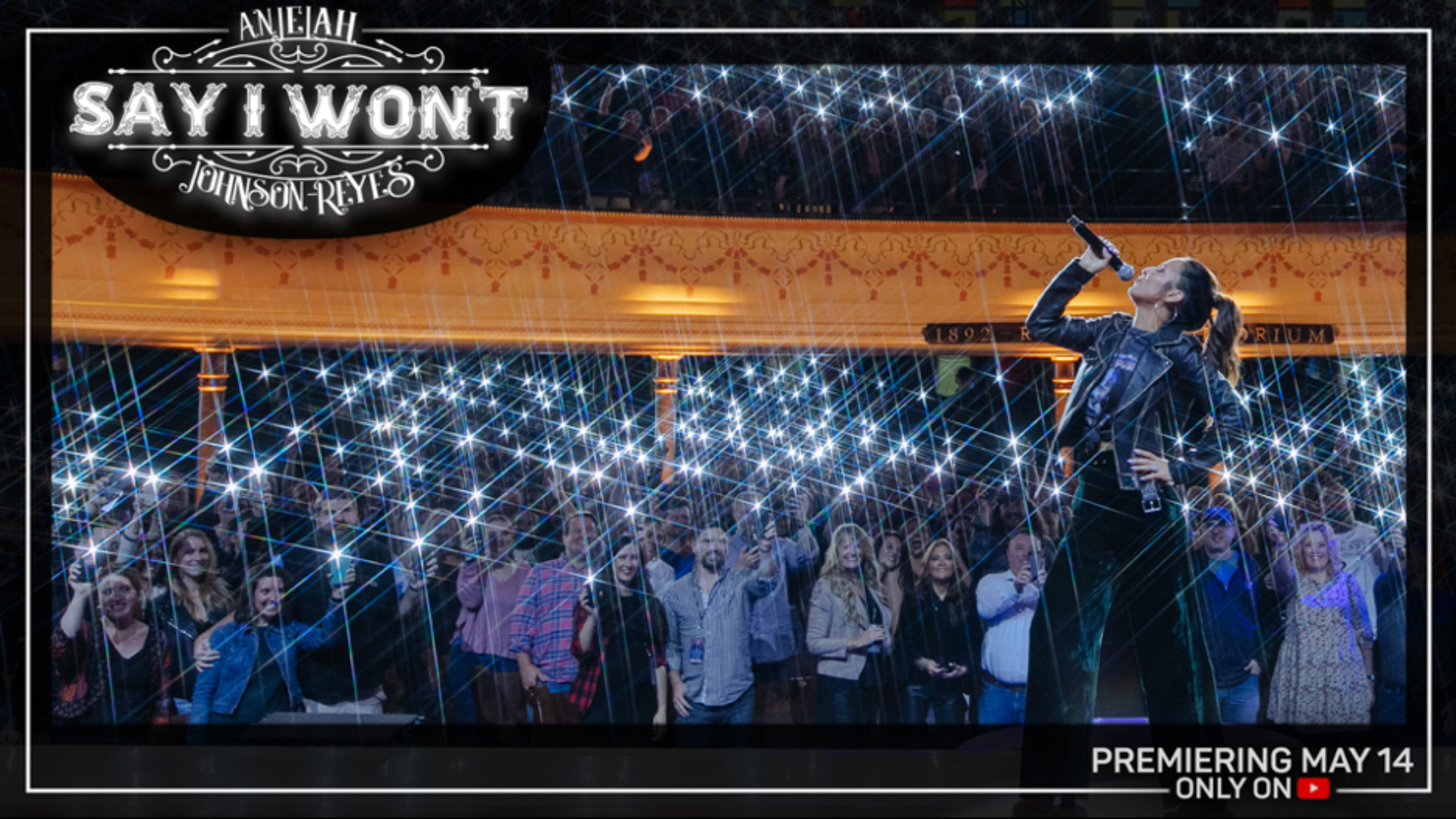 ANJELAH JOHNSON-REYES DEBUTS NEW COMEDY SPECIAL, ANJELAH JOHNSON-REYES: SAY I WON'T
ANJELAH JOHNSON-REYES DEBUTS NEW COMEDY SPECIAL, ANJELAH JOHNSON-REYES: SAY I WON'T
GLOBALLY ON YOUTUBE
It has come full circle for comedian, actress and author Anjelah Johnson-Reyes whose comedy career was ignited after her 'Nail Salon' stand up bit went viral on YouTube over a decade ago. That video has received more than two-hundred million views and the video is still growing and continues to be a fan favorite. With her sixth comedy special, Anjelah Johnson-Reyes: Say I Won't, she's bringing it all back to where it started on YouTube, making the celebrated hour of comedy easily accessible globally for all of her devoted fans.
The special is fully financed, produced, and owned by Anjelah and was shot at the iconic Ryman Auditorium in her new home of Nashville, TN as part of her recent 100+ show sold-out theatre tour. In the special, Anjelah's comedy springs forth from her stories on the many ways her life (and all of our lives for that matter) has changed over the past few years. Anjelah's special is grounded in her relatability – you can't help but feel that she is your best friend commiserating with you on everything.
Like many families over the past few years, Anjelah found herself moving to the heartland having always grown up on the coast. Her comedy is joyfully framed around her move from California to Nashville, Tennessee and is interwoven with stories about the most important people in her life – her husband, family, and friends.

"I've been doing standup comedy for 16 years which is half of my life! And then add 8 more years, sure. Of all my hour specials, I've had the most fun touring with this current hour of material!" Anjelah shares of her first comedy special on YouTube. "I'm so proud of, Say I Won't, and the work I put into writing, performing, and producing this special. What a full circle moment to bring it to YouTube where it all started for me. Can't wait for everyone to see it!"

Anjelah recently wrapped up her successful comedy tour in theatres across North America. In Los Angeles, she sold out The Wiltern four times with over 8,000 tickets sold. In Texas she sold over 25,000 tickets across Houston, Austin, Dallas, Lubbock, San Antonio, and El Paso. As part of her special tapings, she sold out the historic Ryman Auditorium twice with over 4,000 tickets sold.
This year the comedian will co-star opposite Eddie Murphy in the Amazon Prime holiday film, Candy Cane Lane, and in Amy Schumer's Life & Beth's season two on Hulu. Her book, Who Do I Think I Am: Stories of Chola Wishes & Caviar Dreams, recently came out in paperback. Anjelah's anecdotes of growing up caught between her Mexican heritage and American culture, her rise to success in Hollywood which all started when she was a Raiderette cheerleader, and so much more resonated with readers. Those same relatable stories connect her in a meaningful way to her fans and has driven her social media engagement through the roof (she has nearly one million followers on Instagram, over one million followers on Facebook, and over three million on TikTok).

In 2023, Anjelah hosted the Pollstar awards in Los Angeles which celebrates the top touring acts in music and comedy, and she was a presenter at the prestigious Producers Guild Awards. After joking for years that she was happy living a child-free existence, she recently announced that she and husband, Manwell Reyes, are expecting their first baby in June.
Say I Won't was directed by Manny Rodriquez and is a co-production between Anjelah's production company, Laugh on Beat Productions, and comedy production powerhouses 800 Pound Gorilla and Triage Entertainment. Executive Producers include Anjelah Johnson-Reyes, Manwell Reyes, Judi Marmel, Stephen Gordon Walker, and John Bravakis.
Get Our Newsletter
Join us daily for livestreams music, stories, and more from around the globe.