'SURRENDER: 40 SONGS, ONE STORY'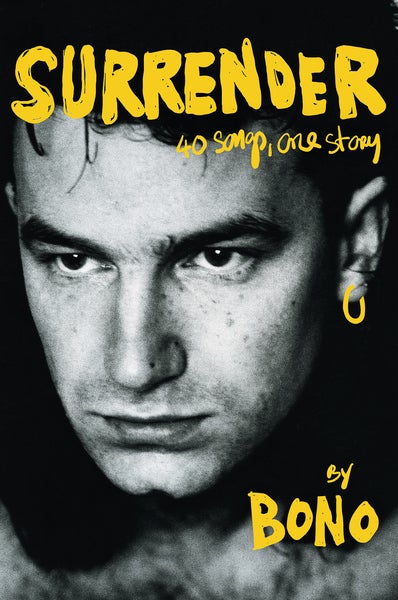 The news is out: U2's Bono has written a memoir, to be published on 1st November 2022.
The subtitle '40 Songs, One Story,' refers to the book's 40 chapters, each named after a U2 song. In 'SURRENDER: 40 Songs, One Story,' Bono tells the story of his life and those he has shared it with.
To mark the book's release, Bono has created a series of unique animated pieces, each illustrated and narrated by the musician himself, featuring U2 songs and personal stories from his life.
In the first - titled 'Out of Control' – he describes starting to write U2's first single on 10th May 1978 – his 18th birthday, 44 years ago.
The second – 'Two Hearts Beat As One', named for a song he wrote on his honeymoon – is shared on the 40th wedding anniversary of Bono and his high school sweetheart Ali Hewson.
In it he recalls the morning of the wedding. 1982. Dublin. The summer hit "Come On Eileen" is playing on the radio, and a 22-year-old Bono prepares to make a forever promise, one he isn't sure he's ready to make.
"When I started to write this book I was hoping to draw in detail what I'd previously only sketched in songs. The people, places, and possibilities in my life. Surrender is a word freighted with meaning for me. Growing up in Ireland in the seventies with my fists up (musically speaking), it was not a natural concept. A word I only circled until I gathered my thoughts for the book. I am still grappling with this most humbling of commands. In the band, in my marriage, in my faith, in my life as an activist. Surrender is the story of one pilgrim's lack of progress … With a fair amount of fun along the way." – Bono