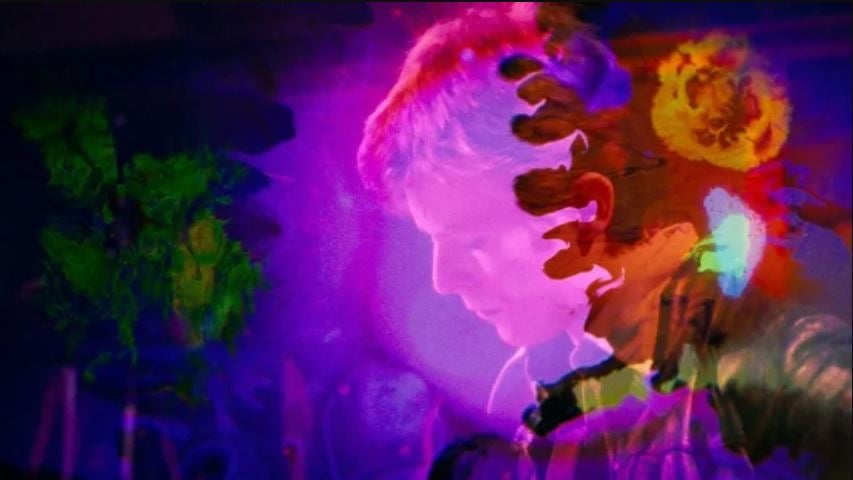 VISIONARY FILMMAKER BRETT MORGEN'S MOONAGE DAYDREAM NEARS COMPLETION
VISIONARY FILMMAKER BRETT MORGEN'S MOONAGE DAYDREAM NEARS COMPLETION
THE FIRST FILM SANCTIONED BY THE DAVID BOWIE ESTATE
After a rigorous five-year production and assembly process by acclaimed filmmaker Brett Morgen (The Kid Stays in the Picture, Cobain: Montage of Heck, Jane), and as part of the ongoing Bowie75 celebration of David Bowie's legacy and enduring influence, NEON and Universal Pictures Content Group announced today that they will release Moonage Daydream, the feature-length experiential cinematic odyssey that explores Bowie's creative, musical and spiritual
journey. Told through sublime, kaleidoscopic, never-before-seen footage, performances, and music, the film is guided by Bowie's narration and is the first film to be officially sanctioned by Bowie's estate. NEON will distribute the film in the U.S.; Universal Pictures Content Group will release the film internationally; and HBO Documentary Films has North American cable and streaming rights to premiere on HBO and HBO Max in spring 2023. The film was designed from conception as a unique cinematic experience and will also be released in IMAX in select markets.
Moonage Daydream is written, directed, edited, and produced by Morgen. Executive Producers are Hartwig Masuch, Kathy Rivkin-Daum, and Justus Haerder for BMG; Michael Rapino, Heather Parry, and Ryan Kroft for Live Nation Productions; Bill Zysblat, Tom Cyrana, Aisha Cohen, and Eileen D'Arcy from RZO; Billy Gerber, and Debra Eisenstadt. BMG and Live Nation Productions financed the film.
Moonage Daydream illuminates the life and genius of David Bowie, one of the most prolific and influential artists of our time. Bowie worked across several disciplines, most notably music and film, but also explored various art forms throughout his life: dance, painting, sculpture, video and audio collage, screenwriting, acting, and live theatre. The motion picture reveals the celebrated icon through his own voice and features 48 musical tracks, mixed from their original stems. The team includes: Bowie's long-time collaborator, friend and music producer Tony Visconti; Academy Award®-winning sound mixer Paul Massey (Bohemian Rhapsody) and David Giammarco (Ford v. Ferrari); the sound design team of John Warhurst and Nina Hartstone (Bohemian Rhapsody); and VFX Producer Stefan Nadelman (Kurt Cobain: Montage of Heck).
In 2017, Bowie's estate presented filmmaker Brett Morgen unfiltered access to Bowie's personal archives, including all master recordings, to create an artful and life-affirming film that takes the audience on a journey through Bowie's creative life. Morgen has constructed a sublime cinematic experience that will provide audiences with unrestricted access to Bowie's personal archives. While researching the film, Morgen unearthed hundreds of hours of never-before seen 35mm and 16mm and was able to assemble the performances from these original camera masters. Accordingly, all of the performances presented in the film will appear for the first time. In addition, all music in the film has been remixed from the original stems into Dolby Atmos, 12.0, 5.0, and 7.1/5.1. Audiences should expect to see and hear David like never before.
The title Moonage Daydream references David Bowie's eponymous song from the influential 1972 album The Rise and Fall of Ziggy Stardust and the Spiders from Mars, which introduced the world to his iconic, gender-bending, and groundbreaking stage persona, Ziggy Stardust.
NEON's Jeff Deutchman negotiated the North America deal with Kevin Koloff, as well as Karen Gottlieb of Grubman Shire Meiselas & Sacks, P.C. Submarine and WME handled sales for Moonage Daydream.
Morgen is a writer, director, producer, and editor who has been making ground-breaking documentaries for over 20 years. Named "The leading revolutionary of American Documentary" by the Wall Street Journal, Morgen's films consistently challenge the existing boundaries of non-fiction, as evidenced by The Kid Stays in The Picture, Kurt Cobain: Montage of Heck, and JUNE 17, 1994. Morgen's most recent film, Jane, received 7 Primetime Emmy nominations, including four for Morgen, who won for Best Director. In addition, the film received the PGA, ACE, WGA, CAS, MPSE, NBR awards and was named Best Documentary of 2017 by over 18 critics groups. Morgen's other credits include Kurt Cobain: Montage of Heck (2015), Rolling Stones' Crossfire Hurricane (2012), The Kid Stays in the Picture (2002), and On the Ropes (1999). Morgen is the recipient of two Peabody Awards, the DGA award for Best Documentary, and has been nominated for an Academy award, a BAFTA and 9 Primetime Emmys. His last three films have earned a combined 18 Primetime Emmy nominations. He is one of the only individual filmmakers to have received the WGA, DGA, PGA, and ACE awards.
Get Our Newsletter
Join us daily for livestreams music, stories, and more from around the globe.