AAPI Artists Shine at the Gold Nation Showcase at The Peppermint Club
Ruby Ibarra, Anik Khan, and Thuy Tran take the stage
Reporting by Helen Li
Photos by Andrew Ge
On Thursday, May 19th, Live Nation hosted the performances of three rising artists at the Peppermint Club for the Gold Nation Showcase, a concert to celebrate Asian American & Pacific Islander Heritage Month. Ruby Ibarra, Anik Khan, and Thuy Tran were selected as part of the inaugural cohort of Gold House's Futures Music Guild. Live Nation partnered with Gold House, a leading Asian and Pacific Islander changemaker community, for this showcase.

"The hope is this platform and the people in the room, can help accelerate these artists' careers to the next phase of their artistic journeys. Like our community, the music is not monolithic - there's so much more beyond K-Pop from an artist, fan and commercial opportunity," said Michael Chua, VP at Live Nation Entertainment and Co-Lead of Asian Nation, the company's API-focused ERG which spearheaded the Gold House partnership and produced the showcase.
Thuy, a Vietnamese-American R&B recording artist and songwriter, remarked on the significance of the cohort and mentorship.
"I never really felt like I had an Asian collective that I was a part of, or like a community. It's been really great."
Prior to Thursday's showcase performance, these artists attended a "Masterclass," performing in front of and speaking to music industry decision-makers at Live Nation in LA, where they received feedback and advice on topics ranging from touring to career pivots from Shawn Gee (Live Nation Urban), Michael Yerke (LN Theaters & Clubs) and Marlene Tsuchii (CAA).
"It was reassuring when they talked about authenticity. They wanted to make sure that we understand that it's more valuable to be ourselves. The ultimate goal really is to try to make a career with longevity," said Ibarra. Thuy and Khan also echoed the importance of these conversations and hoped to maintain these relationships moving forward.
As part of the Future Music Guild's partnership with Spotify, all three artists had the opportunity to record at the company's in-house studios and release two Spotify Singles.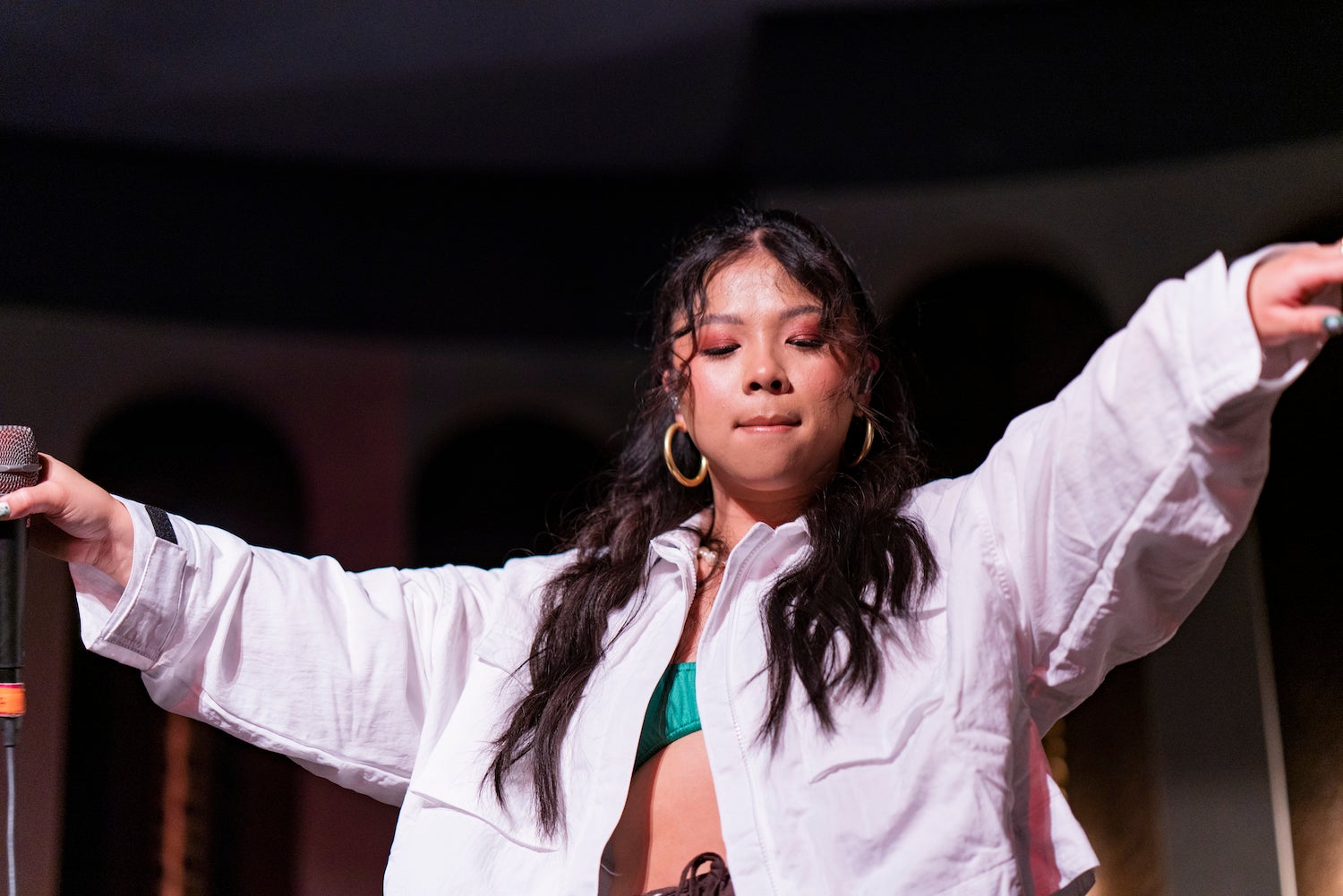 A fan of 90s-2000s hip hop and R&B, Thuy selected to release her interpretation of Tamia's classic "So Into You" along with a new version of "Universe" from her 2021 debut EP, I Hope U See This. During the evening's Gold Nation showcase, the Bay Area native decided to perform a set from her EP, filled with songs about the different stages of heartbreak and emergence from a toxic relationship.
While she had grown up learning the runs, "daydreamer" lyricism, and the passion behind R&B from performers like Tamia, Thuy did not see many R&B Vietnamese artists. Through her work now, she hopes to change that.
"It's my job and my duty to let people know that there is a space for them. And if there's not, we're going to just create a space." Thuy credits her manager, who is also Vietnamese-American, as a mentor she looks up to–and now fellow Futures Music cohort member Ruby as well.
"Having other strong women around me really uplifts me and makes me feel powerful enough to say what I want." With other projects in the works, she's manifesting a collaboration with fellow Bay Area R&B artist, Kehlani, in the future.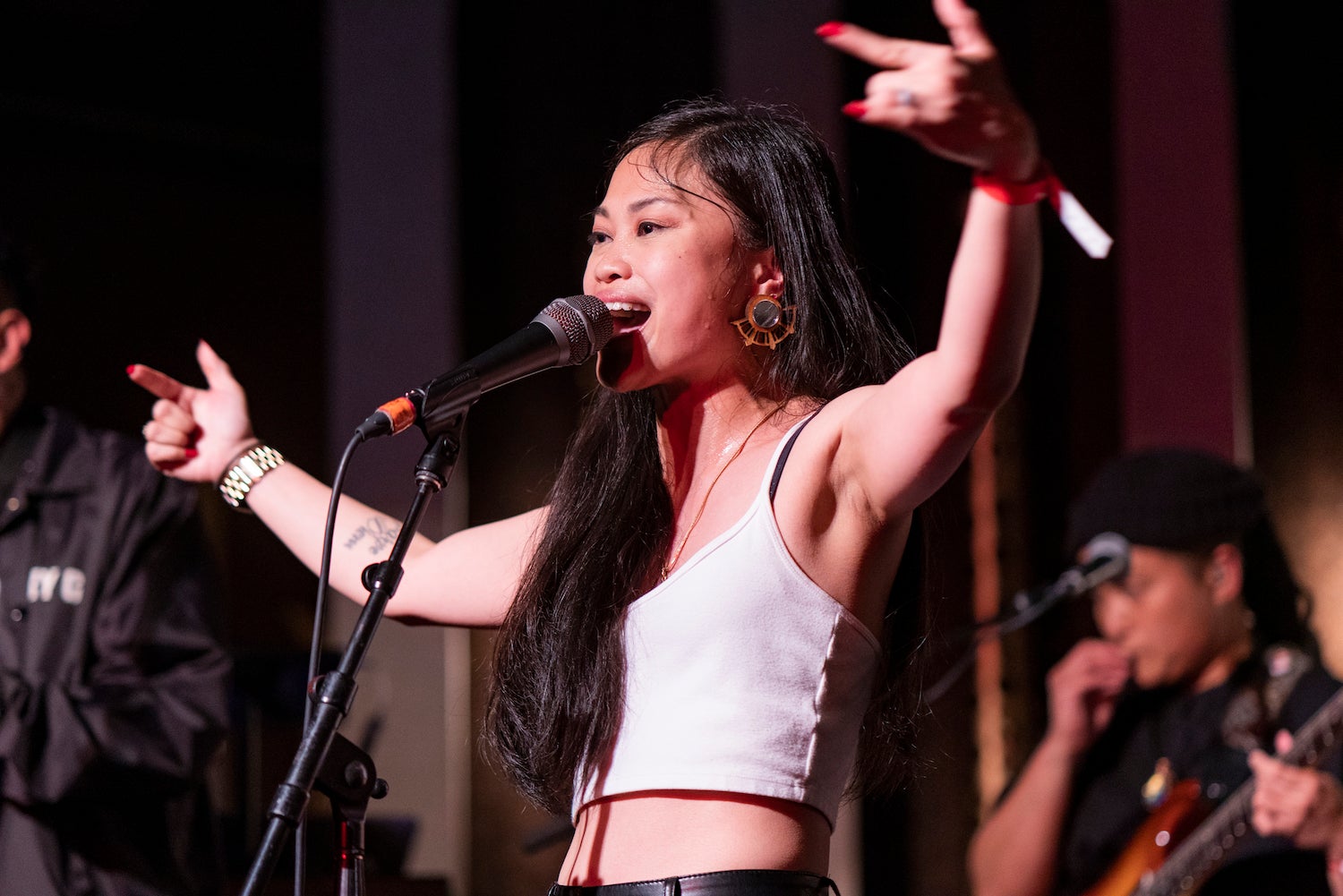 Ibarra collaborated with two other Asian American artists, AJ Rafael and Ann One, to record a remix for her song "A Thousand Cuts," and a cover of "Let Me Blow Ya Mind." Originally written for a PBS docufilm on Philippine journalists, the new Spotify Single, "A Thousand Cuts," now has lyrics that Ibarra hopes will focus on more "timely" issues, such as anti-Asian hate and violence.
"I wanted to be intentional with the song that I wanted to release. As much as AAPI Heritage Month is a celebration, it's also about the history and the struggle." She sees her song as a way to bring communities together but also as a window to understand the past.
Her performance at The Peppermint Club showcased her multilingual talent and passion for activism through music. The artist infuses English, Tagalog, and Waray in her songwriting from her debut album "Circa91," which refers to her family's experiences immigrating from Tacloban City to San Francisco.
"I want to challenge and break the narrative that English is the language of intelligence, or the main language of the world when it's not. There's so many beautiful languages out there. To infuse that into the music makes the story even more personal." The former vaccine scientist recently went full time as a musical artist with her band, The Balikbayans, and is working on her sophomore album. As for the future, Ibarra hopes to someday collaborate with fellow Filipino-American artist, H.E.R.
"Ultimately, the type of music I want to create is music that is impactful music that people can identify with, because that's the type of music that's gonna be timeless, that will speak for the times, but also speak for people's experiences."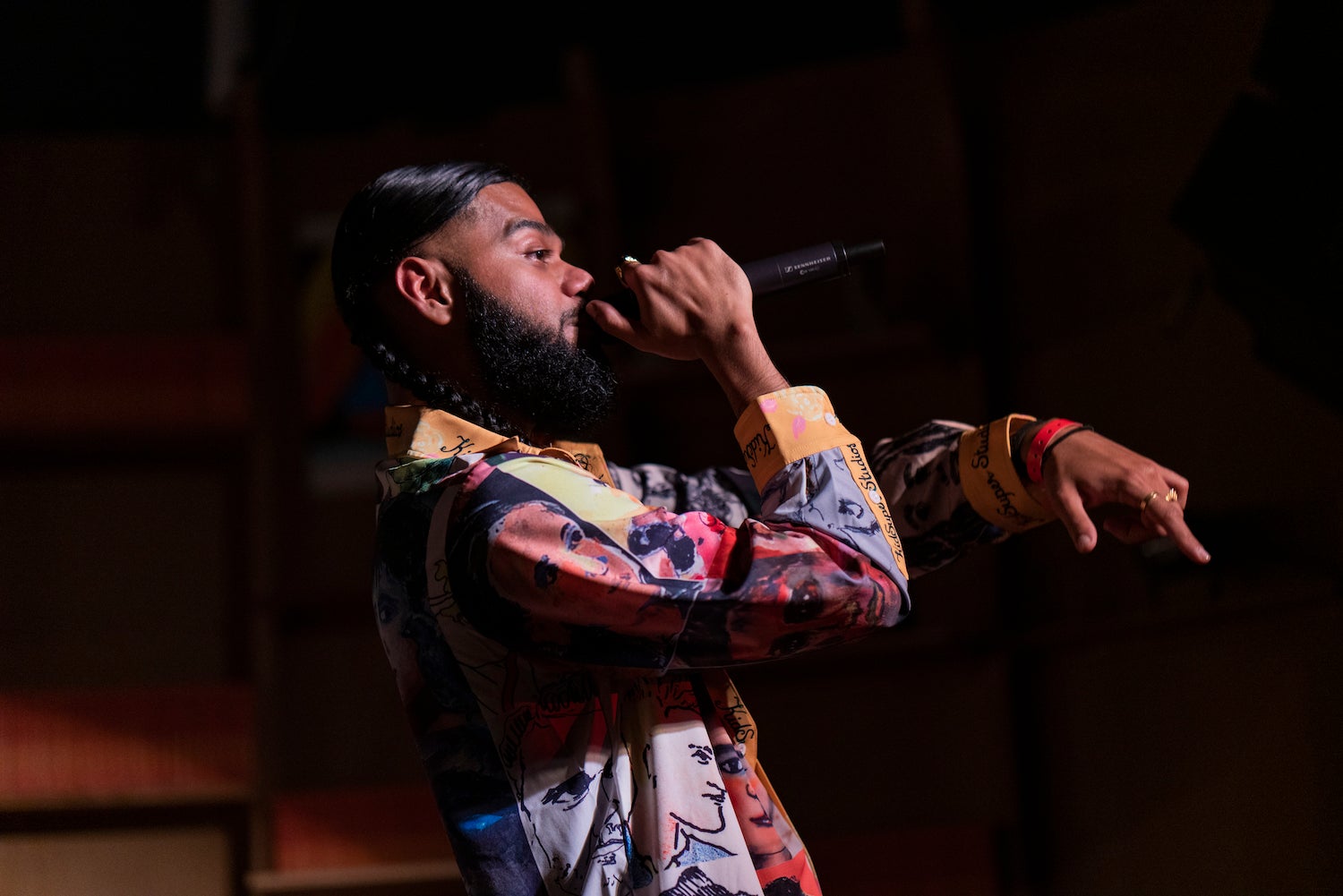 Growing up in Queens, Anik Khan developed a unique sound that incorporates a variety of global influences. You can hear these elements in his newly recorded Spotify Single, "Heavy Artillery," with his collaboration with artist Nesto to incorporate Jamaican and West Indies beats. Khan says the lyrics are inspired by his perspective as "a kid from Queens that grew up in low income housing." Whether it's recounting the literal transition from hopping on trains to finally owning a car, or having a "room full of crips" while dealing with the realities of gangs, Khan does not shy away from being vulnerable in how he's found joy in times of pain.
The other track released is Khan's own version of classic Bollywood hit, "Meri Mehbooba," a song that he grew up dancing to with his sisters. Bollywood was a "huge reference point" for his family.
"When they asked me to do a cover, I had to do a cover from my childhood, something that I've always loved something that I've always listened to. And so I picked Meri Mehbooba. It's super sexy."
As for his showcase set, Khan performed tracks from his 2021 2-part EP release, "Denied/Approved," which focus on his experiences overcoming barriers as an undocumented immigrant to the United States. Although the Dhaka-born, New York-raised artist was topping charts, he could not progress in his music career due to paperwork challenges.
Now, after obtaining his citizenship, he has been able to travel, collaborate, and learn from artists in Brazil, Mexico, India, Jamaica and soon, many others.
"I'm super excited to share what 'New World' music sounds like to me."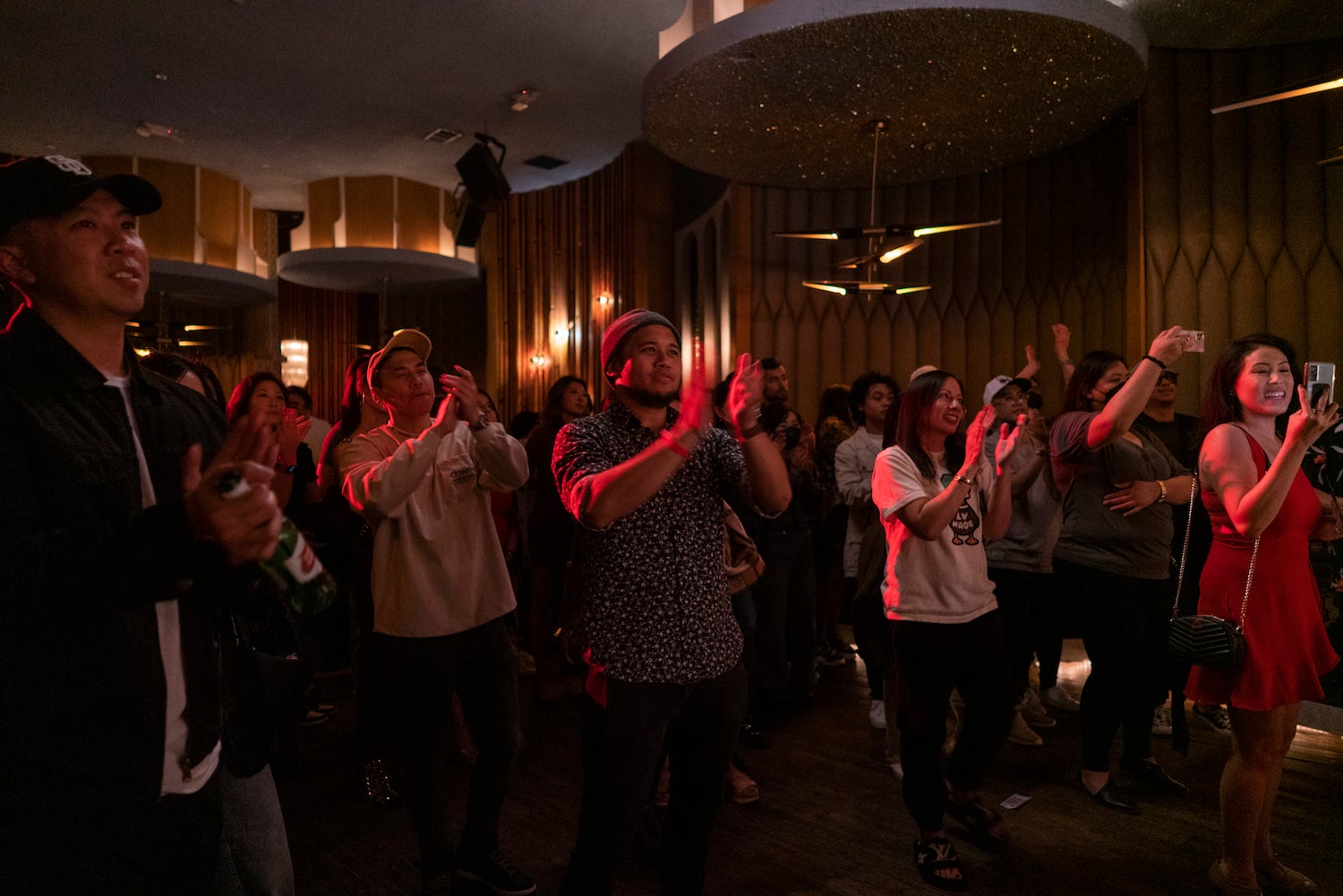 Perhaps what is most important about these three performances at The Peppermint Club and the Futures Music program overall is the power of community.
"We're here to uplift one another, not to tear one another down," said Ibarra. By assembling together and learning from each other, these three talented artists hope to break barriers and lay the ground for other AAPI artists ahead.
"Even in Filipino culture, there's this thing called crab mentality, moments where only one person can be successful at a time. And I think it's kind of also that immigrant mentality again, the scarcity of it and the opportunities," elaborates Ibarra.

"But at the end of the day, I think that's what has made me recognize even more how special the lineup is tonight. We're all sharing the stage together. There's enough stage for all of us."