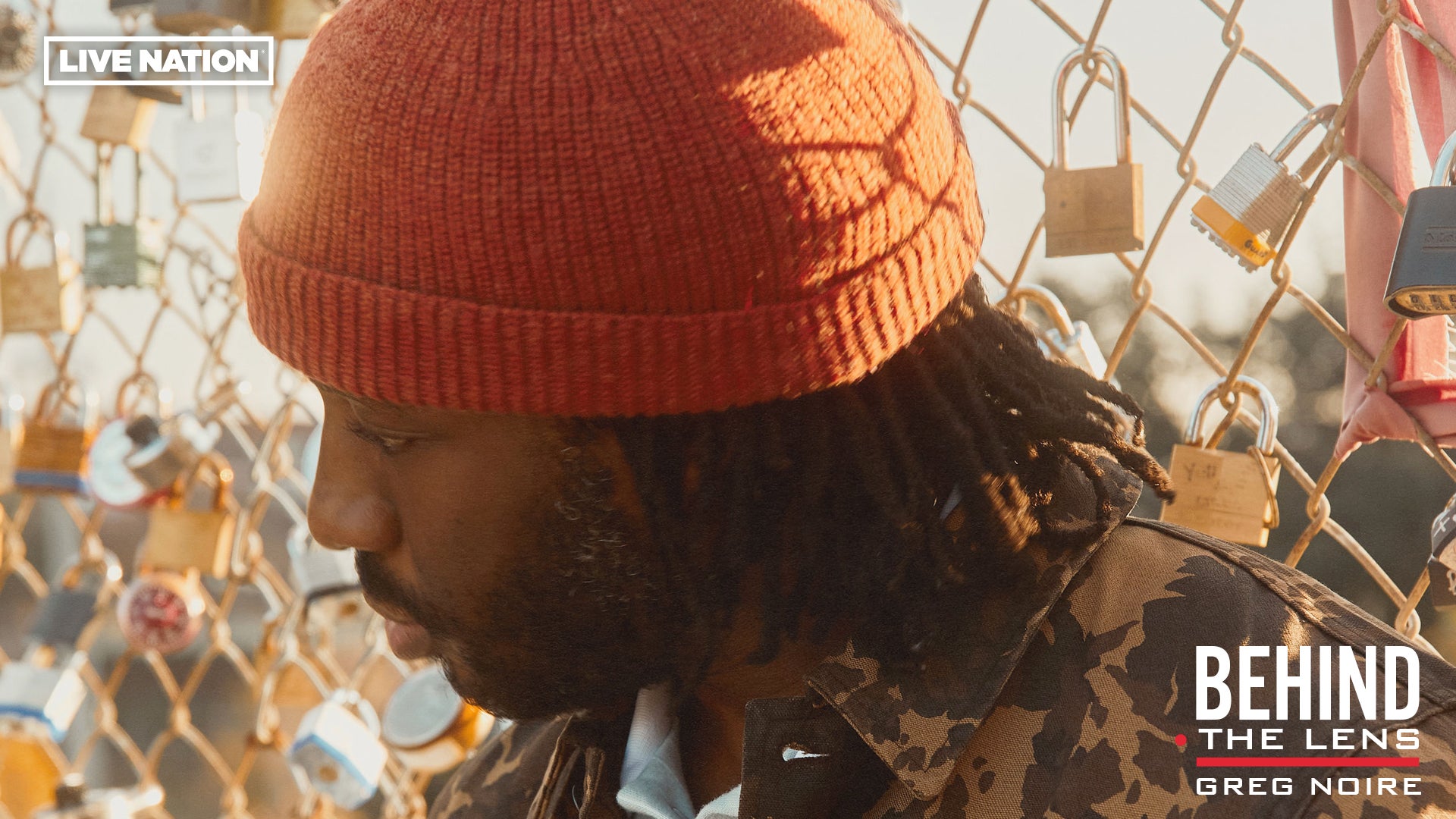 Behind The Lens: Greg Noire
Behind The Lens: Greg Noire
Read About The Concert Photographer And His Favorite Shots of Travis Scott, Childish Gambino And More
Live Nation's Behind The Lens features predominant & up-and-coming concert photographers sharing their most memorable concert experiences and much more. Joining us for the series is live music and portrait photographer Greg Noire. Noire has been a Houston-based photographer for over a decade, but music photography came to the forefront of his career in 2012.
He has worked with several artists such as Childish Gambino, Demi Lovato, Drake, Teyana Taylor, Travis Scott and many more. Noire has also served as a staff photographer for various music festivals such as Lollapalooza, Austin City Limits, Coachella, Astroworld Festival, Governors Ball, and iHeart Festival and a vast amount of other events throughout the country. Greg has also worked with (and continues to work with) brands such as Apple & Apple Music, Facebook, Netflix, Amazon, Madison Square Garden Squarespace, McDonald's, Nike, Beats By Dre & Twitter. Fans can view his work on his website and instagram.
Read our exclusive interview with Greg below.
How did you get your start in photography?
My love for photography grew in college. I was a poor undergrad who needed to pay for books and Top Ramen, so I found a job at a local Sam's Club working in the photo lab. I quickly fell in love with the images I would have to process behind the counter and figured that photography could be an awesome hobby to pick up. I ended up purchasing my first camera with the money I made for books and Top Ramen and began photographing tons of people and events around campus until I gained the University Press's attention and snagged a job as a photojournalist during my senior year. This was my big start.
What was the first concert you ever attended?
The first concert I remember attending happened to be the first one that I ever photographed. I was a friend of a Houston hip-hop group called "The Nice Guys" who opened up for The Clipse at Frontier Fiesta, an annual showcase held at the University of Houston. The guys gave me a call to come and photograph their show, and this day marked the first of my career in live music photography. I fell in love immediately, even though I initially had absolutely no idea what I was doing. It was so bad at one point, another photographer saw me visibly frustrated and helped me out with some camera settings. He literally took my camera and adjusted them to around where they should be. Quite an embarrassing moment, but one that I'll never forget.
Who are your inspirations?
My top inspiration is Chi Modu, who is easily my favorite photographer of all-time. Being a Nigerian, like myself, and navigating through the world of music with a camera in hand, showed me the possibilities of diving headfirst into my craft. Beyond the legend that is Chi Modu, Gordon Parks, Gilles Bensimon, and Neal Preston play significant roles in my daily inspiration. These influences are wide-ranging in terms of style and genre, but they all have played a large part in my creative development. When I'm in the photo pit, I view the performer(s) as if we are in a photo session. I go for the same types of intimate and vulnerable, yet powerful framing that I would attempt to create while taking portraits in-studio or on-location. That kind of mentality helps me de-concert my concert photography (if that makes sense). I say all of this to let you know that my inspiration comes from those who embody somewhat similar photography styles. These styles helped me develop mine into what it is today. Those who have inspired me more recently include modern legends like Dana Scruggs, Joshua Kissi, and Devin Allen.
What setup are you currently using (lens, camera body, editing software etc.) to get your signature look and style? Do you experiment with new gear often?
I'm currently rocking a Sony A7RIV and a A7RIII. My current rotation of lenses includes a Sony 24-70mm 2.8 G Master, 105mm 1.8 G Master, and 70-200mm 2.8 G Master. I have a few more in my arsenel, but these are my current favorites. I've also really been getting into lens filters to create new ways to tackle music photography. They serve to break apart any creative blocks people like me have every now and then in the photo pit by offering new ways to see a performer or subject. As far as editing software, I typically edit in Adobe Photoshop and use Lightroom for bulk editing.
What are your thoughts on phones as cameras at shows?
I'm of two minds with this. As concertgoers become more and more engaged with their cellphones, the more they're separated from that rush of endorphins one typically gets when watching their favorite performer(s) take the stage. It's a bit strange that some would rather experience these, at times, spiritual moments through their screen, even though they are present for the actual event. BUT, cellphones make really cool props during a set, especially at night, so I digress. In terms of using a camera phone in a photo pit, I 100% support it. You can only use what you have access to, so if that happens to be an iPhone, go for it (as long as you're credentialed). However, I am against excessive cellphone shooting in the photo pit if just you're looking for personal content for social media. That's a little corny.
What is your favorite concert photo you've taken and why? What was that experience like?
I feel like my answer to this question changes every other day, but today, I'm going with my 2014 photo of Childish Gambino at Austin City Limits. I remember being in the pit and covering most of the set exclusively with a wide lens (24mm 1.4), which was totally against my nature at the time, but I was given a heads up about some great pyro during this performance, so I wanted to make sure I was prepared for it. Towards the middle of the set, during Zeloats of Stolkholm, Childish Gambino jumped down from the stage onto one of the speakers. He was singing "FREEEEEEE INFORMATION!" while staring intently into the crowd as a stream of pyro rained down from both sides and met in the middle behind him. I picked up my camera and captured a reasonable amount of photographs before the pyro let up. I was extremely excited to see what I got, so I checked my playback and was immediately disappointed because the "money shot" was slightly out of focus. My energy took an immediate dive because it wasn't perfect, but whenever the photo went to the official ACL social feeds, the reaction was insane. It was an instant hit. The viewers of the image weren't worried about the technical aspect of the content- only about the picture taking them back to the moment they experienced this moment live or seeing something that allows them the feel the emotions on display in the photograph.
Do you feel there is a lack of diversity among the photographer community and if so, what strategies do you think can break down barriers to create a more inclusive industry?
Absolutely- specifically, in the live music space. There have been way too many times where I've been the sole black man in the photo pit, which has been a bit intimidating at times, especially when I was just starting out. I always felt like I didn't belong there and that everyone there felt the same way. More experience led to more comfort, but I never want to feel as if the lack of black people in live music photography is a normal thing to see. There are so many talented photographers out there looking for those gatekeeping entities to open their doors. The best way to combat the lack of representation, in my opinion, is to hire beyond friends-of-friends and seek diverse voices. Many "homie hires" happen all across the board, so doing the work to bring in those who have the talent to tell incredible visual stories may be a smidgen more of a time investment, but it is a necessary and long overdue method to see a bit of growth in this space.
Any tips you can share for aspiring concert photographers?
Live music photography, for me, is about the feeling one receives after viewing your photograph. Some veterans will try and cut you down because an eye or some part of your subject is out of focus, but I don't think any of that technical stuff is as important as others will lead you to believe. The actual nature of the music and musicians you're photographing should be reflected in the art you're creating around them. Don't be afraid to slow down that shutter or try out experimental styles to properly show or expand upon an emotion born from the music. Always take those risks because there may be 10 other people in a photo pit shooting the same thing, the same way-but not you.
Name 3 artists that you want to shoot once concerts are back.
This is an easy one- Varnish La Piscene, Khruangbin & Donald Glover. Honorable mention to Yellow Days. They definitely kept my sanity in tack in 2020.
---
Featured Photos
Childish Gambino, This is America Tour, 2018
I photographed this photo of Childish Gambino while on the This Is America Tour in 2018. I was getting the hang of where I should place myself during critical moments of the performances, and it paid off in a big way for me with this image. It's one of my absolute favorites from the photos I created while on tour.
Travis Scott, Lollapalooza, 2018
This photo of Travis was taken at Lollapalooza 2018, which was one of my favorite shows. I loved all the deep reds and blue I was getting during this set, and the crazy amount of pyro and lasers was the icing on the cake. I had a few gems from this show, but I am in love with the placement of the laser and how his skin reflected the lights.
Jorja Smith, Governors Ball, 2019
I photographed this image of Jorja at Governors Ball 2019. It was the most beautiful New York sunset that I had seen in quite some time. The stage's placement lined up perfectly with the sun's fading light and created an incredible glow on Jorja's skin. This set the stage (haha) to utilize a star filter to create an intense burst in the photograph due to a handshake between the stage lights and my devices.
Lil Uzi Vert, ACL Fest, 2019
This was taken during ACL 2019. I loved how I was able to use the LCD screen to create somewhat of a seamless backdrop.
Hands, Austin City Limits, 2019
Denzel Curry's energetic performance at Austin City Limits 2019 produced the hands in the air in this photo. The energy during this performance was so pure, and there were several moments for me to creatively capture the crowd during this set due to the amount of time they had their hands in the air. I had ample time to try different angles and get a little crazy.
Get Our Newsletter
Join us daily for livestreams music, stories, and more from around the globe.