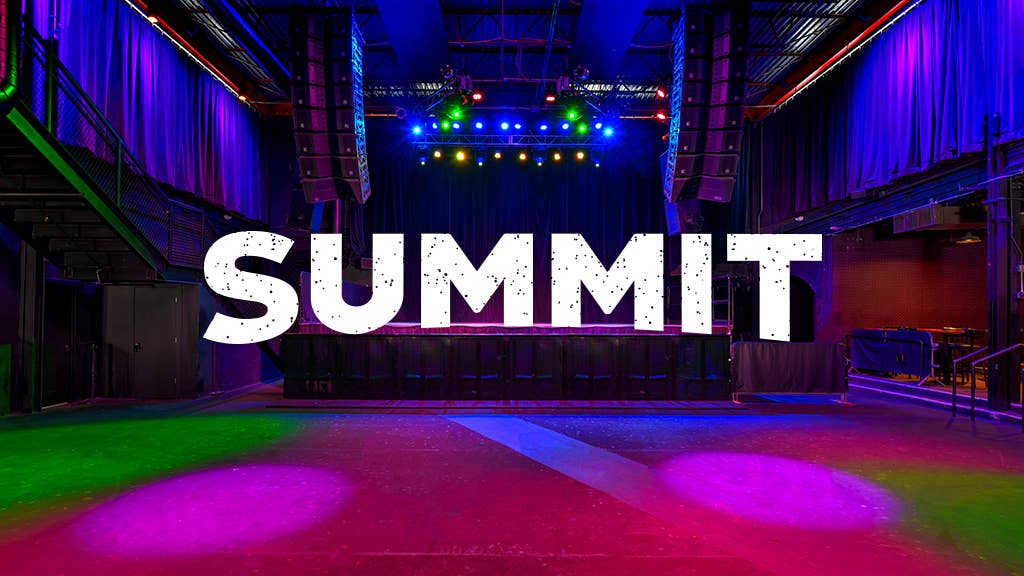 Summit
Know Before You Go
We can't wait to see you at Summit! Here's what to expect when you visit us again.
Pizza by the slice (by Marquis Pizza)
• Cheese
• Pepperoni
Canned Beer/Drinks
• Coors
• Coors Light
• Topo Chico
• PBR
• Guiness
• Modelo
• White Claw
• Craft beer - ask your bartender!
Spirits
• Premium
• Ultra Premium
• Luxury
Wine
• Red Wine
• White Wine
Non-alcoholic
• Soda
• Liquid Death Water
• Red Bull
Coming to a show? Here's a few things to know before you go!
Doors Time
Doors generally open one hour before the show's scheduled start time.
Cashless Payments
Our venue is cashless! We accept credit, debit, Apple Pay & Google Pay throughout the venue.
Bag Policy
The following bag policy is in place: Bags up to 12" x 6" x 12" are allowed in the venue. All bags will be searched prior to entry. Bags that are not clear will be subject to additional search.
Mobile Ticketing
All our events will be Mobile Entry. That means your mobile device will be used to gain access to the event. Tickets will not be emailed or available for print.
For more information on mobile entry, click here.
Phone troubles? Visit the box office on event day for assistance. Be prepared to show your ID.
Who doesn't like a better view? Our balcony has the best view in the venue, a private bar, extra room to dance and more!

If you'd like to upgrade your experience with a spot on our balcony, fill out this form so that we can contact you with more details & if you'd like, help you reserve your spot.
If you have a day-of-show inquiry or don't hear back from us in time, please speak with the employee at the podium by the bottom of the stairs inside the venue.
Our venue is located at 1902 Blake St, Denver, CO 80202, on the corner of 19th and Blake St in lower downtown Denver.

There are a number of pay parking lots located around the venue (Costs to park may vary). You can park on the street, but please note the parking meters have a 2 hour limit.
The box office at Summit will be open during two times:
a) Fridays from 12-5PM
b) On show nights, opening one hour prior to the door time listed on LiveNation.com & staying open until the headliner takes stage.

If you'd like to purchase tickets online, please visit us at www.LiveNation.com.
Summit strives to ensure that all of our guests have a great time at our venue. If you need additional assistance while you are here, please make sure you let us know.

Seating: We have a designated ADA area to the right of the stage for our handicapped patrons. We recommend showing up a bit before doors so that our staff members can help you get to your spot before the venue is filled with other patrons.

Accommodations: All venue bathrooms, concession stands, and merchandise stands are accessible.

Ticketing: All general admission tickets are ADA accessible - no need to buy a special ticket!
FAQs
Can I bring my camera?
It depends on each individual artist or performer's policies. Usually, small point-and-shoot cameras and mobile phone cameras are allowed to be used without flash. Cameras with removable lenses on them are considered to be professional length, and are not allowed to be brought into the venue, unless artist has given prior approval to individual. Security will ask guests to leave such cameras in their cars. Audio or video recording is also almost never allowed at concerts unless otherwise noted.
Can I bring my own chair?
Unfortunately, as a matter of safety for all our guests, you will not be able to bring your own chair.
Can I smoke in the venue?
No. Colorado has an indoor smoking ban. However, we do have an outdoor smoking section.
What are your Covid-19 policies?
Our venue will continue to ensure we are meeting or exceeding the latest guidelines from local government and public health officials as regulations continue to evolve. Please be sure to check the specific event page for the latest entry requirement details ahead of arriving to the venue for your show. Ticket purchasers will also receive direct emails with important information leading up to the show.  Please note that requirements and venue protocols (such as masking, testing, and vaccination) are subject to change, so be sure to check back closer to your event date for the latest information.
Do I need ID to enter the venue?
It depends on the show. Most of our shows are all ages, however some are 16 , 18 or 21. Please check the specific event page for age limits.
If you plan on drinking alcohol, you must bring a valid form of ID. In compliance with CO laws, anyone 21 and older who plans on drinking alcohol will have to show a valid (not expired) government issued photo ID, no matter how old you think you may look. Anyone without proper ID, regardless of age, will be treated as under 21 and will not be allowed to buy, hold, or drink alcohol. This policy is strictly enforced and any violation will result in immediate ejection from the venue.
Do you have a coat check?
We do! Coat check is available from Fall through Spring. Coat check is located on the northeast side of the building near the restaurant area. The charge is $5 per coat.
Do you have a dress code?
No shoes, no shirt, no dice. We also suggest you don't wear open toe shoes (ie. Sandals, flip flops, etc.)
How do I book a show at Summit?
Please email your EPK and other information to BookingDenver@LiveNation.com for booking consideration.
How do I get a job with Summit?
How do I get a photo pass?
Any media inquiries regarding day of show press needs to be submitted to www.livenation.com/pressrequests

Please note media credentials need to be requested a minimum of five business days prior to the event. You must be on assignment from an accredited media outlet to apply for media credentials.
Is the time listed door time or show time?
The time listed on each show is the door time. The show will start shortly thereafter.
Is the venue ADA/handicapped accessible?
Yes, Summit is handicapped accessible. We have a designated ADA area to the right of the stage for our handicapped patrons. We recommend showing up a bit before doors so that our staff members can help you get to your spot before the venue is filled with other patrons.
Is there food?
YES! Summit is proud to offer pizza by the slice from Denver's favorite pizzeria, Marquis Pizza! Large slices of cheese pizza are $3.50 & large slices of pepperoni pizza are $4.00.

To place your order, go to the back left corner of the venue & order at the window.
Is there re-entry once I am inside?
There is NO re-entry. If you leave the venue, you will not be allowed back into the building without a new ticket.
Is there seating?
All shows are general admission standing room only unless otherwise noted. We do have a limited amount of bar tables and stools available on a first come, first serve basis.
If you want a general admission seat, we suggest you be in line before doors open. Keep in mind that no matter how early you line up, there may already be people ahead of you in line & you are not guaranteed any particular spot inside.
At most of our shows, access to our balcony with additional seating is available as a show upgrade. The balcony has the best view in the venue, a private bar, extra room to dance and more! For more information on balcony upgrades, please speak to the VIP host at the bottom of the stairs during the day of the show or fill out this form.
What happens if my event is cancelled or postponed?
If your event is cancelled, please return to the point of purchase for refunds. If you purchased tickets online, your credit card will be automatically refunded within one week of the cancellation. If your event is postponed, you will be given the option to refund your tickets or if you choose to attend the rescheduled date, your tickets will be honored on the rescheduled date.
What is your refund policy?
All sales are final. There are no refunds or exchanges unless a show is cancelled.
What items are not allowed inside Summit?
The following items are prohibited for all shows:
• 
No
 outside food or drink allowed
• 
No
 guns, knives, 
weapons
, pepper spray, projectiles of any kind, or any other item that could be used to inflict harm.
• 
No
 replicas of any type of weapon
• 
No
 drugs, drug paraphernalia or illegal substances of any kind
• 
No
 personal video cameras, GoPros, selfie sticks, drones, masks that cover the entire face, or laser pointers.
• 
No
 professional audio, video, or audio recording equipment - (including detachable lenses, tripods, zooms or commercial use rigs)
• 
No
 animals (except service animals)
• 
No
 fireworks, fire-starters, or open flames
• 
No
 unsealed liquids or gels of any kind
• 
No
 jewelry or clothing that could inflict harm
• 
No
 bags over 12" x 12" x 6" of any kind
• 
No
 glow sticks, poi, hoops, or bitwhips
This list of prohibited items is subject to change at the discretion of venue management
When do you announce new shows?
Depending on bands' booking and promotions schedules, new shows are announced all the time. New shows will appear on this website as soon as they are announced.
Where is the best place to park?
There are a number of pay parking lots located around the venue (costs to park may vary). You can park on the street, but please note the parking meters have a 2 hour limit.
Where is the lost and found?
Please double check your surroundings before leaving our venue to ensure that you have not misplaced any of your belongings. If you happen to forget an item at our venue, you may call the office between 11am-6pm Monday through Friday to inquire about lost items.
Our phone number is (303) 487-0111.
Legendary Venue, Epic Private Events!
With access to the world's greatest musical entertainment, full-service event production, state-of-the-art lighting and sound, custom menus and mixology, this unique 12,500 square-foot venue will exceed expectations. With a multi-level Music Hall, intimate dining area, and a large bar, Summit will make your event one to remember. Summit is the perfect location to host your corporate event, private concert, award ceremony, fundraiser, bar/bat mitzvah, wedding or reception. Our versatile venue is ready to exceed your guests expectations. Accommodating groups of 25 to 1,200 guests and conveniently located 1 mile from the Convention Center, our talented staff handles every detail, so you don't have to!
Contact Our Special Events Sales Team
Summit
Phone

303.323.8202

Email

Address

1902 Blake St. Denver, CO 80202