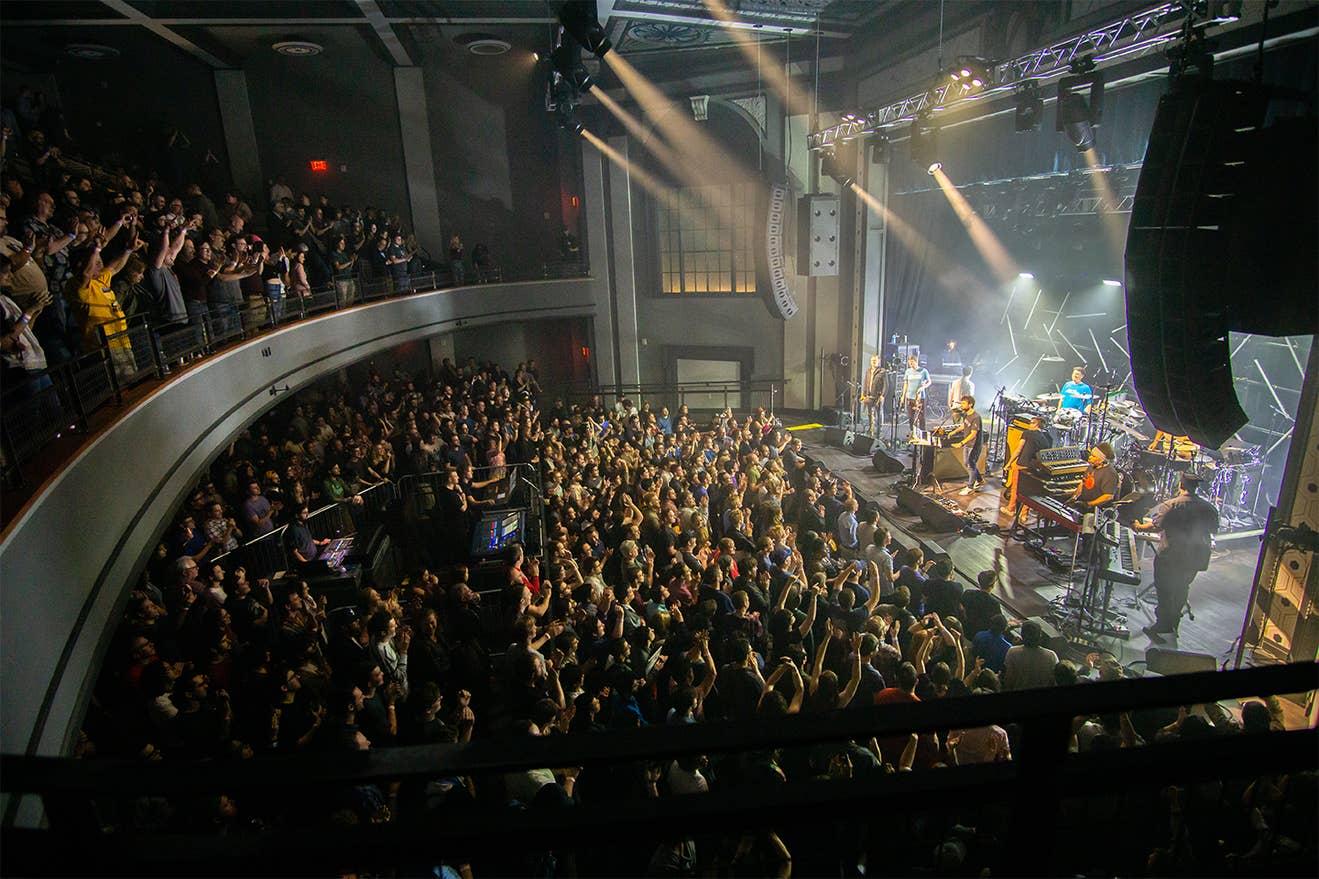 Roxian Theatre
Welcome to the Roxian Theatre
We can't wait to see you! Here's what to expect when you visit us again. *Keep an eye on our website and social media handles as guidelines are subject to change.
Coming to a show? Here's a few things to know before you go!
Doors Time
Doors generally open one hour before the show's scheduled start time.
Bag Policy
The following bag policy is in place: Bags up to 12" x 6" x 12" are allowed in the venue. All bags will be searched prior to entry. Bags that are not clear will be subject to additional search.
Mobile Ticketing
All our events will be Mobile Entry. That means your mobile device will be used to gain access to the event. Tickets will not be emailed or available for print.
For more information on mobile entry, click here.
Phone troubles? Visit the box office on event day for assistance. Be prepared to show your ID.
Cashless Payments
Cashless payments will be available at all points of sale and are recommended
Parking
The box office at The Roxian Theatre is located to the left the main doors of the venue and will be open on-day-of-show only. On days that we have shows, the box office is typically open 2 hours prior to showtime.
The box office is the only point of sale that accepts credit, debit, or cash.
FAQs
Where can I park?
Event parking is located behind the venue on Furnace Street Extension. You can also pre-pay for Premium Parking when purchasing a ticket or in our upgrade section on RoxianTheatre.com. Parking lot opens one hour prior to doors.
To see our parking map, please look at details under the "Day of Show" tab.
Can I re-enter the venue if I leave?
There is no re-entry to the Roxian Theatre and all exits are final, excluding the smoking area.
Is the Roxian handicap/ADA accessible?
Yes! The Roxian Theatre offers ADA seating and additional accommodations (as needed) for those with disabilities. ADA seating is available for purchase on the event ticketing page. Please contact the box office directly via email at RoxianTheatre@LiveNation.com or phone at (412)746-9988 for further details.
Please note that reserved seating in our balcony is not ADA accessible. Accessible seating is available on our Main Floor.
Are cameras permitted at the Roxian?
It depends on each individual artist or performer's policies. Usually, small point-and-shoot cameras and cell-phone cameras are allowed. Cameras with detachable lenses on them are considered to be professional-length are not allowed to be brought into the venue, unless artist has given prior approval. Security will ask guests to leave such cameras in their cars.
What time do doors open on day of show?
The time listed for each event on our website or on the Ticketmaster event page is the time that doors open for an event. Music will usually start 30-60 minutes after doors open.
Can I smoke in the venue?
Roxian Theatre is a non-smoking venue. During events, there is a smoking section set up outside of the venue's primary entry doors in order to accommodate smoking patrons. Please note the smoking section is not accessible at the beginning of shows, as that space may still be occupied by fans in line for entry.
What are my payment options?
All points of sale will only accept credit or debit. In the event you are not carrying a credit or debit card, staff will be available on-site at the main gate merchandise booth to exchange cash for card, dollar for dollar, without any service fees.
The box office is the only point of sale that accepts credit, debit or cash. 
Is the venue all-ages?
Most shows are all ages events, unless otherwise specified on our event calendar. The venue has multiple levels, both with bars. The first floor has a bar on the left side and the upstairs bar is located behind the seated mezzanine. You MUST be 21 with valid ID in order to order from either of these areas. No fake ID's, please! They will be confiscated and you will not be provided access to our bar areas.
Please note that if a show states that it is either ages 18+ or 21+, valid government-issued photo ID will be required for entry. No refunds will be issued for failure to produce proper identification.
Does the Roxian have coat check?
Yes, coat check is available inside the venue on the lower basement level by the main bathrooms. Unfortunately, we are not able to check large or oversized bags.
What do I do if I lost something at the venue?
We do track lost & found items. Please contact us at via email at RoxianTheatre@LiveNation.com or phone at (412) 746-9988 with a description of the item you are trying to locate.
Is there reserved seating at the venue?
The Roxian Theatre has reserved seats in our Upper and Lower Balcony for sale for most shows. We also offer first come, first served seating in our Skybox Lounge or RoxBox for an additional charge  The main floor is Standing Room Only, unless otherwise specified.
How can I buy tickets to a show at the Roxian?
Tickets can be purchased online by visiting www.ticketmaster.com or on our venue website. Please be aware of scalper and other unaffiliated sites when searching the internet.
If tickets do not sell out in advance, they will be sold at the door on the night of the show. The box office opens 2 hours before doors on day of show.
Tickets obtained from unauthorized sources may be invalid, refunded, lost, stolen or counterfeit, and if so are void.
Where is Will-Call?
Will Call is located at the box office, located to the left the main doors of the venue and will be open on-day-of-show only. On days that we have shows, the box office is typically open 2 hours prior to showtime.
Tickets should be picked up directly by the purchaser.
How do I find out about VIP seating options?
The Skybox Lounge and/or RoxBox seating is available for purchase through the event ticket link or at the venue on the day of show, depending on inventory.
What is the Fast Lane?
Skip the lines! The Fast Lane allows first entry after door time for concert-goers and may be purchased at the time of ticket purchase. There are a limited number of Fast Lane tickets available for each show. Fast Lane program is not available for all shows. If it is available, you will be prompted upon checkout if you'd like to purchase or not. One per customer is needed.
What is the RoxBox?
The RoxBox is located at the front of our elevated main floor, the views from the RoxBox cannot be beat. Save yourself a front row seat with amazing sightlines to the stage. One ticket per person is required. Seat will be assigned upon arrival. A separate concert ticket is also required.
What is the Skybox Lounge?
The Skybox Lounge can be purchased as a separate, upgrade ticket. This lounge includes access to an exclusive bar and private restrooms, as well as first come, first served seating along the rail of our third balcony.
What if the show I'm attending was cancelled or postponed?
In most cases, if a show was postponed, the original tickets will be able to be used on the rescheduled date. If you would rather have a refund, you must contact your original point of purchase.
If a show was cancelled, refunds for tickets purchased directly through Live Nation or Ticketmaster will be automatically processed. If you purchased your tickets at the Box Office, you must bring your tickets back for a refund.
Can I get a refund if I can no longer attend a show?
Unless a show cancels or time changes more than two hours, refunds are handled on a case-by-case basis. Please contact your point of purchase for inquiries.
Why are the numbers on my purchased balcony seats different?
Seats in our Balcony Right section go by even numbers (seat 2/4/6/8), while seats in our Balcony Left section go by odd numbers (seat 1/3/6/9).
Example: Balcony Left – Seats 1/3/6/9, Balcony Right – Seats 2/4/6/8
If I don't have a smart phone, how can I use mobile ticketing?
If you already purchased a ticket through Ticketmaster online, a box office representative can assist with printing out a physical ticket on the evening of the show. If you are purchasing tickets from the box office at the event, please request a physical ticket be printed.
Can I rent the Roxian for a private event?
How can I get a job at the venue?
Legendary Venue, Epic Private Events!
This former classic movie house theatre is one of Pittsburgh's premier special events venues. Originally built in 1929, this elegant and cutting-edge venue is located less than 4 miles away from Downtown Pittsburgh and just 5 miles from the David L. Lawrence Convention Center, making it the perfect location to host your next corporate event, private concert, wedding, reception or business meeting. Roxian Theatre accommodates up to 1,400 guests and our talented staff handles every detail, so you don't have to!
Contact Our Special Events Sales Team
Roxian Theatre
Phone

412.690.0996

Email

Address

425 Chartiers Ave, McKees Rocks, PA 15136