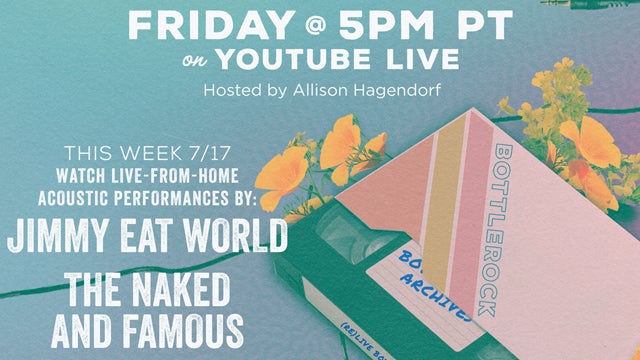 Jimmy Eat World and The Naked And Famous on (re)LIVE BottleRock This Week
Jimmy Eat World and The Naked And Famous on (re)LIVE BottleRock This Week
Weekly Virtual Series to benefit Crew Nation and Napa Valley Food Bank
Watch your favorite past BottleRock performances for #reLIVEBottleRock. Tune in this week to revisit past performances from Jimmy Eat World and The Naked And Famous on 7/17 at 5:00pm PT / 8:00pm ET on the BottleRock YouTube channel.
Keep your eyes on the stage! Once these performances stop streaming, they're gone forever. Join us for BottleRock Napa Valley's #reLIVEBottleRock series, which benefits Crew Nation and The Napa Valley Food Bank.
The Crew Nation Fund was launched in April to help support touring and venue crews through this temporary intermission while COVID-19 puts concerts on pause. Live Nation has committed $10 million to Crew Nation, contributing an initial $5 million to the fund and then matching the next $5 million in donations, dollar for dollar. Artists from around the world have already supported this initiative with donations and activations from performers including John Mayer, U2, Metallica, Coldplay, Cher, Justin Timberlake, Aerosmith, Anderson.Paak, Twenty One Pilots, Backstreet Boys and more. If you want to help support crews, visit livenation.com/crewnation to donate or buy exclusive merch now.
BottleRock Napa Valley features the world's top musicians on five music stages plus the VIP Acoustic stage, along with the infamous BottleRock Culinary Stage showcasing one-of-a-kind culinary and celebrity mashups. Master Sommeliers, celebrity chefs and dozens of the region's finest vintners, restaurateurs and brewers rub shoulders with guests in an intimate setting. BottleRock Napa Valley offers the best in wine, food and craft brews to complement the music and create an authentic wine country experience for festival guests. For more information please visit www.bottlerocknapavalley.com.
Get Our Newsletter
Sign up now for weekly updates on your favorite artists, music releases, live streams, content, and more.